The cryptocurrency market has experienced significant volatility in recent weeks, with XRP, the native token of the Ripple network, no exception. XRP has broken below the 200-day Exponential Moving Average (EMA), trading at $0.42 and losing 24% from its local top. Despite this bearish signal, the drop could trigger a spike in buying power, leading to a price rebound.
Historically, a break below the 200-day EMA is considered a bearish signal, suggesting that the asset is in a downtrend. However, this technical indicator can also act as a support level, where many investors see it as an opportunity to buy the asset at a discounted price. This increased buying activity can, in turn, drive the price back up, resulting in a reversal of the downtrend.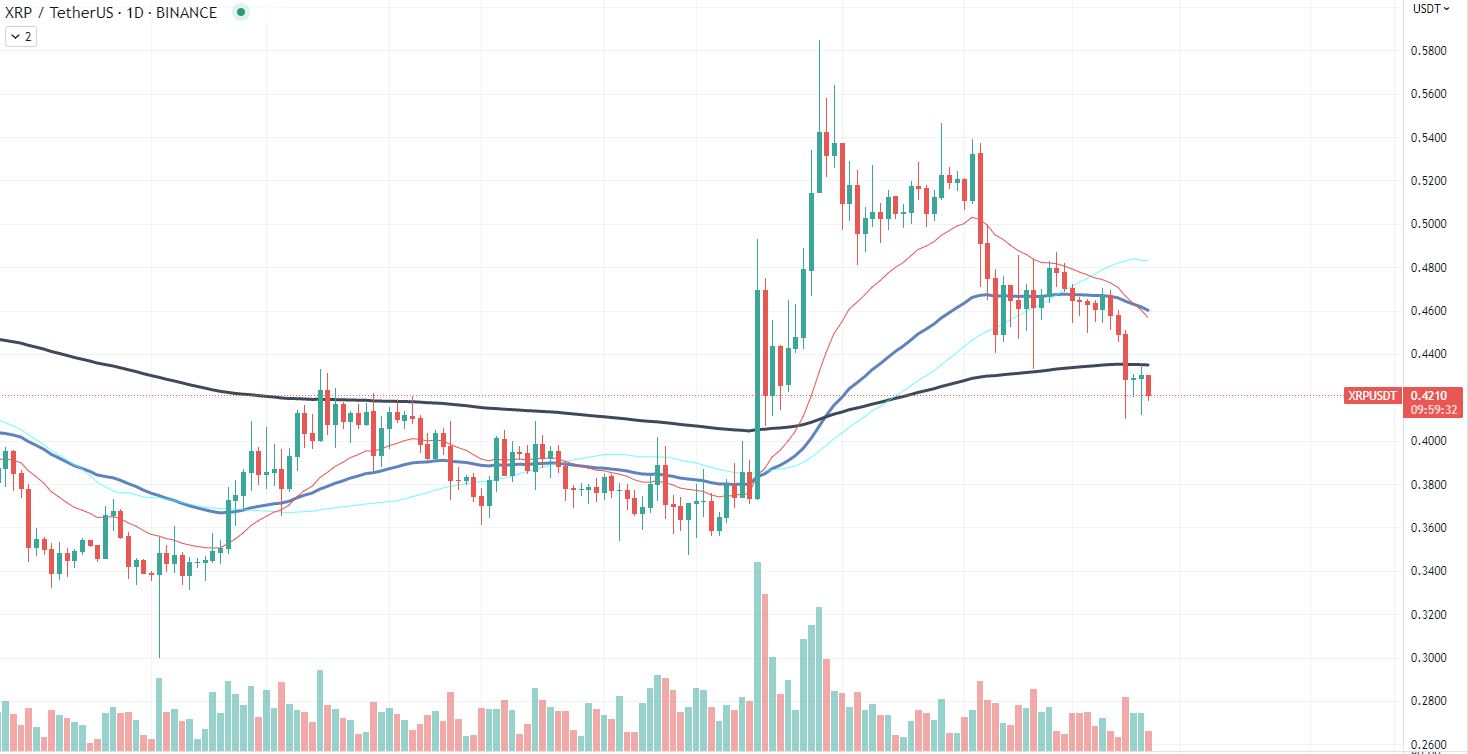 In the case of XRP, there are several factors that could contribute to a potential surge in buying power:
Oversold conditions: The recent drop in XRP's price may have pushed the asset into oversold territory, as indicated by technical indicators such as the Relative Strength Index (RSI). This could attract value-driven investors who believe that XRP is undervalued at its current price, leading to increased buying pressure.
Support from the broader market: If the overall cryptocurrency market begins to recover, it is likely that XRP will follow suit, as it has a strong correlation with other major cryptocurrencies like Bitcoin and Ethereum. A market-wide recovery could boost investor sentiment and fuel buying activity for XRP.
Positive news and developments: Ripple, the company behind XRP, has been involved in ongoing legal battles with the U.S. Securities and Exchange Commission (SEC). Any positive news or developments in the case could renew investor confidence in the project and trigger buying activity.
Meme coin madness is over
The cryptocurrency market has finally witnessed the fall of various meme coins. Some of the most popular meme coins, such as PEPE and TURBO, have lost a significant portion of their value, with traders taking profits and local support levels crumbling.
These meme coins, initially riding the wave of hype and excitement, have experienced substantial price drops, losing up to 70% of their value. This downward trend raises questions about the sustainability of these coins and their potential long-term impact on the broader crypto market.
One possible explanation for this decline in meme coin value is the increasing number of rugpulls in the industry. Rugpulls occur when project creators abruptly sell off their assets, causing a sudden drop in the token's price and leaving investors with worthless coins.
The rise of rugpulls can be partly attributed to the diminishing profitability of trading fees. As creators look for alternative ways to make money, they may resort to rugpulls, undermining the trust and stability of the meme coin market.
Shiba Inu's key indicator flashes reversal
Shiba Inu (SHIB) has recently reached a critical point in its market performance. The Relative Strength Index (RSI), a technical indicator used to evaluate overbought or oversold conditions, has dipped to a one-year low at 25. This development, combined with the fact that the SHIB price of $0.0000088 is trading below all daily Exponential Moving Averages (EMAs), could be a signal for potential future price movements.
A low RSI value generally indicates oversold conditions, suggesting that the asset may be undervalued and due for a rebound. However, it is essential to note that the RSI is just one of many technical indicators, and relying solely on it to make investment decisions can be risky. Other factors, such as market sentiment, news and overall market conditions, should also be considered.
In the case of Shiba Inu, the current low RSI may provide an opportunity for investors who believe in the long-term potential of the project. On the other hand, the fact that the price is trading below all daily EMAs could indicate a bearish trend, discouraging new investors from entering the market.