Faws.com is a cryptocurrency news aggregator that provides readers with the freshest posts and press-releases gathered from popular online sources. This is a minimalistic and yet functional platform where users can get all essential information about the current state of the cryptocurrency market.
Interface and functionality
Tired of news websites cluttered with ads and widgets? Faws.com is different. On its minimalistic pages, you'll find nothing but the news feed, and the navigation panel on the right side– your eye will be caught by what really matters. The news feed is perpetually updated: you can see the fresh articles released just a few minutes ago. Faws.com displays posts from such authoritative sources as:
Forbes

U.today

Bitcoin.com

dash.org

cryptocomes.com

ethereum.org

Medium

Mashable

and many other popular websites.
Aside from cryptocurrency-related news, faws.com shows press-releases and allows you to track your investment performance for the coins you select. Another great feature is "Coin Alert": it notifies you as soon as some cryptocurrency passes the price value threshold you specify. Therefore, you always stay in the know about the price and fluctuations of the coins you select.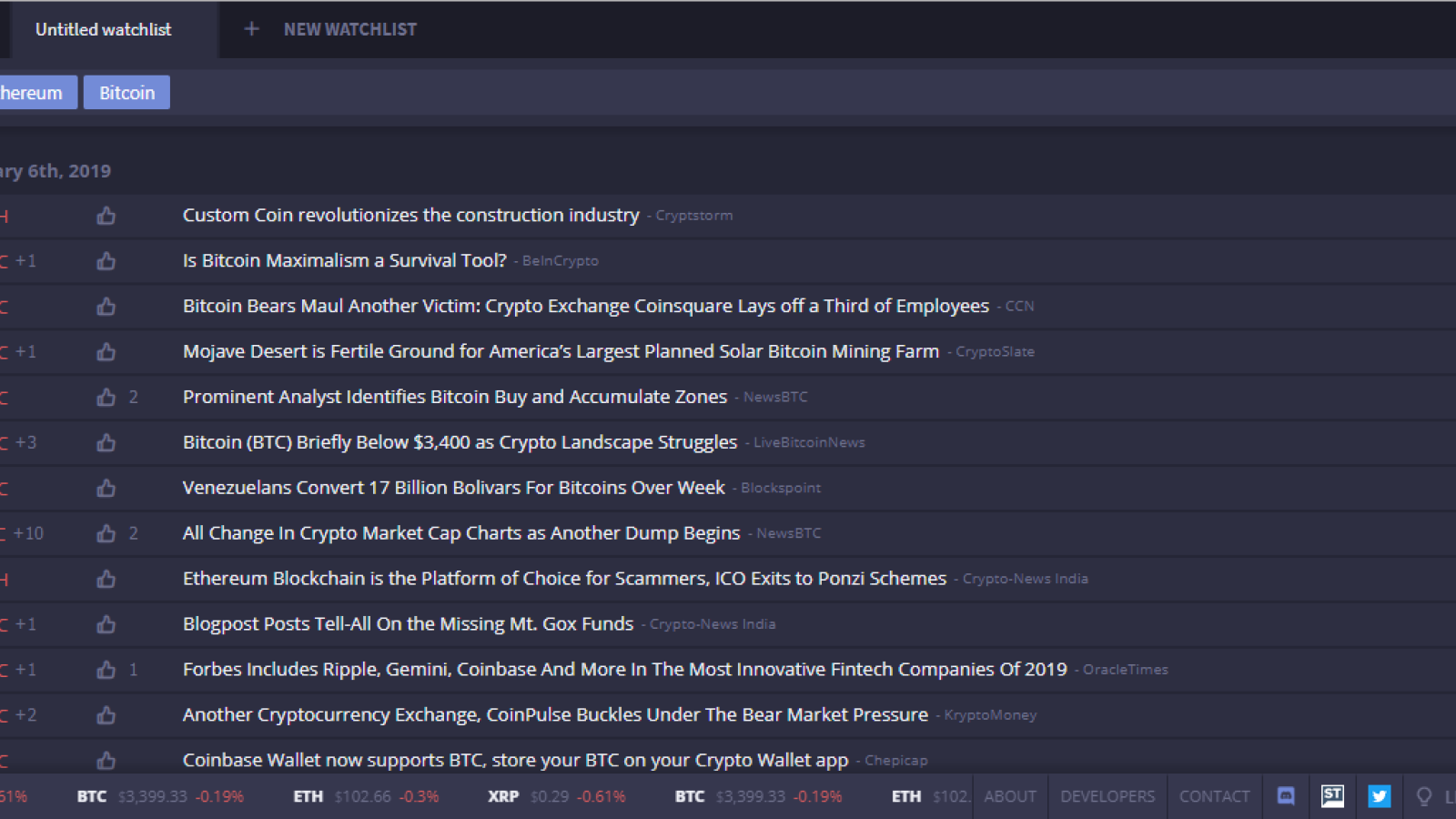 The last but not the least is the chart of cryptocurrency price: you can check the value of Bitcoin and altcoins in real time, track the percent of fluctuation and the coin market cap.
Customization features
Minimalistic design is not the only thing that makes faws.com convenient– it features special filters for you to see the news that you really want to see. Thus, you can switch the news channels on and off by simply turning the corresponding sliders. You can manage the subscriptions to news sources and press releases separately, as well as your subscription to the social media (at the moment, only Twitter is available). Additionally, you can personalize the watchlist by categories (the type of coin).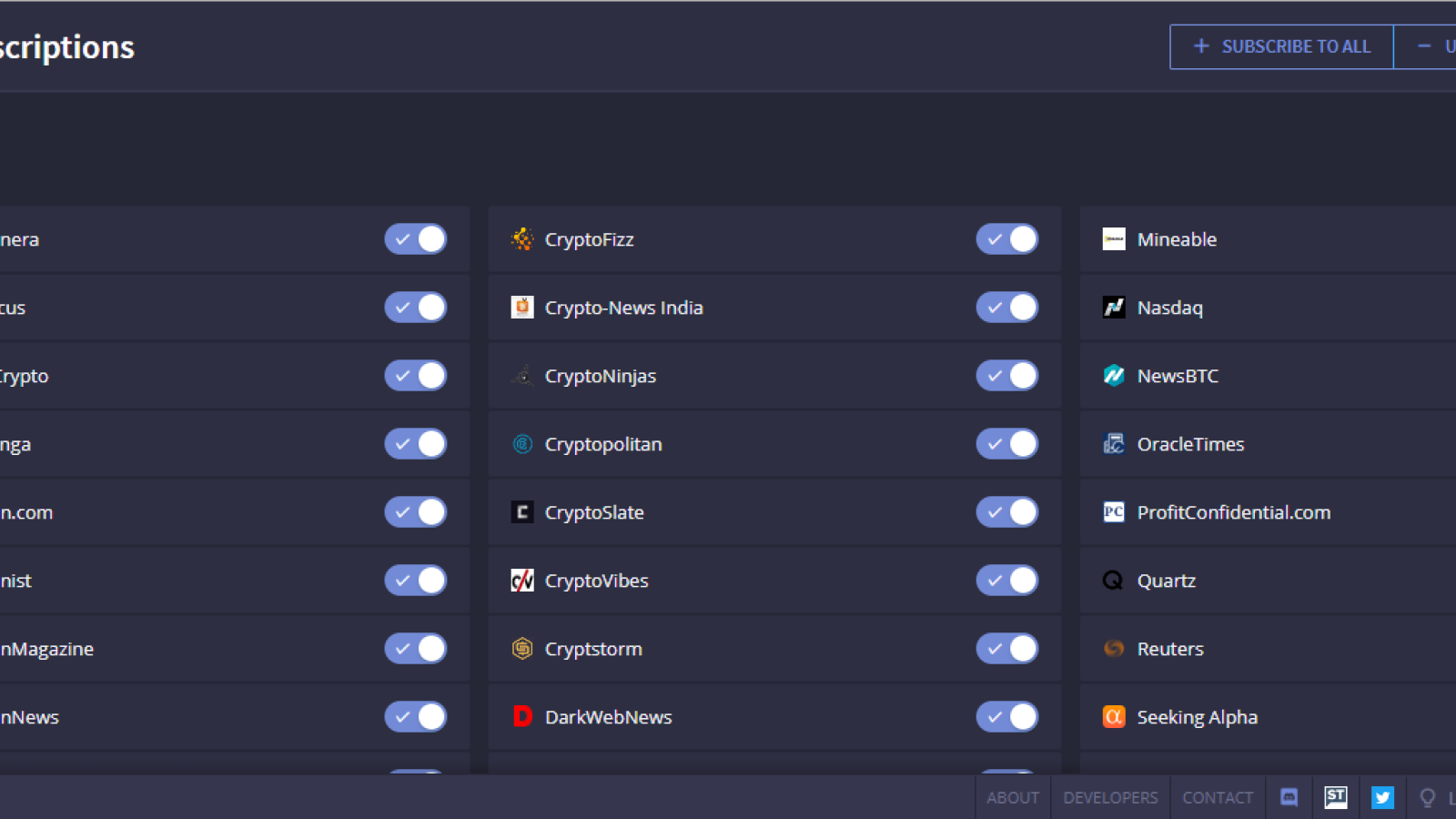 Users can create a portfolio and track their investment performance: check whether the operations were profitable, find out the amount of profit, and so on. It's a handy tool for managing your investments and adjusting the trading strategy.
As for the above-mentioned coin alerts, this feature can be customized, as well. First, you can specify the limit reaching of which triggers the notification, be that price growth or dropping. The price can be displayed in different fiat currencies (USD, EUR, etc). Secondly, you can select the preferable ways of receiving notifications:
email

SMS

desktop notifications.
This feature is free of charge.


Who can use faws.com?
This website would be useful for everybody related to cryptocurrency, be that a professional trader, investor or advisor. It's aimed at a wide audience, and the choice of news sources will please even the most crypto-savvy users. Here, you may find up-to-date information about currency fluctuations, predictions, technologies connected with crypto, upcoming events, forums and interviews with experts. With fresh news at your disposal, you will always be able to make informed decisions.
Bottom line
Knowledge is power, and when it comes to cryptocurrency trading and investing, knowledge is money, too. Faws.com provides users with valuable and trustworthy information 'hot from the press.' The website has simple and intuitive navigation, and a few convenient instruments to tailor the news feed to your preferences. However, there's still a lot of room for development: users would benefit from additional filters, for instance, news theme and page rating, or viewing of articles from one specific news source. A mobile application wouldn't hurt, as well as the search bar.