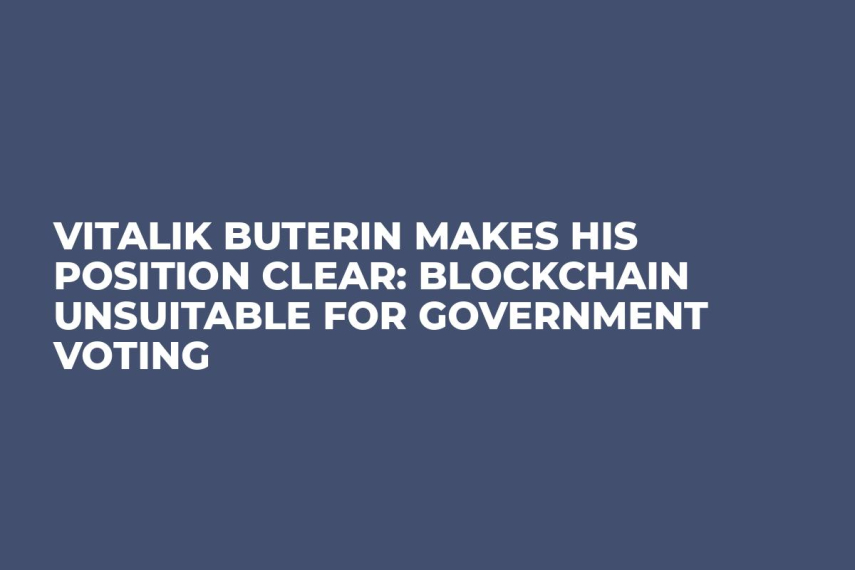 Cover image via U.Today
News has spread over the Internet, based on Vitalik Buterin's tweet, that he is being "cautiously supportive" of national elections conducted with the help of the distributed ledger technology (DLT).
This is misleading:https://t.co/qNkri9E7zi

No way that tweet interpretable as "cautiously supportive". It was "cautious".

There are limited e-voting usecases that make sense, but *really important* to stress, on-chain votes should NOT be used to choose national governments.

— Vitalik "Not giving away ETH" Buterin (@VitalikButerin) June 7, 2018
This was regarding the article about West Virginia, the US state that has first permitted Internet voting by Blockchain. Some online voting via DLT has also been performed in Estonia.
This news brought up a heated discussion regarding the flaws of the current voting system and pros and cons of using a distributed network for that. Some believe that voting via DLT can be compromised through potential 51 percent attack.
Vitalik's position misunderstood
Yesterday, Buterin tweeted once again on this topic, refuting the news headlines and clarifying his stance on the subject– he believes that, even though there are some limited use cases of Blockchain for online voting, they must not include national government elections.
In his opinion, online voting needs to be conducted meeting specific requirements on privacy and security. Besides, Ethereum's CEO believes that "just shoving stuff onto a public ledger" can be counterproductive.
Important thread. Online voting requires some very specific privacy and security properties and specific techniques to achieve them, and just shoving stuff onto a public ledger can often even be actively counterproductive. https://t.co/6toXfn9E3W

— Vitalik "Not giving away ETH" Buterin (@VitalikButerin) June 6, 2018
Blockchain already used for elections
However, the distributed ledger technology has already been used for the government election in Sierra Leone in March 2018. The election was powered by the Blockchain startup Arora, which follows a mission of reforming elections of various scale via the DTL. With all due respect to the Ethereum's co-founder, no dire consequences regarding that event were reported.