Prosphero.io analysts have conducted a research in which ERC20 tokens with the largest numbers of addresses were defined. The table below shows the top 20 projects based on the amount of wallet addresses created.
TRON takes the first place concerning token holders and is followed by OmiseGo with twice as fewer investors.
The most popular currently are Ethereum-powered projects that develop their own platforms.
An interesting fact, the top 20 ERC20 tokens are largely similar to the top 20 coins in the cryptocurrency market regarding their utility.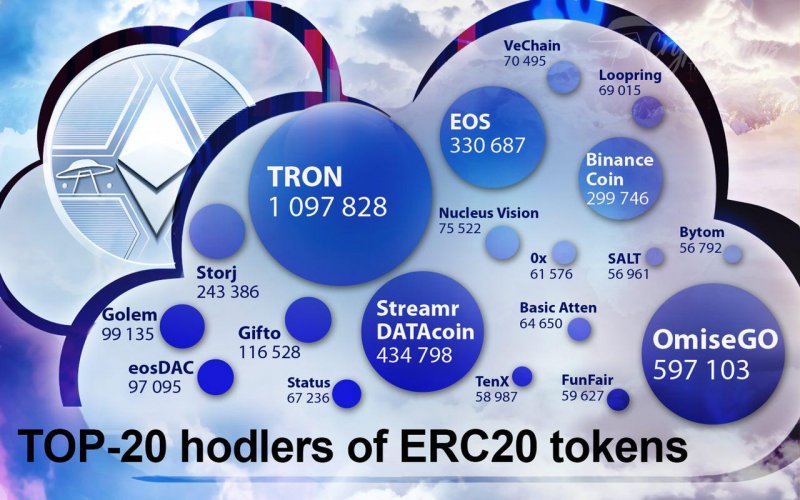 TRON (TRX) and Co.
As you can see, TRON social Blockchain possesses the biggest number of addresses. This is largely thanks to its CEO and founder Justin Sun. He succeeds in promoting his project, besides, he often come up with compromising news pegs.
The coin has recently launched its mainnet and exchange of ERC20 Ethereum tokens to its own TRX coins.
The same is happening to EOS now, although, there are certain problems to do with electing block producers.
Besides, TRON was founded in the Asian region, where people generally favor Blockchain-based social networks (e.g. STEEM). These factors have allowed it and its coin TRX to take quite a stable first place.
Coins that host own platforms
Judging by the table above, the first line of the rating based on the amount of wallet addresses is taken by the projects that are developing their own platforms (like, TRON, EOS, Golem and Bytom). Together they amount to ~40 percent of the total body of addresses.
Besides, quite popular are the projects dealing with the financial sphere (OmiseGo, 0x, TenX, SALT, Bytom)– those are around 21 percent of all the wallet addresses.
Internet of Things (IoT)
IoT projects should be mentioned separately. In the table, you may find three such platforms- Streamr DATAcoin, Nucleus Vision and VeChain. They make around 15 percent of all the hodlers' addresses.
ERC20 vs crypto market coins
The above-mentioned survey shows only Ethereum-powered projects. However, there are clear similarities between those and the cryptocurrency market on the whole.
In the latter, the top 20 Blockchain networks contain mostly platform projects, and then come payment systems, followed by IoT coins.
| | | |
| --- | --- | --- |
| NAME | Hodlers | Category |
| | 1097828 | Platforms, social networking sites |
| | 597103 | Foreign exchange |
| Streamr DATAcoin | 434798 | Internet of Things |
| | 330687 | Platforms |
| | 299746 | Crypto exchange-based coins |
| | 243386 | Cloud solutions |
| | 116528 | Social networks |
| | 99135 | Platforms, data processing |
| | 97095 | Decentralized autonomous communities |
| | 75522 | Internet of Things |
| | 70495 | Internet of Things, logistics networks |
| | 69015 | Cross-Blockchain operations, crypto exchange-based coins |
| | 67236 | Marketplaces |
| | 64650 | Web browser |
| | 61576 | Foreign exchange |
| | 59627 | Lotteries and casinos |
| | 58987 | Foreign exchange |
| | 56961 | Loans |
| | 56792 | Platforms, finance |
| | 56240 | Market forecasts |