In a brief review, U.Today will debunk the most common myths about the usage of crypto trading bots. We explain how to choose a proper crypto trading bot in 2023 and what features to look at while choosing trading bots.
Best crypto trading bots in 2023: Quick facts
Since the 2017 bullish rally, crypto trading bots have evolved into a mainstream instrument for high-frequency trading on centralized cryptocurrency exchanges. As the number of bots on the market is surging, there are a number of tips newbie traders should care about.
Crypto trading bots are software programs designed to make the process of placing and closing offers on a cryptocurrency exchange automated;
Crypto trading bots remove the necessity for a trader to monitor the price fluctuations of this or that asset;
Instead, the user can set up a range for the bot's operations (e.g., between $1.5 and $1.7 for a certain coin) and the details of its strategy (the conditions the price should meet to open or close the offer);
Crypto trading bots can be integrated with major centralized exchanges through API tooling, and a single bot might support various exchanges and currencies;
New-gen cryptocurrency trading bot Bitsgap is among the most impressive services on the market; 3 Commas, Zignaly and Cryptohopper are its alternatives.
When choosing a cryptocurrency trading bot, users should concern themselves most with the following features: the range of exchanges supported, the number of currencies available for automated trading, UX/UI specifications, pricing, the availability of a demo version and the reputation of the service.
Also, crypto users should be super cautious about the security and integrity of their trading bot service: if API keys are leaked, hackers can drain all the money from an account even if it is inactive for months.
What is a crypto trading bot?
Crypto trading bots are software programs designed to streamline and optimize cryptocurrency trading in an automated manner. Crypto trading bots remove the necessity for human intervention while opening and closing positions on cryptocurrency exchanges.
With crypto trading bots, people can set up their preferred strategy, conditions for placing/canceling orders, deposit money and enjoy their profits. No interaction is needed while the bot is active. Typically, bots charge their users with periodic fees, while some of them also offer free demo versions.
Crypto trading bots are attached to cryptocurrency exchanges, so in order to use one, you need to have an account.
How to choose a crypto trading bot?
When choosing a cryptocurrency trading bot, users should consider several features to avoid losses and hacks and make the trading experience comfortable regardless of one's level of expertise in crypto.
As such, here are some aspects that should not be overlooked while choosing a bot to use:
Number of exchanges supported. The best crypto trading bots work with multiple exchanges;
Number of currencies available. The opportunity to trade various cryptos with a single bot makes the process easier for both pros and newcomers;
Reputation of the bot. Prior to starting to use a crypto trading bot, users should check out the track record of its team, the date of its launch, its statistics on hacks and data leaks and so on.
Also, legit bots offer its clients the opportunity to stress test the performance of the bots without paying fees in demo mode with limited functionality.
Top 5 crypto trading bots in 2023
Here are some trading bots you might be interested in trying this year. They meld the usability, security and feature-rich toolkits and are suitable for both newcomers and seasoned traders.
Bitsgap
Introduced in Q2, 2022, Bitsgap trading bot is incorporated in Estonia. It is the largest fintech hub in the EU and one of the most influential jurisdictions for crypto. Bitsgap offers an ecosystem of crypto trading bots that includes grid trading bots, DCA trading bots, futures trading bots and so on.
Grid trading bot by Bitsgap is a classic solution: it allows users to set up a price interval and make the bot "buy low, sell high" within this interval. Also, Bitsgap grid bots can buy Bitcoin (BTC) on every dip or take small U.S. Dollar Tether (USDT) profits on price fluctuations in both directions.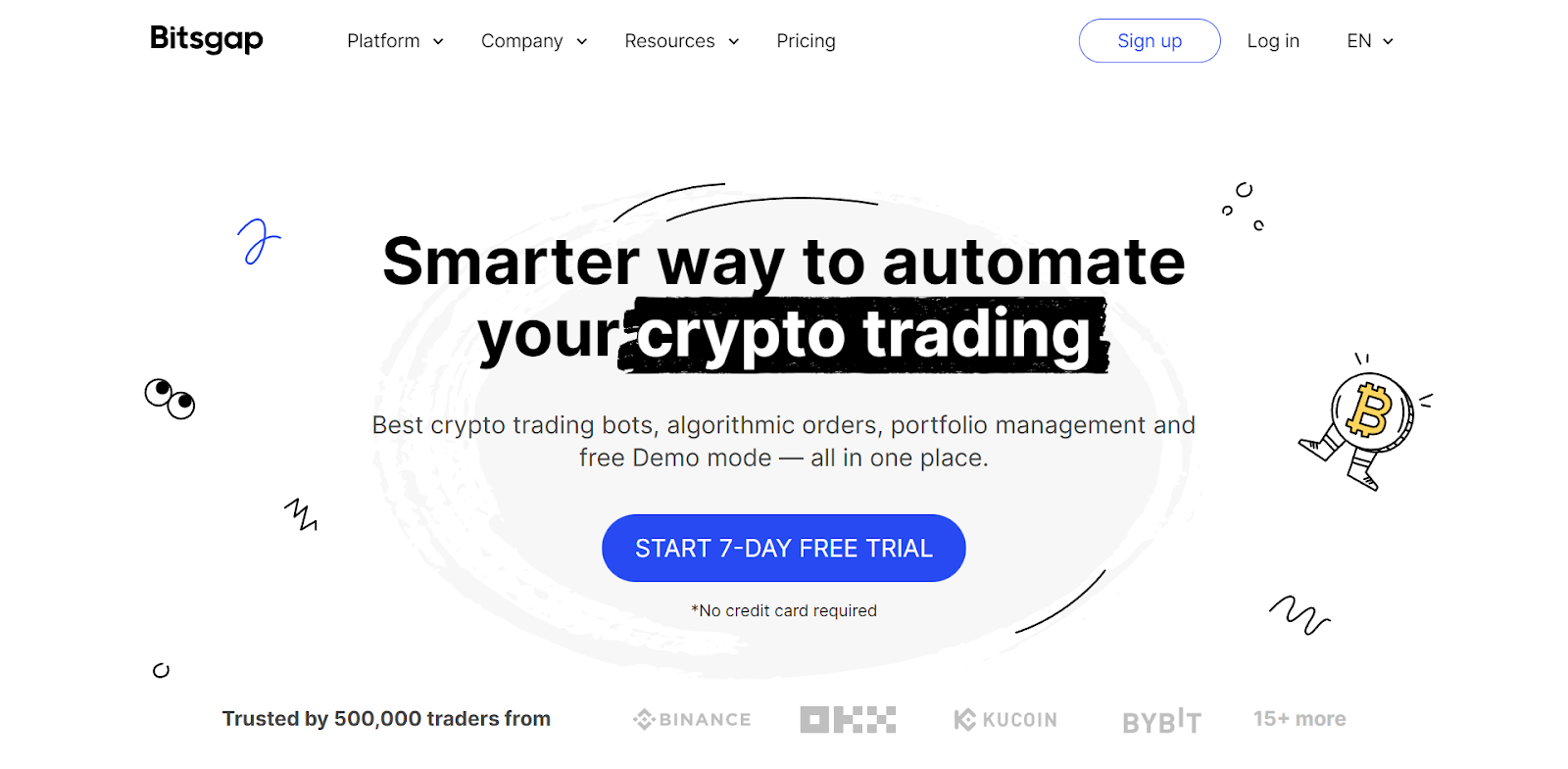 Image by Bitsgap
Bitsgap's DCA trading bot module leverages the "holy grail" of investing in crypto, stocks, FX and commodities markets, i.e., "dollar-cost-averaging" strategy. With this strategy, a trader spends a predetermined sum of fiat money per period of time to buy a preferred asset. For instance, Alice spends $1,000 on Bitcoin (BTC) on the first day of every month regardless of the price, while Bob purchases Ethereum (ETH) for $500 once in a fortnight.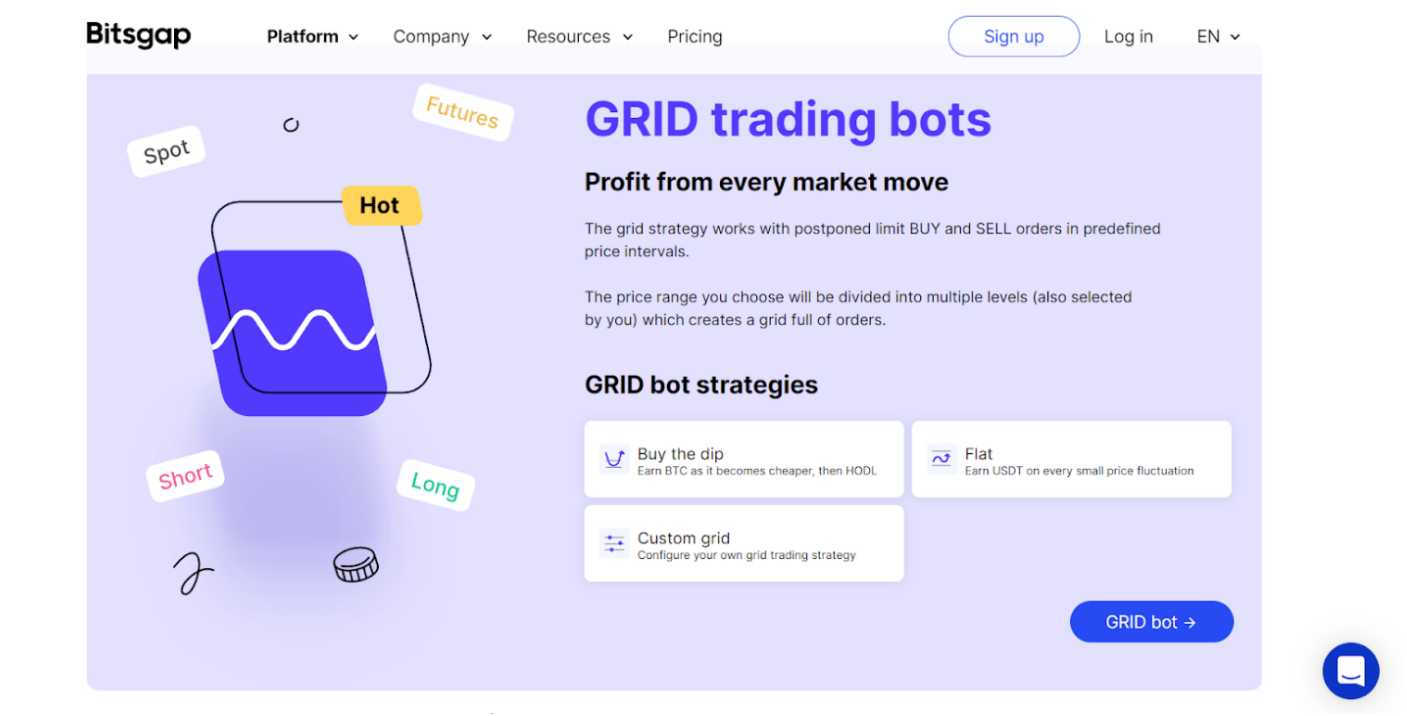 Image by Bitsgap
Meanwhile, Bitsgap is among the first crypto trading bots to add advanced versions of this strategy: besides "Pure DCA" and "Custom DCA" options, it has the opportunity to enhance DCA purchases using MACD+RSI and Stochastic+Channel, two reliable tech analysis indicators.
Last but not least, the Futures trading bot by Bitsgap can automate the processes of placing short and long orders on derivatives exchanges.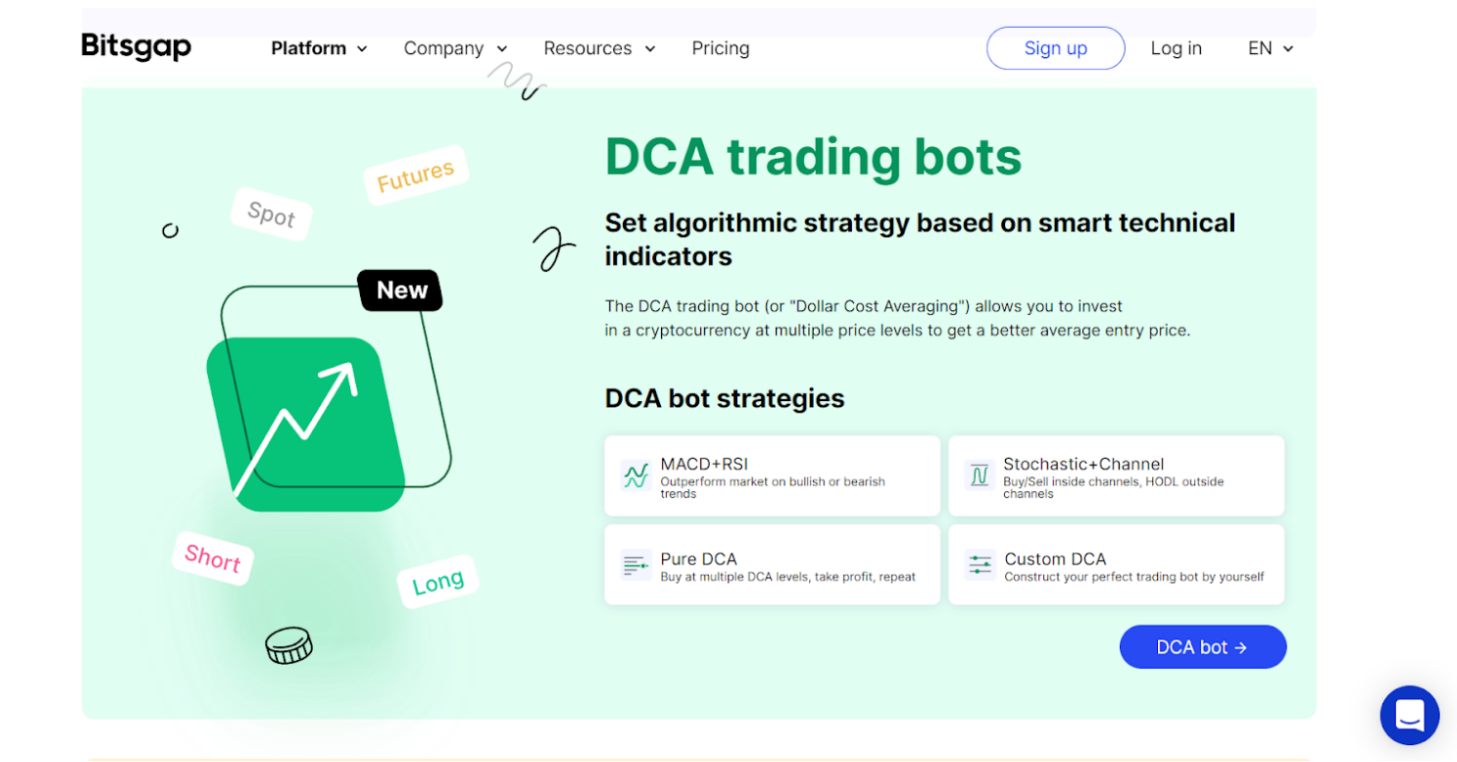 Image by Bitsgap
As of March 2023, Bitsgap supports the largest number of exchanges: it interacts with 15 CEXes, including all the heavyweights: Binance, Bybit, Huobi, Kraken and so on. With Bitsgap, users can trade Bitcoin (BTC), Ethereum (ETH), Dogecoin (DOGE), Shiba Inu Coin (SHIB) and all major altcoins and stablecoins.
3 Сommas
Veteran crypto trading bot platform 3 Commas launched in Q4, 2017. Not unlike Bitsgap, it offers a large toolkit of trading bots: DCA Bot, Grid Bot, Options Bot and so on. 3 Commas works with a wide range of centralized exchanges. It also offers a number of unusual functions, including automatic portfolio rebalancing, risk-free paper trading, signal alerts and so on.
Unfortunately, in Q4, 2023, 3 Commas bot was targeted by an attack on API keys that resulted in money lost by Binance (BNB) traders.
Zignaly
Launched in 2018, Zignaly bot ecosystem pioneered the "profit sharing" model: it allows newbie traders to copy the trading strategies of professionals sharing some profits with the "masters." From the pure "trading bots" model, it switched to "coinvesting" and "revenue sharing" narratives.
With Zignaly, newcomers can advance their trading skills, while seasoned traders can benefit from demonstrating their trades to followers.
Cryptohopper
Launched in late Q4, 2018, Cryptohoppers is well known for its stack of ready-made solutions for automated trading. Its bots are powered by AI and ML instruments. Its users can purchase fully preconfigured trading bots in a marketplace. DCA, short selling and "Triggers" strategies are also available.
Cryptohopper has a free "Pioneer" tariff for newcomers, while paid tariff plans start from $16.58 per month.
Pionex
Pionex is a centralized cryptocurrency trading platform with 16 built-in trading bots. Over 370 cryptocurrencies are available to its traders with only 0.05% in trading fees. Pionex works in 100+ countries, with its monthly trading volume exceeding $5 billion. Users can trade with bots in both the spot and derivatives segments.
Besides manual trading and bot trading, Pionex offers its users the opportunity to buy crypto, participate in the staking of PoS and DPoS coins and join saving programs.
Closing thoughts
Crypto trading bots are AI-powered systems that allow users to make their trading automated. With no human intervention needed, they streamline the process of placing and removing orders. In addition, they can perform basic investing strategies, such as "Dollar-Cost-Averaging" and so on.
Mainstream crypto trading bots are available for free or for paid subscription. They are integrated with centralized exchanges through API instruments.
Bitsgap is one of the most technically advanced trading bots that works with 15 CEXes and almost all mainstream cryptocurrencies. Its intuitive interface and feature-rich toolkit makes it the product of choice for both professionals and newcomers.