Leading crypto exchange Binance has finally added Sui (SUI) token support and launched trading. Binance changed the initially planned time of the launch to 12:00 p.m. UTC.
#Binance lists @SuiNetwork $SUI!

Trading for $SUI is now live ⬇️

— Binance (@binance) May 3, 2023
Binance lists SUI, OKX, KuCoin to follow
The token can be bought and sold against several other crypto and fiat currencies: Bitcoin, USDT, TUSD, EUR, BNB and TRY.
Traders will not pay maker fees on SUI/USDT, a Binance blog post about the SUI listing says, until a further announcement is issued. It also stated that EUR and TRY are only fiat currencies, and they do not represent any cryptos.
Aside from Binance, several other major exchanges, including Bybit, OKX and KuCoin, are about to launch SUI trading pairs.
Chinese crypto journalist Colin Wu also reported that the official team of the SUI coin has demanded that these exchanges, and Binance as well, do not launch the SUI-based perpetual futures trading.
Exclusive: the SUI official team requires the cooperative exchanges (Binance OKX Bybit KuCoin, etc.) not to launch the perpetual contract when the SUI token is launched. At present, the major exchanges temporarily meet this demand, and the launch of future may be delayed for a… https://t.co/2XGA75MmiV

— Wu Blockchain (@WuBlockchain) May 3, 2023
Still, despite the trading launch, CoinMarketCap data shows that the SUI price is down 70%, trading at $1.31.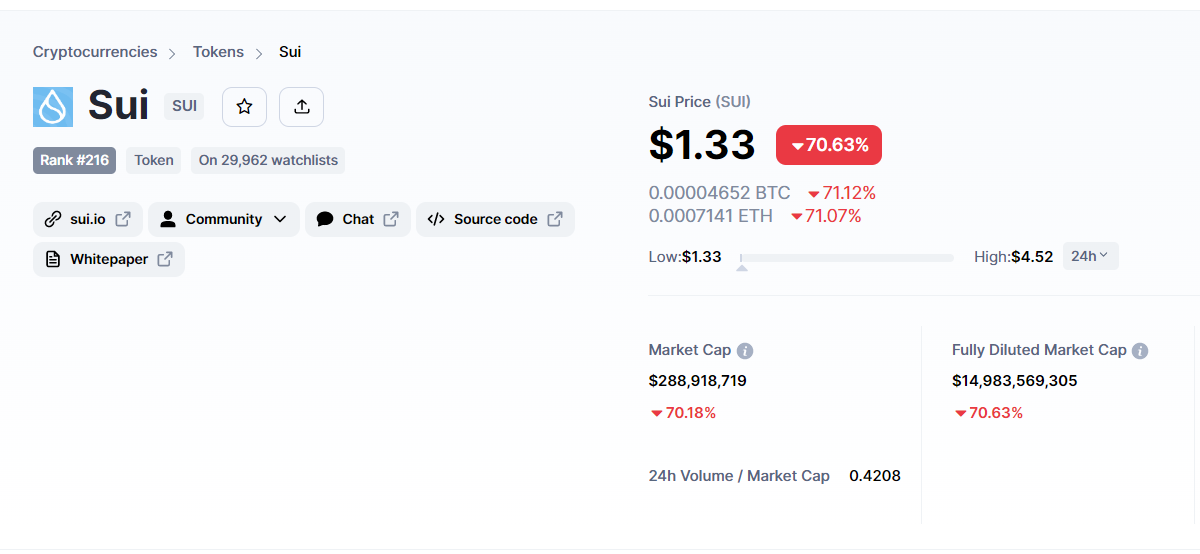 Analyst slams SUI, recommends selling it
Earlier today, Twitter account owner @NorthRockLP mentioned SUI token in their tweet, calling it "complete vapor ware," suggesting that it is based on nothing, and no utility or actual value stands behind it.
The account stated that if investors own more than five billion of these tokens, it would make a great sale.