Shiba Inu's lead, Shytoshi Kusama, has heralded a new era by designating all members of the community as the new defense breed.
The leader of Shiba Inu has just updated his Twitter bio, which now reads, "If you fly the Shib flag, it shouldn't be reversible. Great job, Shibarmy. You all are the new defense breed."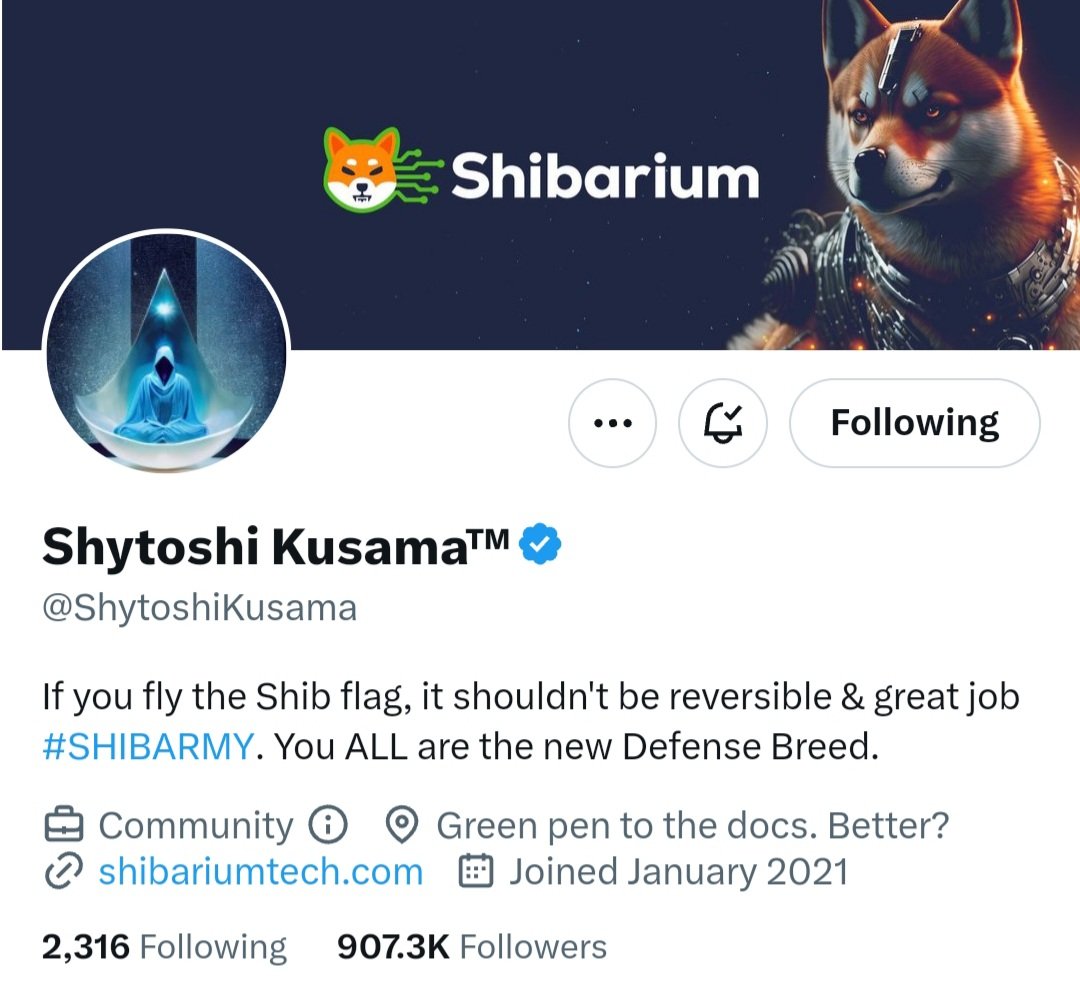 Kusama most often communicates with the community by constantly updating his Twitter bio about the ongoing developments in the ecosystem.
In his most recent Twitter bio change, the Shiba Inu lead praises the SHIB community for their resilience in the wake of the recent events that unfolded during the week.
He makes a call to action to the SHIB army, saying, "If you fly the Shib flag, it shouldn't be reversible" and "You all are the new defense breed."
As stated in a Shibarium blog post, the "Breeds" were a concept to help create structure in an otherwise structureless, decentralized group of volunteers that wanted the best for both Shib and its community.
The earlier "Breed" team took up the responsibility of fighting FUD, negotiating and closing deals with different companies on behalf of Shiba Inu.
Now, Kusama is announcing a new defense breed team consisting of all Shiba Inu community members.
SHIB metaverse advisor to showcase project at Web3 event
Shiba Inu's metaverse advisor, Marcie Jastrow, will attend this year's Outer Edge Los Angeles (LA) event, starting March 20. Jastrow revealed this in a tweet while expressing her delight at the opportunity.
"So excited to be speaking at Outer Edge | LA next week! It's the ultimate Web3 experience and you don't want to miss it – I hope to see you there! If you haven't snagged a ticket yet, here's my discount code:Marcie10" #shib #shibarmy #ShibTheMetaverse

— Marcie Jastrow (@marciejastrow) March 17, 2023
As a respected speaker at the Web3 event, Jastrow will join a host of prominent leaders in the Web3 and cryptocurrency industries.