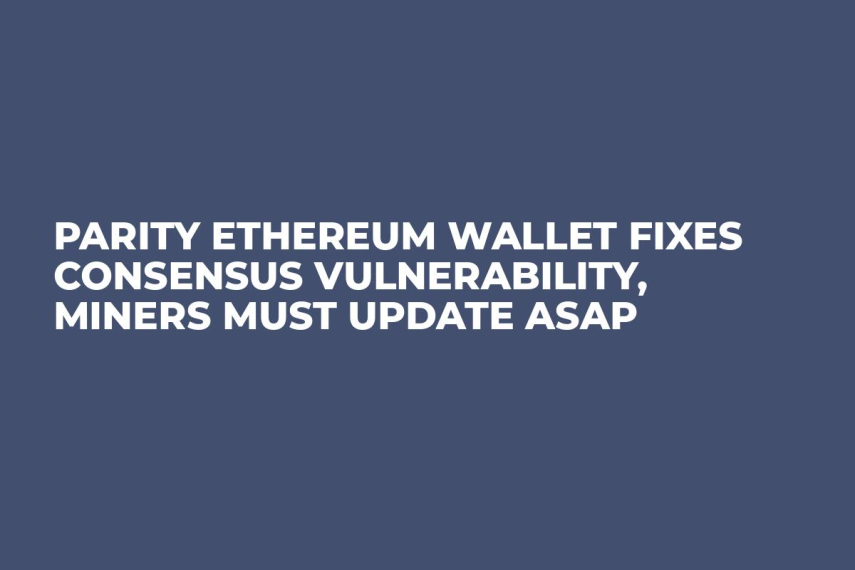 Cover image via U.Today
The bug was spotted on the Ropsten testnet earlier Wednesday June 6. However, it was not found in the mainnet and the Ethereum Blockchain is operating with no interruptions.
Miners working on the old version of the Parity client may consider some transactions to be valid but the most widely-spread Ethereum client Geth will not verify them and it may cause a split in the network. For this reason, it is very important that the nodes upgrade ASAP.
By now, all mining pools have been notified.
Technical side of the issue
In the Bitcoin Blockchain there is a system that sends alert messages when similar situations take place, but it is not clear if Parity has anything like that.
The delay in notifying the nodes can indeed take place, so in theory it complicates responding to an emergency like this. Notifying all validators can be a hard job to do unless they are alerted by the nodes themselves.
However, installing such a system can be dubious since it also could be used as an attack vector. Some crypto enthusiasts even argue that it may cause vulnerabilities to appear.
In order for the network to run properly and avoid losing funds, all nodes must upgrade.