The digital currency ecosystem is deep in losses at the moment, while the combined digital currency market capitalization is down by 1.04% to $1.02 trillion. Despite these losses, Optimism (OP), one of the most prominent Ethereum-based Layer-2 protocols, is leading the altcoin surge with its 5.31% growth to $1.33.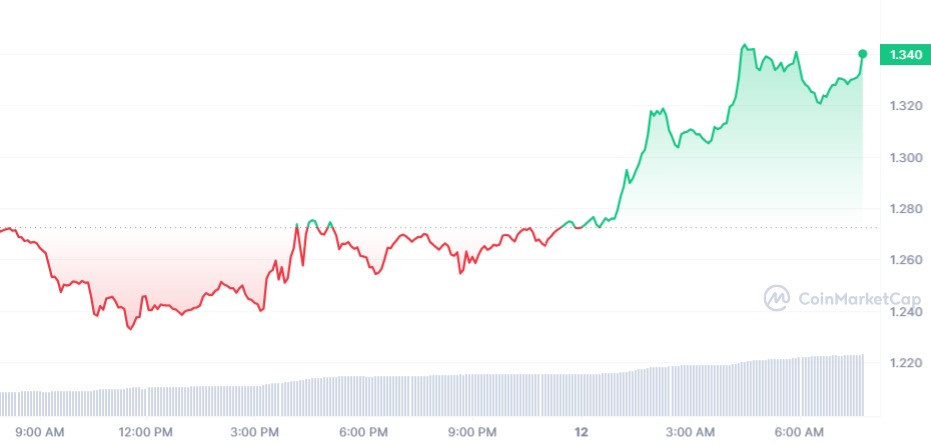 The Optimism protocol's price resurgence is not an uncommon feat for the digital currency as it has been on the frontlines through Base in the past few months. Optimism's bullish pace also reflects the resilience of OP buyers, with sustained growth in the trailing seven-day period. Within this time, the price of the digital currency has recorded a 1.19% uptick.
Notably, many of the competing mainstream altcoins in the industry today are seeing a major drawdown. For reference, Ethereum (ETH) is down by 2.04% at the time of writing, while Shiba Inu (SHIB) is down by a total of 1.66% in the past 24 hours. Understanding the broader drawdown of other altcoins lends a more defined appreciation to OP's growth.
The digital currency has seen a massive surge in its trading volume to reflect how buyers of all categories, including retail and institutional investors, are doubling down on the coin at this time. The trading volume is up by 159%, with a total of $141.2 million exchanged on trading platforms at the moment.
Optimism ecosystem triggers
For Optimism, the exploration of the new innovation has been a hallmark of its bullish build-up in the past year. With new exploration into decentralized autonomous organizations (DAO) for bootstrapping the Base protocol, Optimism has found a vital role in today's Web3.0 world.
Despite the massive competition in the L2 world, Optimism still maintains its luster as it continues to record massive growth in its daily transaction count overall.