The Multichain (MULTI) protocol is seeing a massive bullish revival today in what is baffling investors who have been tracking activities around the platform since it witnessed a force majeure event last week. At the time of writing, MULTI token is up by 37% and changing hands at $4.69, growth that is pushing the asset to pare off the losses it accrued over the past week.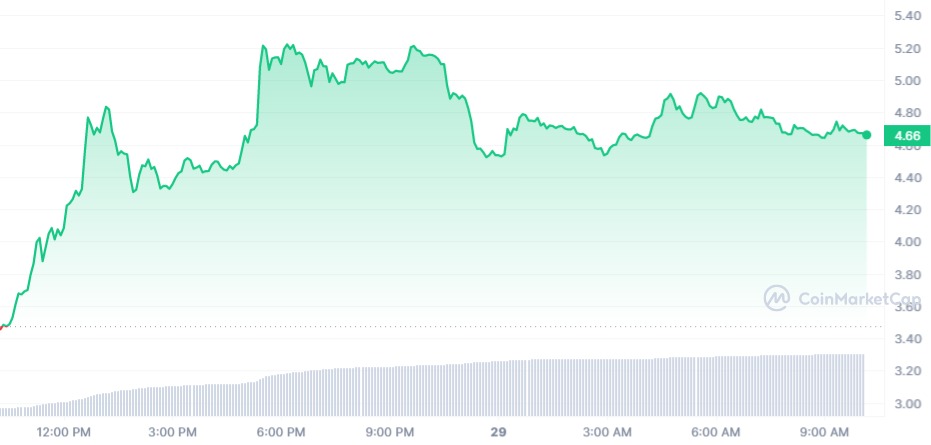 As reported earlier by U.Today, there was a rugpull fear in the Multichain community after several chains were inoperable over the past week. Despite promises from the protocol to reimburse its users who were affected by the force majeure, there has been no update from the team since last week.
The question now lies in what exactly is stirring the massive revival in the price of the MULTI token.
From the on-chain data on CoinMarketCap, the digital token's growth is complemented by the massive jump in its trading volume over the past 24 hours. Per the data, a total of $89.9 million MULTI tokens have been traded thus far, an indication of renewed interest in the asset across the board.
Resurgence after demise
It is not uncommon to experience a protocol rugpull in the digital currency ecosystem and going down memory lane, this has happened to Sushiswap, when founding developer Chef Nomi abandoned the project.
Sam Bankman-Fried, the founder of bankrupt FTX Exchange, took over the project at the time and helped reposition it on the path of growth. The rugpull dragged the price of SUSHI down by more than 90% at the time, but the takeover helped its recovery.
Some insiders within the Multichain protocol might be privy to a related move, and for traders backing the token, it appears to be a good bet, seeing as its price has hit rock bottom.