In our article for Litecoin price prediction for the month of March we wrote "We favor mostly the optimistic scenario. However, some profit taking is very probable at the current price of $55." We proved to be partially correct as the target levels of $74, $94 and $101 were not reached, although the uptrend continued.
The high price for Litecoin in March was about $62.07. In early April 2019, a breakout did occur though. After this breakout to the upside what is our opinion and price prediction for Litecoin in April 2019? As always it is not an investment recommendation, just our opinion and commentary.
Litecoin Key Statistics and Year-to-date-Performance
Litecoin moved up one position and is now ranked number 4 on CoinMarketCap in the list of the top 100 Cryptocurrencies by Market Capitalization.
Other noteworthy key stats are:
Price of Litecoin as of April 5, 2p019 is $87.34
Market Capitalization: 5.34 Billion, Circulating Supply: 61.720 Million
Volume 3.91 Billion, Maximum Supply 84.00 Million
52 Week Low- 52 Week High: $22.6620- $182.8388
Year-to-date-performance is +175.10%
Litecoin price prediction April 2019 by various online sources
What are some online sources thoughts and estimates about the price of Litecoin during April 2019? Can the breakout lead to even higher price levels?
LongForecast has the following Litecoin (LTC) price prediction for April 2019. An open price of $60.8, a low-high range of $60.3-$119.3 and a close price of $110.0 for a monthly return of +80.9%. It is a very optimistic forecast for Litecoin, believing that the recent rally during March 2019 and early April 2019 will lead to even higher prices during April 2019.
DigitalCoin forecasts that Litecoin will have an average price of $130.11 or a change of +48.48% in April 2019.
WalletInvestor estimates that in 14-days Litecoin price target could be about $75.0.
30Rates has the following Litecoin price prediction for April 2019. "In 3 weeks Litecoin price prediction on Friday, April, 26: minimum price $100.3, maximum $115.3 and at the end of the day price 107.8 dollars a coin. LTC to USD predictions on Monday, April, 29: minimum price $101.5, maximum $116.7 and at the end of the day price 109.1 dollars a coin. Litecoin price prediction on Tuesday, April, 30: minimum price $102.3, maximum $117.7 and at the end of the day price 110.0 dollars a coin."
Forex24Pro on April 5, 2019 about LTC/USD forecast, and analysis mentions "an attempt to test the support area near the level of 77.95. Where can we expect a rebound and continued growth of LTC/USD in the region above the level of 105.00. An additional signal in favor of the rise of Litecoin will be a test of the trend line on the relative strength index (RSI).
Cancellation of growth option will be the fall and the breakdown of 68.35. This will indicate a continued decline in cryptocurrency."
Litecoin price forecast based on technical analysis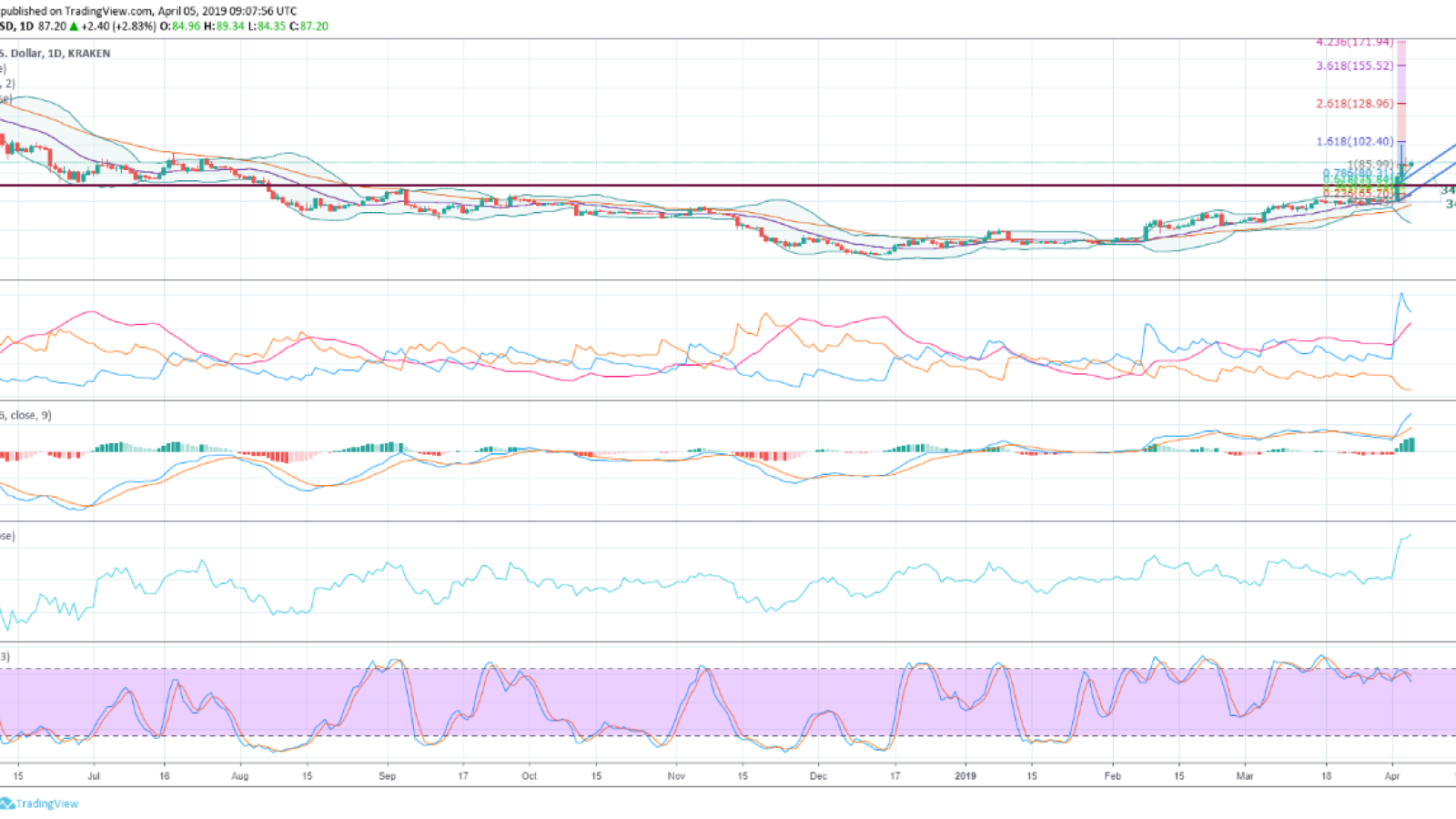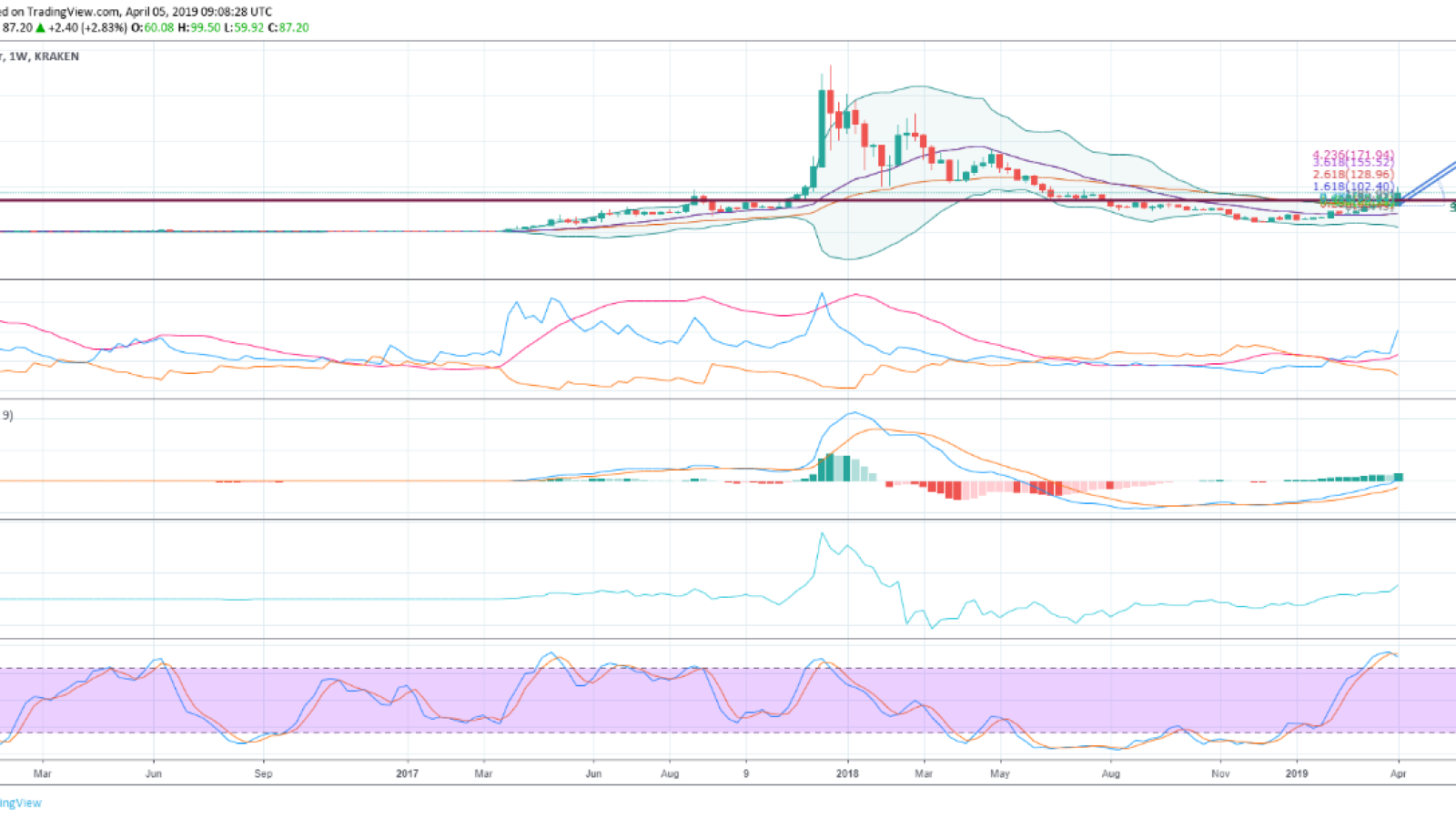 Litecoin price prediction positive scenario
On April 4, 2019 Litecoin (LTC) made a high price near the level of $99. It has retraced and as Of April 5, 2019 the current price is about $87.20. We notice a strong uptrend as indicated by the ADX/DMI indicator, rising 50-day and 20-day exponential moving averages and rising MACD indicator and Momentum indicator.
Our first target for April 2019 is the retest of the $99 price level and the level of $110 back in May 2018. On the weekly chart our price target is near $112, a very strong former support zone back in 2018.
Litecoin price prediction negative scenario
On the weekly chart Stochastics indicator is now within overbought levels. And on the daily chart it has formed a negative divergence and a bearish crossover. The uptrend however is very strong.
There is strong resistance at the $90-$92 price levels, and at the $110 price level. If this recent rally is to take a pause, then a retracement to the price levels of $57-$64 is probable. The current price of 50-day exponential moving average at $57.57 should provide a strong support. Our next target in case retracement is even deeper would be the price zone of $42-$48.
Litecoin price forecast conclusion for April 2019
A breakout for Litecoin in early April 2019 tends to favor the optimistic or bullish scenario. We believe that this rally should be monitored, and a retracement is very likely. We cannot rule out a price decline back to the support zone near $62 and then an attempt for a continuation of the uptrend and a retest of the $99 high price on April 4, 2019.