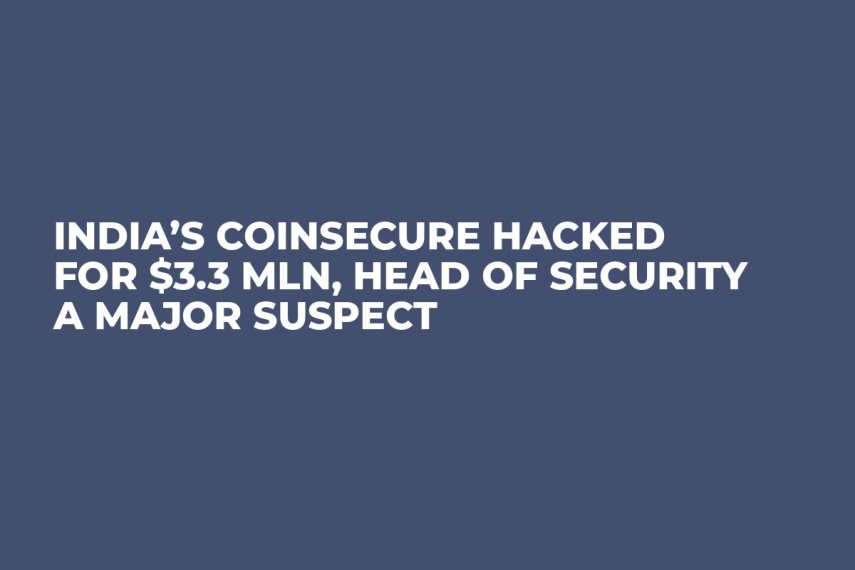 Cover image via U.Today
Coinsecure, a Delhi-based cryptocurrency exchange, appears to have become the first Indian exchange to suffer a major hack and theft of funds. The hackers made off with around $3.3 mln as the exchange attempt to test their ability to distribute Bitcoin Gold. However, there are suspicions that their head of security used this as a cover to affect the theft.
This comes at a bad time for India as their government recently cracked down on businesses operating with cryptocurrencies. If the suspicions are true about their CSO, Dr. Amitabh Saxena, being involved, it will no doubt cause big ripples in India.
Extracting BTG
According to the exchange, 438.318 Bitcoins were allegedly stolen from its wallet by attackers. Coinsecure said that the incident happened while extracting Bitcoin gold to distribute among its customers.
However, it is not as simple as that because the exchange has publicly stated that the man who was in charge of this exercise, Saxena, may well be implicated.
"The current issue point towards losses caused during an exercise to extract BTG to distribute to our customers. Our CSO, Dr. Amitabh Saxena, was extracting BTG and he claims that funds have been lost in the process during an extraction of the private keys," the company said.
"As the private keys are kept with Dr. Amitabh Saxena, we feel that he is making a false story to divert our attention and he might have a role to play in this entire incident. The incident reported by Dr. Amitabh Saxena does not seem convincing to us."
Filed a FIR
The exchange also filed a first information report (FIR), which they attached to their homepage.
In the FIR, the company's CEO Mohit Kalra said that it fears that Saxena might fly out of the country and urged the Delhi police to seize his passport.
"We are working round the clock to restore services and to try and recover all of the lost funds, and we shall keep all our users posted on the outcome of the details to ensure utmost transparency," the company said.
Too many hacks
Hacks are becoming all too common, and of course, do not add to the narrative of a stable and secure environment in the cryptocurrency space. Japan has reacted heavily after the infamous Coincheck hack, which is the largest in history, coming after Mt.Gox which was also in Japan.
India's reaction to this hack will be interesting to witness as the Reserve Bank have made it clear that they want nothing to do with the cryptocurrency market; their crackdown extending to any entity even working with virtual currencies.