We know that the application of blockchain extends well beyond cryptocurrencies, but where exactly can it be applied? One of the most prospective ways to use this technology is Blockchain as a Service (BaaS). Sound complicated? This article is here to explain the nuts and bolts of this innovation, and how it can change our lives.
What is BaaS?
Blockchain as a Service (BaaS) is a technology that enables clients to use cloud-based infrastructure to create, host and utilize their own blockchain applications, code contracts and features on a blockchain. At the same time, cloud service providers execute assignments and processes to help the ecosystem function. It is a fascinating advancement that contributes to the wide adoption of blockchains over organizations. In its essence, it reminds one of Software As A Service.
People and organizations are eager to adopt blockchain innovations, but there are many impediments to its massive implementation: technical issues and operational restrictions connected with making, arranging, and maintaining the decentralized system, and keeping up its foundation. Together with the industry top dogs, numerous new companies are currently offering advanced products for dealing with this issue via the Blockchain-as-a-Service.
So, how does it function?
BaaS means that a third-party company renders all essential "blockchain innovations and infrastructure" for a client on a paid basis. A BaaS supplier establishes and maintains the decentralized system and nodes that they possess and operate. Thus, a BaaS supplier deals with the fundamental points of the software for the customer and their online infrastructure.
The BaaS administrator cares about the maintenance of the decentralized framework. It additionally offers support services like bandwidth control, appropriate assignment of assets, hosting, etc. Besides, a supplier is also responsible for the security of his framework. By utilizing a BaaS solution, the customer may forget about troublesome errands and focus on what really matters – the functions of their blockchain – rather than stressing over the ecosystem and issues with performance.
To have a better understanding of what it is, consider that BaaS plays the role of a hosting company. You fabricate an awesome site that is ready to deal with serious traffic spikes. You can host your website utilizing your PC or server located in your own home/company, and deal with all the upkeep by hiring IT specialists. Alternatively, you can work with third-party web hosting suppliers like GoDaddy and let their team take care of everything. BaaS functions similarly: it enables you to concentrate on the essential website features and functions.
BaaS might be the fundamental trigger that can prompt a lot more extensive and profound implementation of blockchain innovations crosswise over different business areas and organizations. Rather than making proprietary blockchains, businesses can let others handle those complicated tasks and focus on their mission-critical goals.
Why is BaaS beneficial?
BaaS works like a SaaS solution, permitting organizations of every kind to implement blockchain technologies without investing heavily in their development. Additionally, the BaaS model enables organizations to deploy blockchain supplier's services to access/create decentralized apps.
The main drawback is that BaaS cannot exist without some level of centralization as exchanges should be executed on behalf of the hosting provider. Decentralization is what makes blockchain valuable, but here we deal with a specific case, so organizations should take some time to consider if such technology is suitable for solving their issues.
Benefits of this service model

The ability to benefit from advanced technologies without serious investments

Offers organizations huge adaptability

Expanded information security

Wide compatibility

Access from any place

More advanced software
BaaS can be implemented in organizations of any sphere and is highly demanded among the companies related to retail, healthcare, insurance, marketing, finances, and cloud services.
Who provides such services?
Large companies are already developing and offering their own BaaS solutions. Microsoft has come up with a BaaS system for Azure. The service is essentially created for corporate customers, accomplices, and devs to implement and customize the decentralized ledger technology by providing an intuitive cloud-based decentralized dev ecosystem. Using this solution, several parties may experiment with blockchain in a ready environment – it's suitable for both development and testing. Once the solution is ready, it can be uploaded and integrated seamlessly into the Azure's private system.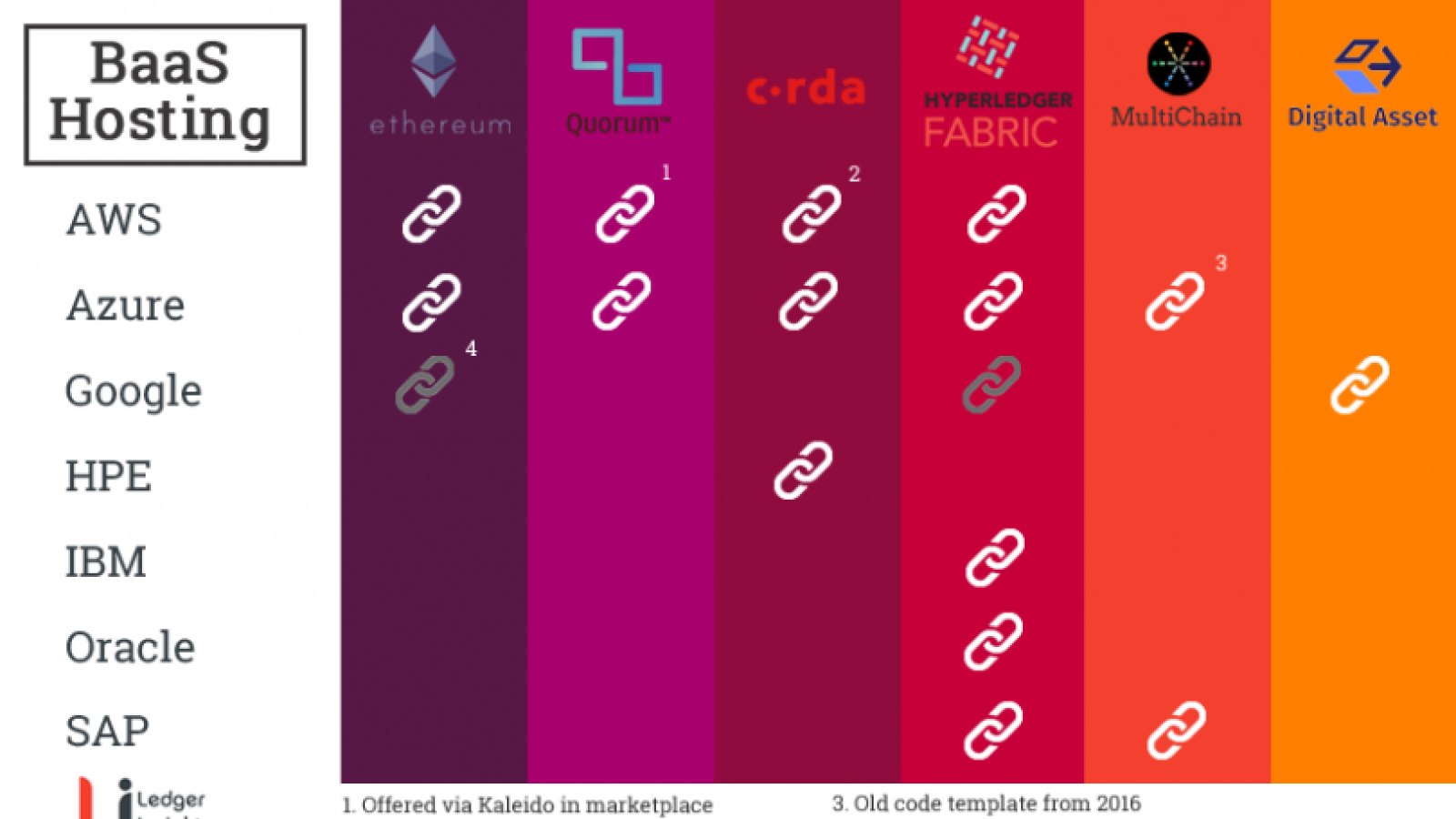 Deloitte's Rubix is a solution that was created to model, test and build blockchain & smart contract applications for any sphere. Thanks to offering a flexible, adaptable blockchain infrastructure, Rubix is a 100% private system that can be controlled to meet the customer's requirements. With an assortment of incredible and adaptable highlights and settings, Rubix can be successfully used in corporate infrastructure.
Aside from above-mentioned products, IBM's innovation is offered for private consortium blockchains, and cloud hosting solutions are also provided by Amazon and Oracle.
Why is BaaS the future for B2B?
There are at least three reasons why BaaS is very likely to be widely adopted by companies.
1. It allows testing the products
This system enables B2B organizations to experiment with blockchain innovations prior to making a more considerable investment. B2B organizations don't have to spend boatloads of money on testing and developing technology and electronics. BaaS reduces the risks connected with the use of proprietary decentralized systems.
Of course, to create some organization-specific products, a company would have to hire a programmer or blockchain developer, which will cost them $70,000-$200,000 annually. But for enjoying some basic functions, a BaaS solution would be more than enough.
2. BaaS solves the problem of a lack of workforce
Since blockchain is a pretty new phenomenon, the number of qualified blockchain specialists is minor. Today, companies face a lack of blockchain developers, which makes it hard for them to use the technology. From 20 mln programmers on the planet, only 0.1% are savvy in the area of the decentralized ledger. What's more, statistics show there are only up to 60K specialists worldwide meeting all requirements to deal with programming.
3. It revolutionizes the way we run operations
In 2016, worldwide financial organization Visa announced that it started working with blockchain venture organization Chain to build up a straightforward and quick approach to execute B2B transactions over the globe. Without blockchain, performing thousands of international transactions can be a great challenge, but BaaS changes it all.
Making international transactions can frequently be a cumbersome and long procedure even for large enterprises. Despite the fact that BaaS suppliers basically play the role of mediators for B2B organizations and blockchain innovation, it removes the intermediaries in exchanges by automating the process. Therefore, exchanges made via decentralized systems have a much higher speed. Organizations like Visa are creating blockchain frameworks to execute close to real-time exchanges. What's more, the amount and geography of these exchanges aren't a boundary. With BaaS, organizations can easily process global operations.
By accelerating the procedure, BaaS can save a lot of money for B2B organizations. For instance, a bank might save around $8 bln every year, e.g. cuts its operational budget by 27%.
Why is BaaS not a pure blockchain system?
Truth be told, BaaS is not a 100% blockchain because it contradicts one golden rule: blockchain is decentralized, which means it isn't governed by anyone. However, the use of BaaS means that companies take control over a blockchain in their hands, which goes against the ethics of this phenomenon. Is there any threat? We know that the information stored in blockchains is always unbiased and trustworthy as it's driven by code only. As for BaaS, codes might be manipulated by the developer or owner. It diminishes the main value – decentralization.
All in all, BaaS has a lot of potential to improve the efficiency of business processes, no matter where it is used. Although the technology is currently in its initial state, it promises to become more widely adopted all over the globe because its advantages are hard to overestimate.