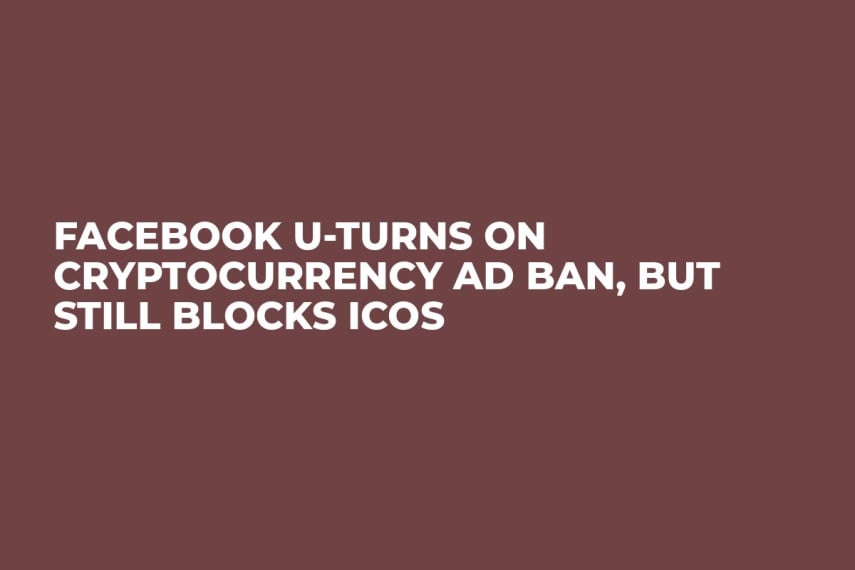 Cover image via U.Today
After setting the trend in banning of advertising relating to the cryptocurrency marketplace, Facebook has reversed its decision to block such advertising on its platform. The social media giant has said that it will once again be accepting ads for cryptocurrencies, and their related content.
However, the leniency has not extended all the way through the ecosystem as the conscientious ICOs are still on the ban list for Facebook.
Vetting processes
The floodgates for cryptocurrency marketing on Facebook have not been suddenly opened as it was explained by Facebook product management director Rob Leathern, who said in a blog post, advertisers will need to be vetted first.
"Advertisers wanting to run ads for cryptocurrency products and services must submit an application to help us assess their eligibility—including any licenses they have obtained, whether they are traded on a public stock exchange, and other relevant public background on their business. Given these restrictions, not everyone who wants to advertise will be able to do so," he wrote.
Going with the flow
At the time of the ban, Facebook was questioned and criticized for its decision as its head, Mark Zuckerberg, had, just before the ban, said he would be interested in learning more about such technologies.
More so, Facebook has also shown that it is actively working towards building and launching its own cryptocurrency in a move that seems almost counterproductive to the social media giant.
Not hope for ICOs
The continued upholding of the ban for ICOs is also telling as it is along the narrative of suspicion and doubt being cast over plenty of ICOs. The general feeling around ICOs at present is one of much suspicion and doubt, and for Facebook to maintain its ban in order to keep scams away from people, it is indicative of the environment.
Building trust
This exercise of Facebook first banning cryptocurrency ads, in spectacular fashion which led to a price decline in Bitcoin, and then reinstating the ads does at least show some modicum of growth in trust in the bigger and more established coins.
The fact that ICOs are still on the ban list does however also point to a sector of the market that is not gaining in trust, and in fact, is losing more trust of the regular and institutionalized investor.