The other day, BitTorrent shared via its Twitter account that the new project, BitTorrent Speed, is going to be released soon in 2019 – by summer 2019.
Today we are unveiling BitTorrent Speed, a new software that connects and rewards users with BitTorrent $BTT tokens. Read more about it on our blog. #niTROn2019 https://t.co/9NLuJzMtTr pic.twitter.com/S7r4pUUJzw

— BitTorrent Inc. (@BitTorrent) January 17, 2019
However, the old withstanding between Tron and Ethereum seems to continue indirectly, of course. Usually, it was Tron and its inexhaustible CEO, Justin Sun, that tried to surpass Ethereum. This time, it is an Ethereum-based app that intends to outperform BitTorrent.
Upfiring fires away with its app
The successful participation of BitTorrent in Tron's plans of conquering the crypto universe seems to have inspired its rivals in the file-sharing field. An Ethereum-based dApp Upfiring has been developing over the past year. Now they have released their own app that can already be used by customers.
On Thursday, Upfiring set off with the beta of its app, allowing public trials of it. However, this app works differently from BitTorrent. In BitTorrent Speed coins are meant to be an incentive. Its new Ethereum-powered rival will make users pay coins (UFR) in order to decrypt files they download. These tokens are sent directly to the users who uploaded and shared those files.
Upfiring's Blockchain File-Sharing Dapp is Live in Open Beta: https://t.co/uJYnrVw1G2

— Upfiring (@UpfiringHQ) January 17, 2019
This does not have to be a problem, though – users of Upfiring can download some files and then forget about them until they have earned enough tokens by sharing other files. However, experts believe that BitTorrent's model of optional token use will be way more popular than the obligatory token utilization scheme of Upfiring.
A hard-to-notice coin yet
When it comes to evaluating the current state of affairs for a crypto token, experts look at its market cap value. From this point of view, the prospects of UFR are less than good so far. As per Coinmarketcap, it totals just $2 872 928.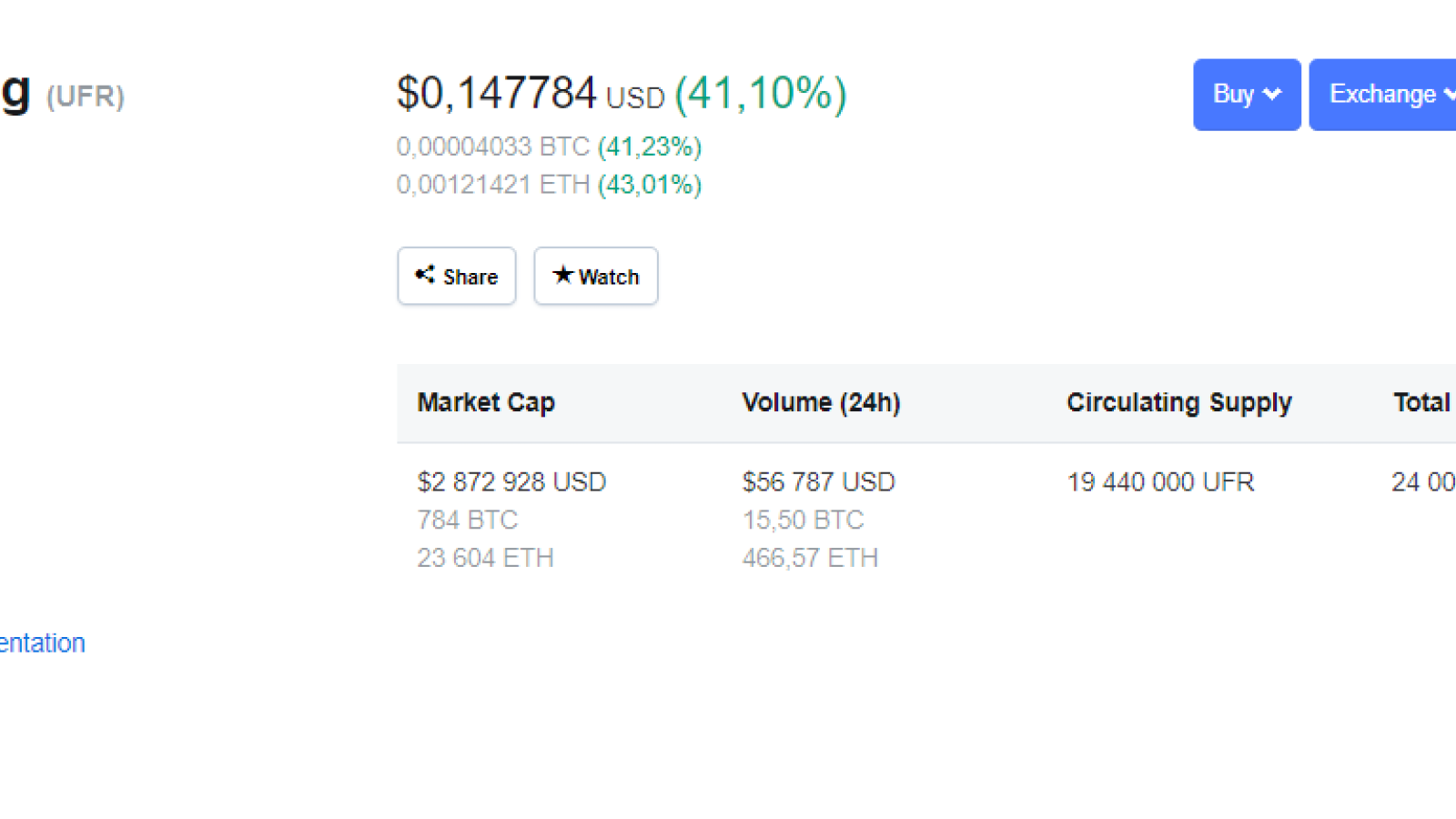 The UFR supply of tokens is worth around $1.3 mln, thus getting it on the position #480 on CMC. Nowhere near TRX. Experts believe that BTT when launched on exchanges will start at a much higher level than the one UFR is now on. However, analysts reckon that UFR does have some prospects.
A namesake for BitTorrent coin
Now that the BitTorrent-issued and Tron-based BTT coin is about to be released, it is worth saying that a coin with BTT ticker already exists. It's a Blocktrade token (BTT), holding the position #675 on CMC with a market cap of even less than UFR - $1 188 680. It is currently trading at $0,0219.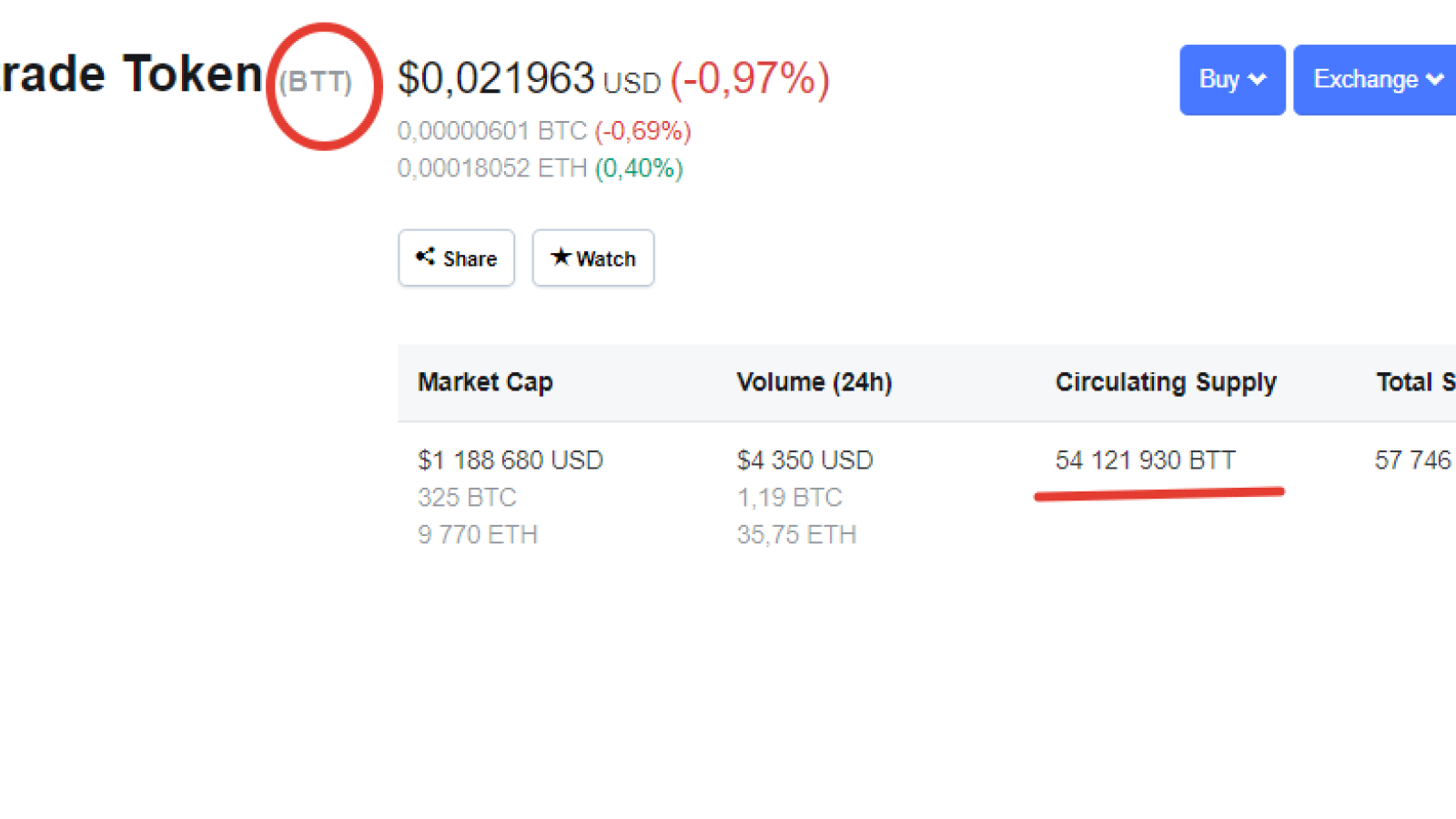 This does not seem to be a problem for Justin Sun and the Tron-powered BTT token of its new file-sharing partner. Recently, U.Today reported that as per a new rule by Tron, different TRC-10 coins can bear the same title. Perhaps this is the reason for the existence of two BTT coins at the moment.