The Decentralized Finance (DeFi) activities in the Cardano (ADA) ecosystem are growing, as showcased in the more than 100% jump in Total Value Locked (TVL) in the year-to-date period despite the acclaimed crypto winter. According to data from DeFiLlama, the TVL of all smart contracts on Cardano rose from $48.95 million on Jan. 1 to $108.63 million at the time of writing.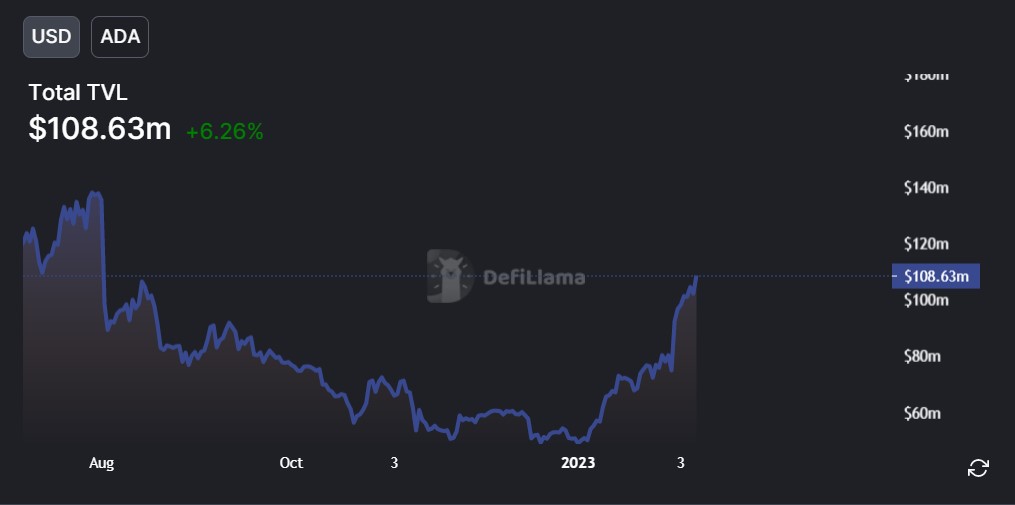 The growth in TVL is a result of the growth in the embrace of each of the smart contracts that call Cardano home. As showcased by the DeFiLlama chart above, the biggest upsurge was from Jan. 31 to date, coinciding with the period of hype in the imminent launch of the DJED stablecoin.
While the current data does not reveal the direct influence of the DJED overcollateralized stablecoin in TVL growth, the milestones hit by the new COTI-backed token provide evidence that proved otherwise. As reported earlier by U.Today, the DJED stablecoin recorded 14,500% growth in its unique addresses just about a week after its launch.
Cardano has been preparing its protocol to witness such a record DeFi explosion since the launch of its Alonzo upgrade. While still below its major rival, Ethereum, in terms of TVL, this new milestone is evident that its development work is yielding results.
How Cardano (ADA) price will benefit
For each DeFi activity, the ADA token is directly or indirectly involved, a situation that implies more users will need to acquire the coins in order to conduct transactions on the parent chain. With the top smart contracts on Cardano including Minswap, WingRiders, Indigo, DJED Stablecoin and MuesliSwap drawing new users, ADA is primed for an immense upshoot moving forward.
The locking of ADA in smart contracts can also help drive scarcity, which eventually impacts the price of the digital currency in the near to long term.