Bitcoin's price soared past $29,000 on the Bitstamp exchange, reaching a peak of $29,170, marking its strongest quarter in two years with a staggering 72% jump.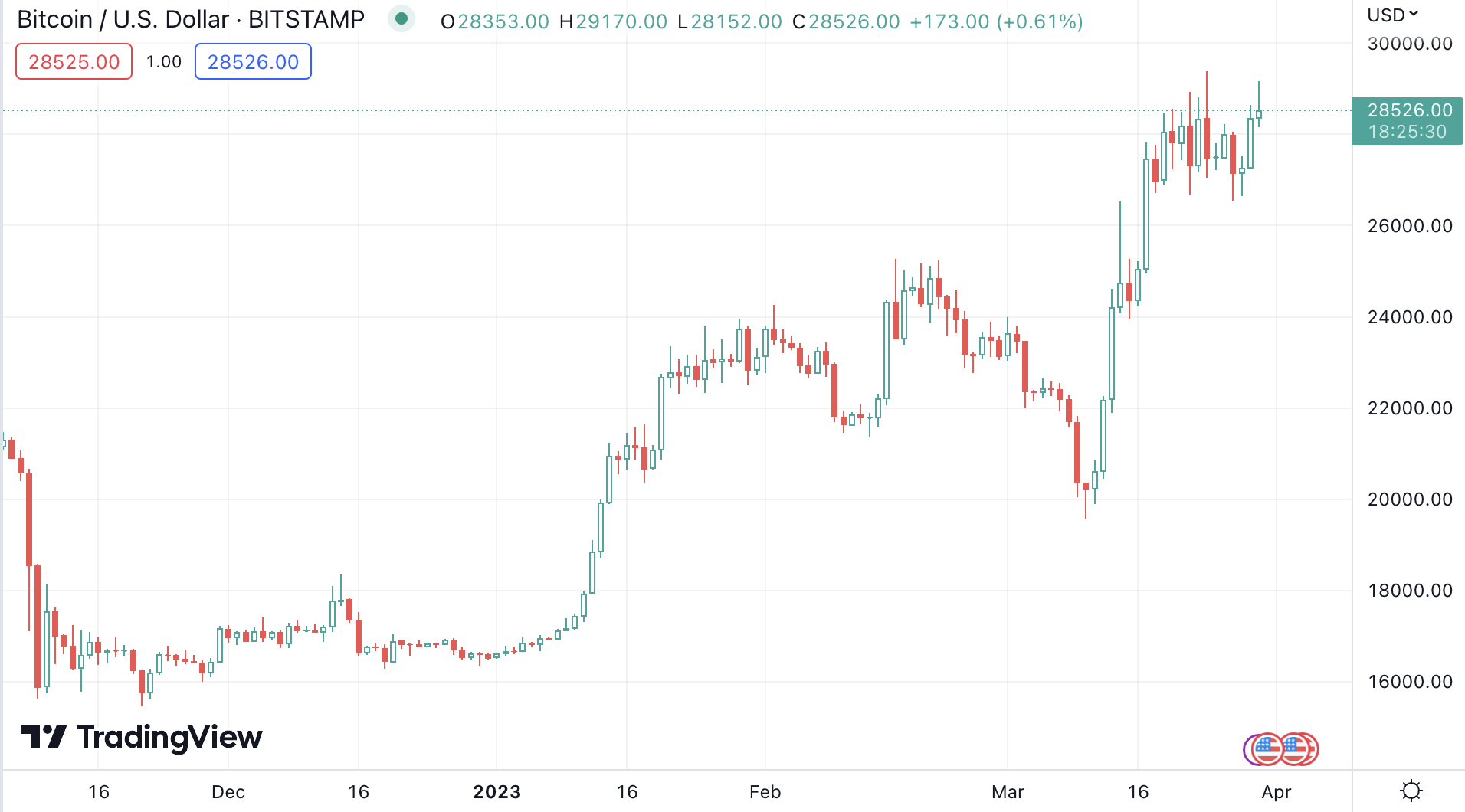 The cryptocurrency has outperformed both the Nasdaq and gold, which have seen returns of 15% and 7% since the beginning of 2023, respectively.
This impressive growth comes despite a series of setbacks in the cryptocurrency sector, including regulatory lawsuits against exchanges and individuals, the banking crisis, and the absence of new institutional money entering the market. Hence, some find the rise in Bitcoin's price amidst these challenges puzzling.
Binance, the largest cryptocurrency exchange globally, along with its CEO Changpeng Zhao, have recently been hit with a lawsuit initiated by the Commodity Futures Trading Commission (CFTC). The legal action revolves around alleged violations of regulatory compliance.
Moreover, crypto exchange Beaxy has shut up shop following a lawsuit by the Securities and Exchange Commission (SEC). The formidable regulatory agency accused the exchange's founder of misappropriating customer funds.
In spite of these negative headlines, Bitcoin's price has continued to surge, confounding skeptics and defying expectations.
As the cryptocurrency market navigates this complex landscape, investors and analysts alike are closely monitoring Bitcoin's performance, speculating on the potential for it to reach the $30,000 milestone. With the next Bitcoin halving anticipated in 2024 and falling rates and liquidity expansion on the horizon, there might be a few reasons to be optimistic about Bitcoin's performance, according to Chris Burniske.