Let's start to breakdown step-by-step Bitcoin chart- what we got from the last month and what we expect from this week.
Monthly chart:
After the very messy and tough August, we got a decent candle close which will indicate some movement upwards! The monthly candle was almost(!!) a "Hammer" candlestick pattern, almost because if we want to see a correct "Hammer" then the body has to be 1/3 from the entire candle but at the moment the body is, let's say 1/2.5. So, not the correct one BUT at least we have a monthly close above the round number which is $7,000. When we combine these two things then we get a pretty solid candle close given that difficult month.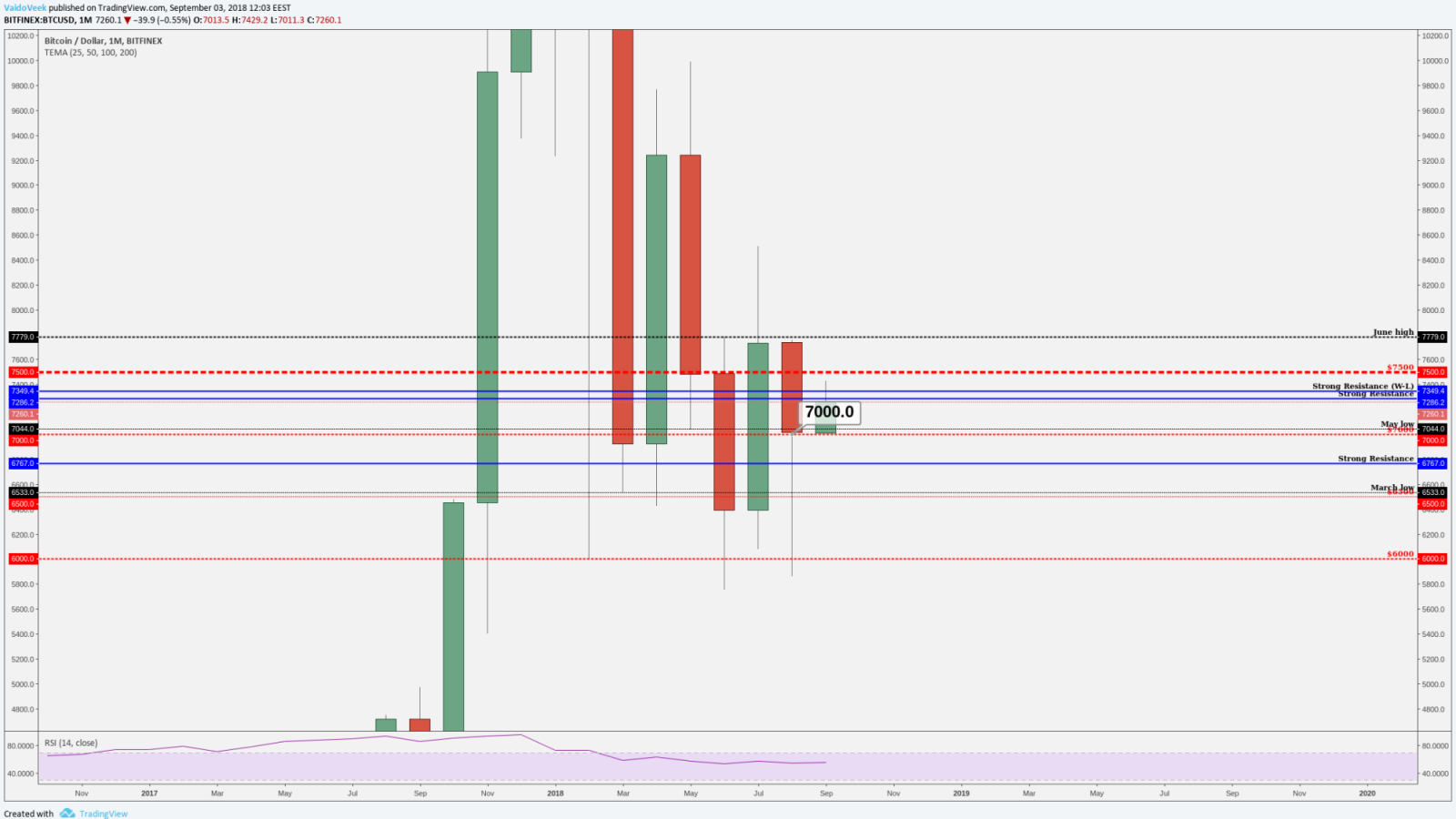 Weekly chart:
We ended August pretty well and we got a strong bullish candle from last week and it closed between the two strong resistance areas $7,286-$7,349. Currently, on the weekly chart, we could see that we have found a resistance from the EMA50! So, at the moment on the weekly chart if we want to go to higher levels we have to see a breakout from the strong resistance levels, we need to manage to break above the 50 EMA which works as a resistance.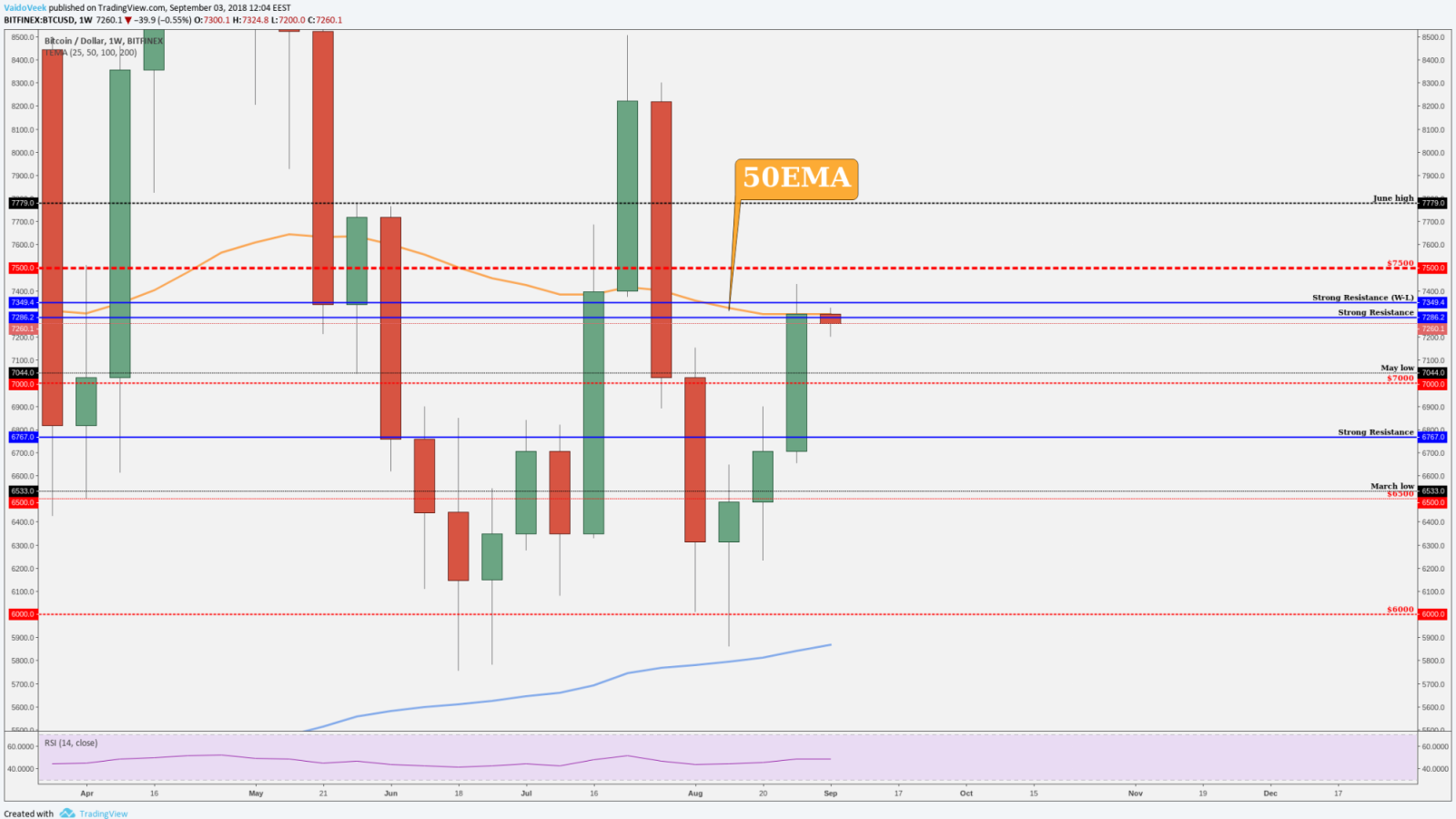 Daily chart:
On the daily chart, we could see that yesterday's candle was of a very high volume and we tried to break through the historically strong resistance levels which are $7,286 and $7,349. Bulls managed to hold the price at least above the one strong resistance level which is a good sign and overall the bulls managed to hold the candle and the day on the plus side! Currently, we trade above the 50 and 100 EMA and if we look above us then 200 EMA is exactly on our target area which is $7,500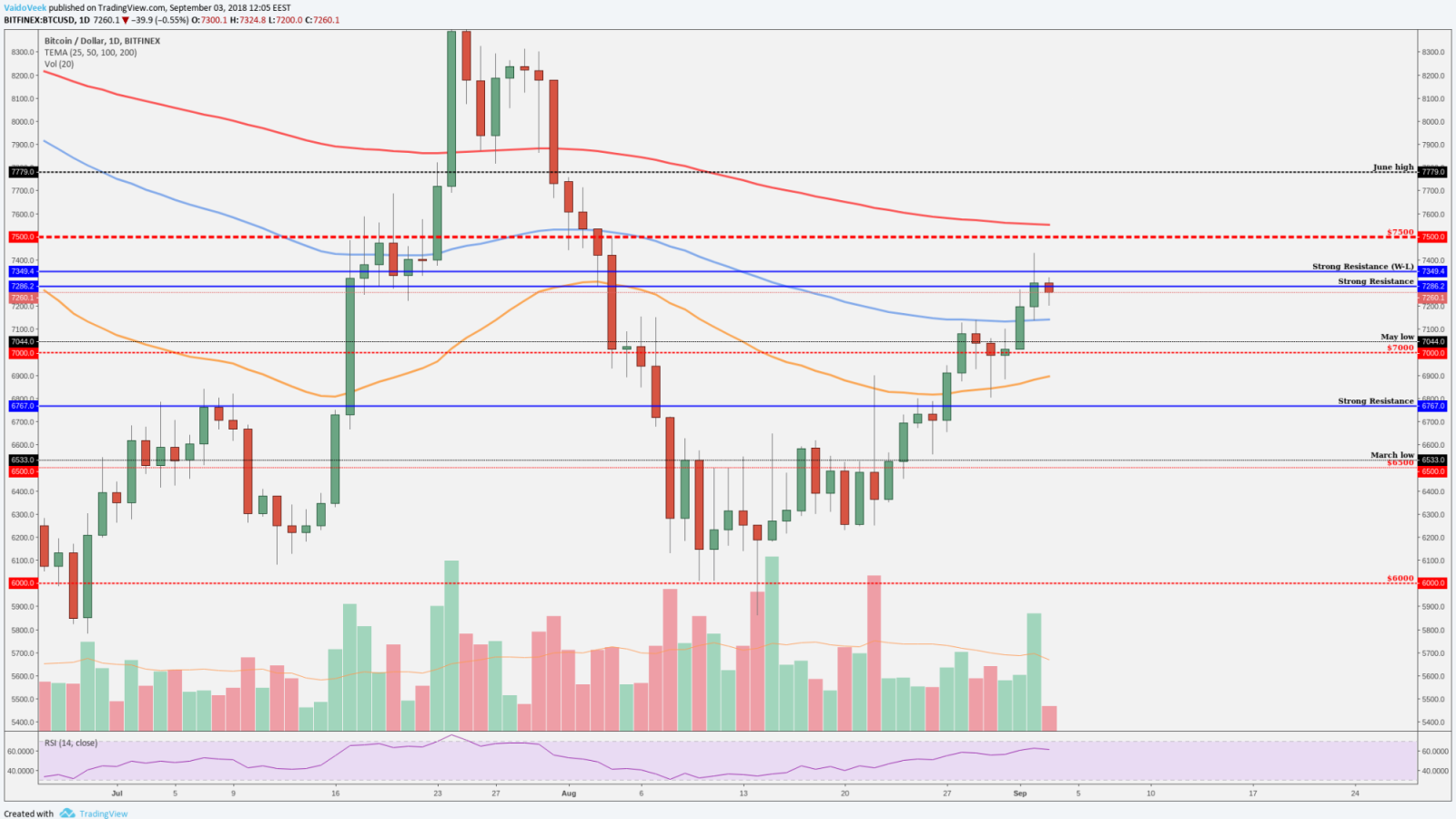 Four-hour chart:
On the four-hour chart, we could see that yesterday we tried to push the price above the strong area and we even touched $7,430 but the bulls can't hold the price above those levels. After the four-hour candle closed, we got a "Gravestone Doji"/"Shooting Star" candlestick pattern which indicate bearishness but luckily the bulls catch the bears momentum and we didn't drop much after this candle! It shows that at the moment there are buyers who own control over the market.
Currently, the price is between the trendline which is pulled from wicks since Aug. 9, 2018, and a strong resistance area. Soon, we will get another move because the area between those levels is so small and we could make a "breakout" from either direction but the pressure is above because we have a death cross on the four-hour chart (a 100 EMA is above the 200 EMA) and this small area between those levels looks like an Ascending Triangle (bullish pattern).
...and now the resistances/targets above us:
As you already know from my previous topics, my target is $7,500, why:
* Fibonacci retracement 62 percent pulled from July 24- Aug. 14
* Round number
* Trendline since May 5 (pulled from bodies)
* Fibonacci extensions (entry point Fibonacci's)
* Round number and Fibonacci retracement level are just so identical!
* 200 EMA on the daily timeframe works as a resistance
This is the level where I want to see a new price action and from there I can change my short-term bullish bias to bearish bias and this area is also a nice sell opportunity if we see a correct bearish price action.
The last down-trendline:
In this area, we could see two last down-trendlines, pulled in the four-hour chart:
*Lower- The last down-trendline from the BODIES
*Higher-The last down-trendline from the WICKS
Definitely, those are my main criteria's. If we got a breakout from those trendlines then my bias stays bullish, if we got a bearish price action from there then my bias turns into bearish.
Summary:
Currently, I have a bullish bias till $7,500-$7,600 because we have several good signs that we might go higher than the current price. Definitely watch the round number area $7,500 and definitely watch the trendlines!
Hopefully, this helps you out a little bit to confirm your own analysis! Definitely, do your own research!