As the interest in preseed, seed and private rounds in crypto is accelerating after the crypto winter, Web3 markets need a reliable and transparent tool to track fundraising processes and the distribution of funds raised. Here's how AngelBlock protects investors and founders from being scammed while seeking VC funding.
Addressing major roadblocks in Web3 fundraising: What is AngelBlock?
Launched in early Q1, 2021, AngelBlock protocol is designed to create a non-custiodial, transparent, trustless and flexible mechanism that can supervise the processes of fundraising campaigns in crypto and Web3.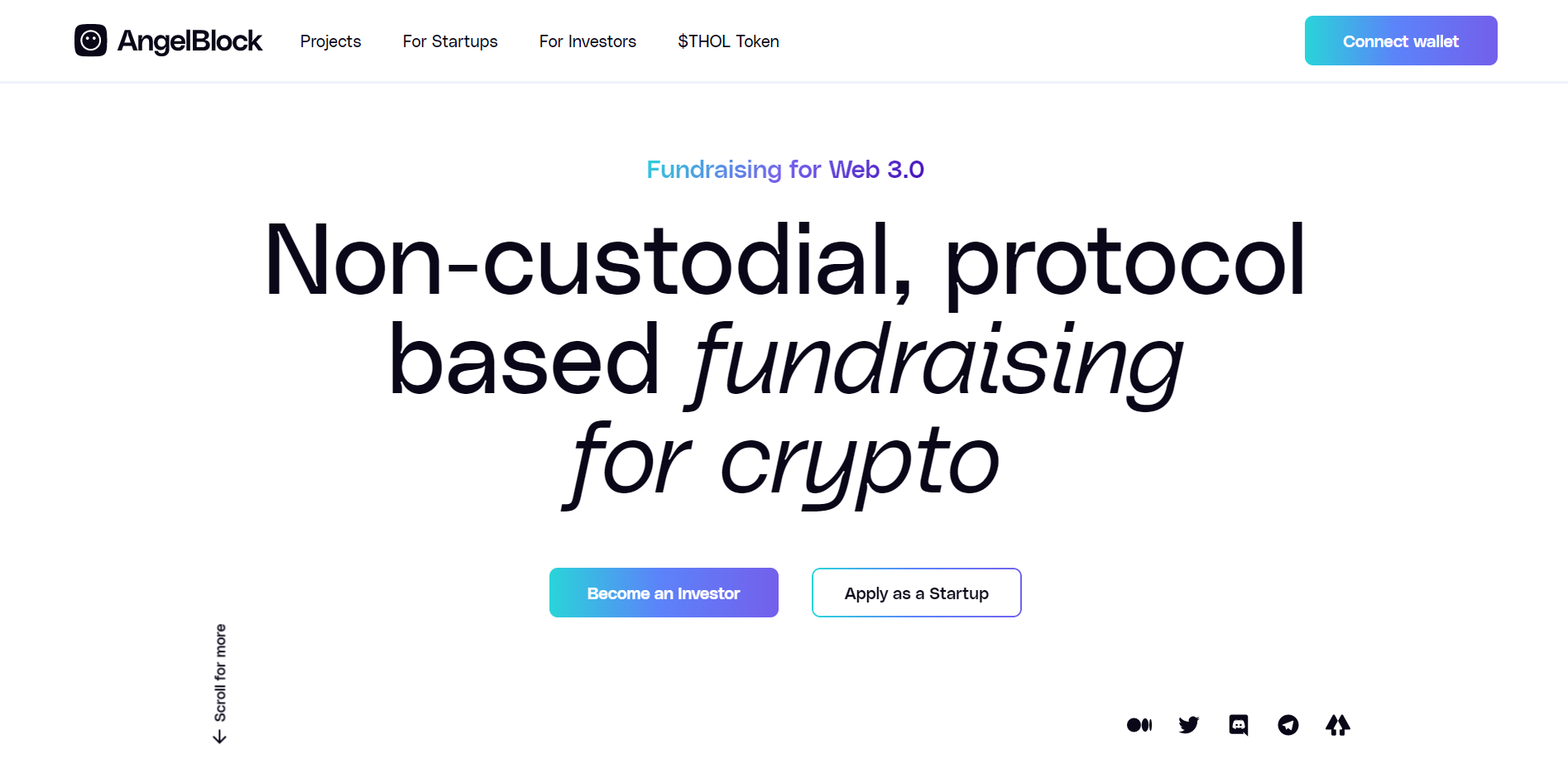 Per the estimations of analysts, the segment of early-stage investing in crypto start-ups is still filled with scams and "rug pulls." Thanks to these fraudulent activities, investors lost over $2.9 billion in 2021. Both founders and investors can cheat on each other. Founders can stop developing products immediately after receiving the funds, while "serial investors" can invest the same amount of money again and again, making false allegations about the processes of token storage. Also, the teams still can "dump" their holdings on retail investors, circumventing the limitations of vesting and cliff periods.
Here's why various groups of actors (retail investors, VC investors, founders, users, liquidity providers, validators, traders and so on) benefit from the inception of a reliable transparency mechanism in the sphere of Web3 fundraising.
As such, AngelBlock, a decentralized Web3 start-up, is building a platform to increase the transparency and trust in Web3 investing. This protocol is designed to help investors track their funds after raising them. Also, the teams will be able to check the status of their investors before accepting money.
Within the framework of this approach, AngelBlock creates an ecosystem of on-chain mechanisms for Web3 founders and VC capitalists.
First start-ups have been onboarded by AngelBlock
Namely, AngelBlock is going to organize and support milestone-based referendums by investors post-fundraising to establish guidelines for start-ups on the required announcements to receive new protons of funds. To advance the quality of financial reporting, AngelBlock will integrate third-party research and analysis tools like Messari. The start-ups will be responsible for the data they broadcast to third-party aggregators.
Through a built-in economic incentives module, AngelBlock will motivate the start-ups to perform their due diligence and ensure the decentralization of governance processes. In general, it will help the investors to protect their incubees from being whale dominated.
To further advance the decentralization status of start-ups, AngelBlock will help them to build solid, passionate and thriving communities. Various instruments, from basic to enhanced (decentralized autonomous organizations, or DAOs), will be employed by AngelBlock in this process.
Also, AngelBlock will support founders and teams with the instruments to advance the control of money flow: on-chain vesting, cap table management and token distribution tools will be opened to any enthusiast involved.
As of February 2023, the first start-ups have already tried the instruments delivered by AngelBlock. Namely, 50+ teams were whitelisted for the Startup Grant Program. Three of them — Challenger Project, Data Lake and Impact Finance — upon listing on the protocol will receive 30,000 USDT each and will continue their fundraising campaigns on AngelBlock.
Five teams have also integrated AngelBlock instruments into their fundraising modules; DeltaPrime was the first of them.
THOL token launches to underpin new ecosystem
In Q2-Q4, 2021, the project underwent a full third-party security audit by leading cybersec vendors in the Web3 segment. The protocol as a whole was audited by Hacken and Zokyo, while its NFTs module was additionally checked by Omniscia.
We have another big announcement for you... 🔥
The Token Generation Event (TGE) for $THOL will occur on February 15th!
Don't miss that date! 🗓️#DeFi #fundraising #crypto #token pic.twitter.com/KMTLx5TEf8

— AngelBlock Protocol (@AngelBlock_io) January 20, 2023
On Feb. 15, 2023, the project is going to mint its native cryptocurrency, Tholos Token ($THOL). The token generation event (TGE) will be a landmark achievement for the project and its tokenomics: THOL will be listed on Uniswap (UNI), a dominant Ethereum-based decentralized cryptocurrency exchange, immediately upon TGE.
THOL token staking program will also start in February 2023. THOL is set to be a primary utility token of the platform; only tokenholders will be invited to a novel "Private Raises" module. Users will be able to participate in closed funding rounds that are more transparent than ever before. The THOL minimum purchasing limit will also serve as an "anti-spam" measure here.
To introduce its developments to a wide Web3 audience, AngelBlock scored an array of partnerships with top entities in the segment. Namely, AngelBlock partnered with crypto media outlet Blockworks, blockchain veterans Charlie Shrem, Data Dash and new-gen L1 platform Aleph Zero.