As reported by Whale Alert crypto tracker, over the past 24 hours, close to half a billion U.S. Dollars in the Ethereum equivalent has been shoveled to major U.S. crypto trading venue Coinbase.
This has happened as the second largest cryptocurrency in terms of market cap has lost more than 10% over the past week and dropped 1.20% during the period of the last 24 hours.
The transactions were conducted from three different wallets, moving lumps of 149,999 ETH, again 149,999 ETH, and finally 23,432 ETH to three different wallets linked to the Coinbase exchange.
The funds were sent to the platform to be sold, most likely. These three transactions together are worth $488,670,044.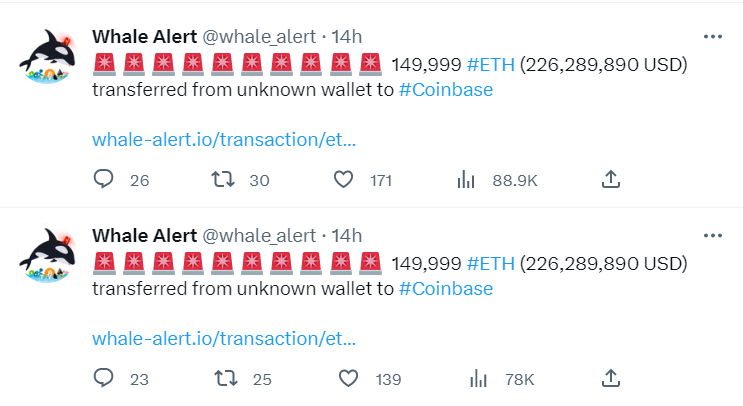 ETH, BTC plunge, here's main reason
The aforementioned weekly ETH price drop took place from Wednesday, Feb. 8, to today. The biggest plunge in two massive red candles was observed on Thursday as 5.15% of the ETH price was wiped out.
At the time of this writing, Ethereum is trading at $1,521 per token. It has followed the flagship cryptocurrency Bitcoin. BTC has also lost 4.64% since Thursday, falling from $22,748 to the $21,692 level.
The fall occurred due to the rise in the Consumer Price Index (CPI) in December. This rise increased the risk of inflation going higher, per some economists.
U.S. monthly consumer prices rose in December instead of falling as previously estimated and data for the prior two months was also revised up, which some economists said raised the risk of higher inflation readings in the months ahead. https://t.co/ENQOc4d5uD

— Wu Blockchain (@WuBlockchain) February 11, 2023