The price of the prominent meme token Shiba Inu (SHIB) has been gaining momentum today, rising in a series of green hourly candles as it is trading on the Binance exchange against USDT.
The SHIB price has gone up by slightly over 3% — from $0.00001327 to the $0.00001367 level, where it is changing hands now. If the rise continues, we may see a breakout later this week.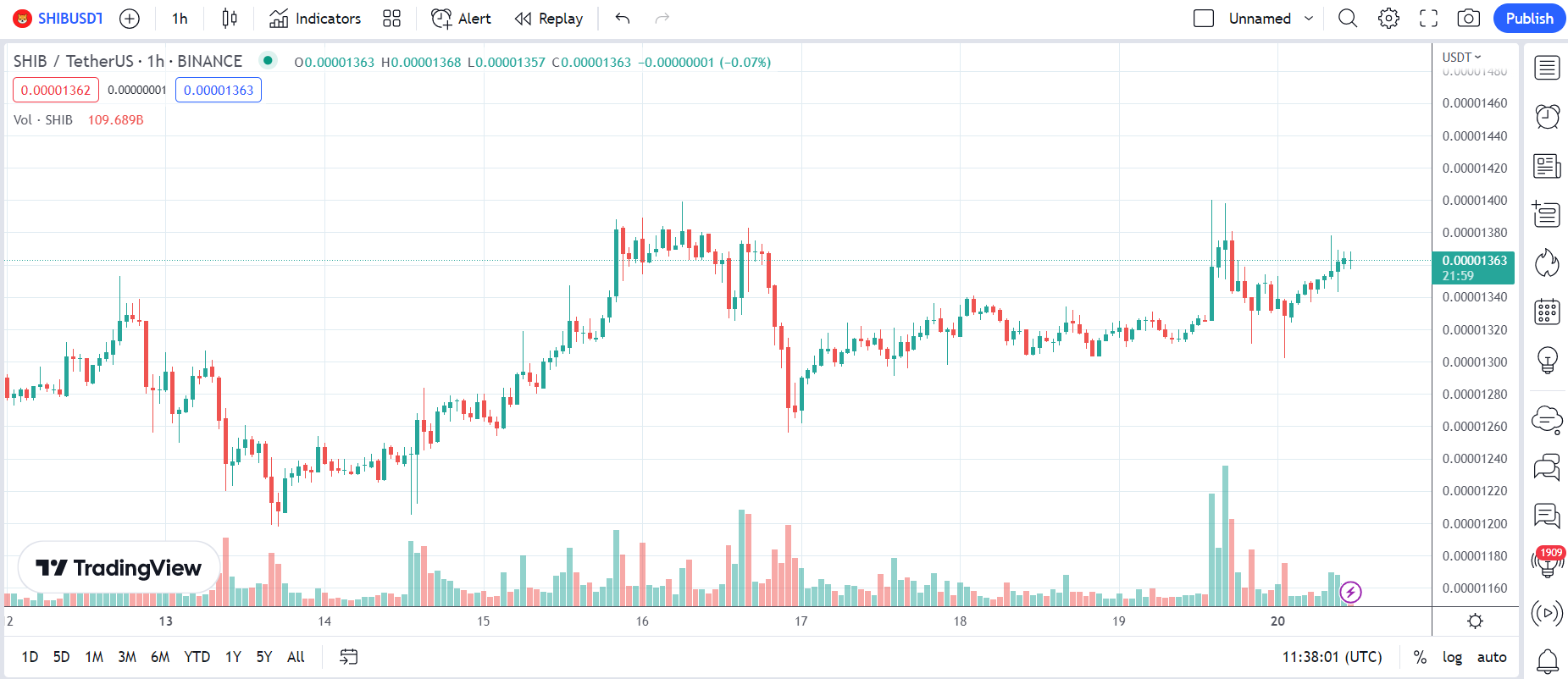 SHIB is rising on Shibarium news
As reported by U.Today earlier, the lead developer of Shiba Inu, the pseudonymous Shytoshi Kusama, has released a new article in a promised series of Medium articles about the Layer-2 solution called Shibarium.
In this blog post, he shared in detail how he came to the idea of creating the decentralized platform Shibarium that will expand the utility of SHIB, allowing faster and easier transactions, as well as letting developers build dApps on it and create smart contracts.
Kusama stressed that in 2022 he wanted to create a platform that would be different from other similar ones and also would be useful for various projects, not just crypto scammers.
According to the article, while working hard on Shibarium, Kusama faced significant damage to his mental health, and this drove him to take a spiritual retreat to recover.
Bone ShibaSwap (BONE) will be used as the key element on Shibarium as it will be a means of payment for transactions. Part of the transaction fees from every transfer will be converted into SHIB by the developer team and then moved to unspendable wallets, i.e., burned.
Earlier this year, Shytoshi Kusama confirmed that large burns will be conducted on Shibarium with trillions of SHIB to be removed from the circulating supply of the meme token.
The above-mentioned BONE token has also risen in price over the weekend, jumping by roughly 8%.
SHIB returns as one of tokens most hunted for
WhaleStats on-chain wallet tracking platform has reported that whales have again started going after the SHIB meme token. It has been pushed into the list of the top 10 most purchased coins among the 100 largest whales on Ethereum.
JUST IN: $SHIB @Shibtoken is back on top 10 purchased tokens among 500 biggest #ETH whales in the last 24hrs 🐳

Peep the top 100 whales here: https://t.co/tgYTpOmDm0

(and hodl $BBW to see data for the top 500!)#SHIB #whalestats #babywhale #BBW pic.twitter.com/mNq8rCSawn

— WhaleStats (tracking crypto whales) (@WhaleStats) February 18, 2023
Currently, Shiba Inu also sits in the position of the biggest token by U.S. dollar equivalent in the wallets of the aforementioned whales.
At press time, these wallets contain a total of $675,681,824 worth of Shiba Inu — that is, 49,609,531,864,904 Shiba Inu at the present SHIB/USD exchange rate — and constitutes 13.75% of their combined portfolio.