After a long period of low volatility and movement for most of the cryptocurrency market, there was a notable dip that occured this week. Starting on Sunday, most of the top 20 coins saw a substantial fall, but throughout the week, there has been a bit of a bounce back for some.
The bounce back has been better for some than others, with XRP showing the most impressive bounce to try and get back to levels similar to those before the Sunday fall.
As it stands, today's market sees more downturns, with only Binance Coin giving off some good gains in terms of a 24 hour change. The coin is up nearly seven percent while others in the top 20 are showing mostly small losses.
NEM is down 11 percent in a significant drop since yesterday, and XRP is also down over 24 hours by four percent, but is still showing good resistance over the week.
A week of red
Looking at Bitcoin, which is still the predominant coin in terms of directing the cryptocurrency market, when it started dipping on Jan. 27, most coins followed. Bitcoin went from a week high of $3,654 to falling to a low of $3,400 by Tuesday as it reached a place of resistance.
Bitcoin managed to rebound by $100 over the next two days, hitting $3,500 by Thursday, although there has been a steady decline in price again running down to the weekend. The price currently sits in the mid-$3,400 range.
For the rest of the coins, there was a pretty similar pattern across the top 20, but XRP showed a good rebound on Thursday as it peaked to higher than it was before the downturn in the market.


XRP shows potential
XRP started dropping on Sunday as well, as the coin went from $0.31 to a low of $0.28. Through the middle of the week there was very little fluctuation in price until a massive spike saw the XRP coin jump to $0.32, and then jump once again.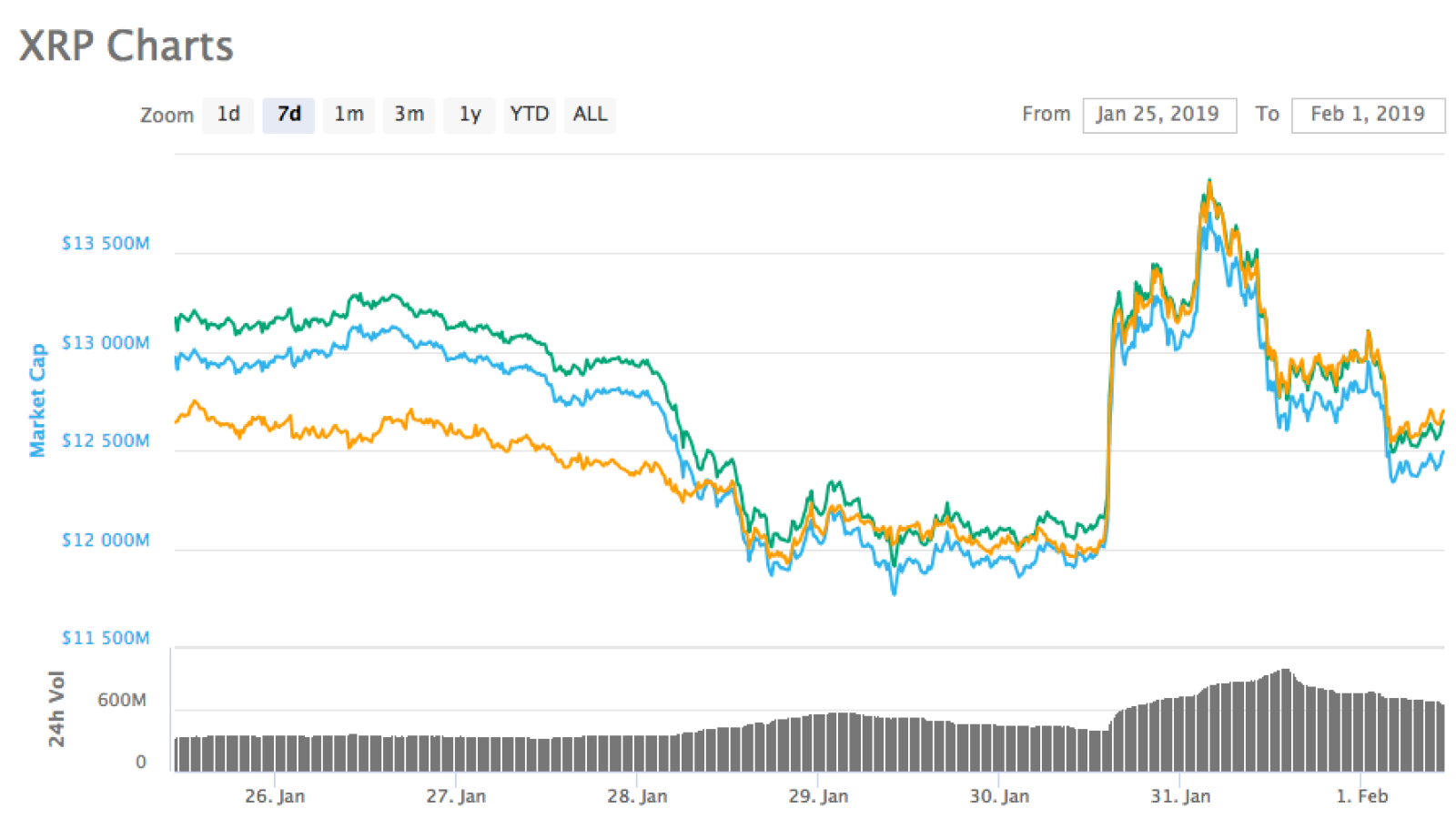 Price prediction
While the markets seem to be dipping again into the weekend, there is nothing to suggest that another notable drop is on its way. In fact, there was some positive news relating to the Van Eck SolidX BTC ETF this week.
After withdrawing its application, CBOE has resubmitted it in the wake of the US government shutdown coming to an end.