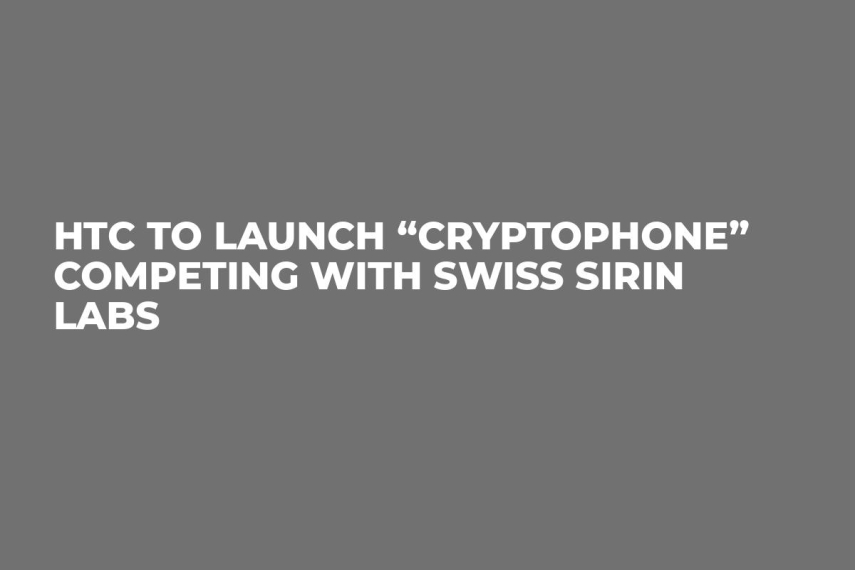 Cover image via U.Today
The Taiwanese electronics producer recently stated the new smartphone would be released in Q3 this year.
First the news of the company developing the Blockchain-based "Exodus" phone appeared in May and since then, according to the HTC reps, tens of thousands of people have made a pre-order.
If HTC launches the phone as promised, it would jump ahead of their competitor, the Swiss startup Sirin Labs, which is also working on a similar gadget.
The Swiss phone
In spring Sirin mentioned that its Finney Blockchain device, which would be made in Hong Kong by FIH Mobile, had already had over 25,000 units pre-ordered. It is expected to launch in October at $1,000 per phone.
Both abovementioned smartphones have a built-in crypto wallet app which will let users safely keep and use digital coins, namely Bitcoin and Ethereum, for daily purposes.
Cold crypto wallets are yesterday's news
These Blockchain phones are meant to replace hardware crypto wallets, which require complicated usernames and codes to access. Crypto investors often utilize such wallets for storing large amounts of cryptocurrency to keep it safe.
The Exodus phone will also have a certain function to let the owner trade tokens with other users by linking to certain blockchain networks. It can also be used as a mining rig for its users to earn new tokens connected to the Exodus Blockchain.
Besides, the Exodus phone will also be used for distributing the popular Ethereum-based CryptoKitties game on Android.
In an interview, the HTC reps mentioned the company's plans to launch an HTC utility token one day.
HTC trying to keep up with times
The goal of HTC exploring Blockchain is to stay relevant on the smartphone market, since it has been dominated by other manufacturers, such as Apple, Samsung, Huawei and Xiaomi.
In September last year HTC made a deal with Google by getting 2,000 HTC employees to join the Internet giant in developing its Pixel-brand smartphones and other gadgets.
In return, Google gained access to HTC's intellectual property and provided the Taiwanese company with an investment to give it a chance to reinvent itself in the market of new technologies, such as Blockchain and virtual reality.