Let's be sincere: we've gotten tired of Ethereum and Bitcoin, and when it comes to ETH and BTC mining, crypto enthusiasts became disappointed in them in 2018. The bang isn't worth the invested buck. What to do if you still want to be the part of cryptocurrency family and a proud owner of digital coins? Try Dogecoin! Let's find out whether Dogecoin mining is profitable, and what the best ways to obtain it are.
Why Doge?
Dogecoin (DOGE) is the first coin that was intended to be some kind of joke. To be more precise, this coin was created with a pinch of sarcasm and a great will to make crypto more available for ordinary people. Surprisingly, the coin has become popular: 200k followers, 100k subscribers, and thousands of miners. It's more than Iota and NEO have. Could Doge creators have imagined their creation would ignite such interest?
The Dogecoin community is large, but what about its mining properties? The numbers show that the coin is actually more competitive than other coins from the standpoint of block rewards.
| | | |
| --- | --- | --- |
| Cryptocurrency | Mining difficulty (01/12/2019) | Reward (For 1 Block) |
| Bitcoin | 5,618,595,848,853.28 | 12.5 |
| Ethereum | 2,651,619,145,272,150 | 5 |
| Litecoin | 6,106,167.56668499 | 25 |
| Dogecoin | 2,404,260.6685 | 10,000 |
Dogecoin has the largest reward per block, leaving Verge with its 750 coins behind. Does it mean that mining Dogecoin is more profitable? Not necessarily. However, it's the 24th cryptocurrency by the market cap and is expected to see a fundamental increase in cost as it continues evolving. That's why Doge mining profitability can get higher.
Solo or mining in pools?
Here comes the first pitfall: there's actually no such thing as pure Dogecoin mining because you have to mine it together with Litecoin. Turns out, DOGE coins are simply the by-product of Litecoin mining. You have a choice: to join a Dogecoin mining pool or hunt for the coins on your own. The key advantage of mining solo is the fact you get the reward alone (which is considerable thanks to a large block reward).
But solo mining is like playing roulette: your chances of mining the whole block alone are minor. If you have rather weak hardware, you can be mining it without any success. If you join a pool, though, your chances will multiply. But be prepared to pay fees.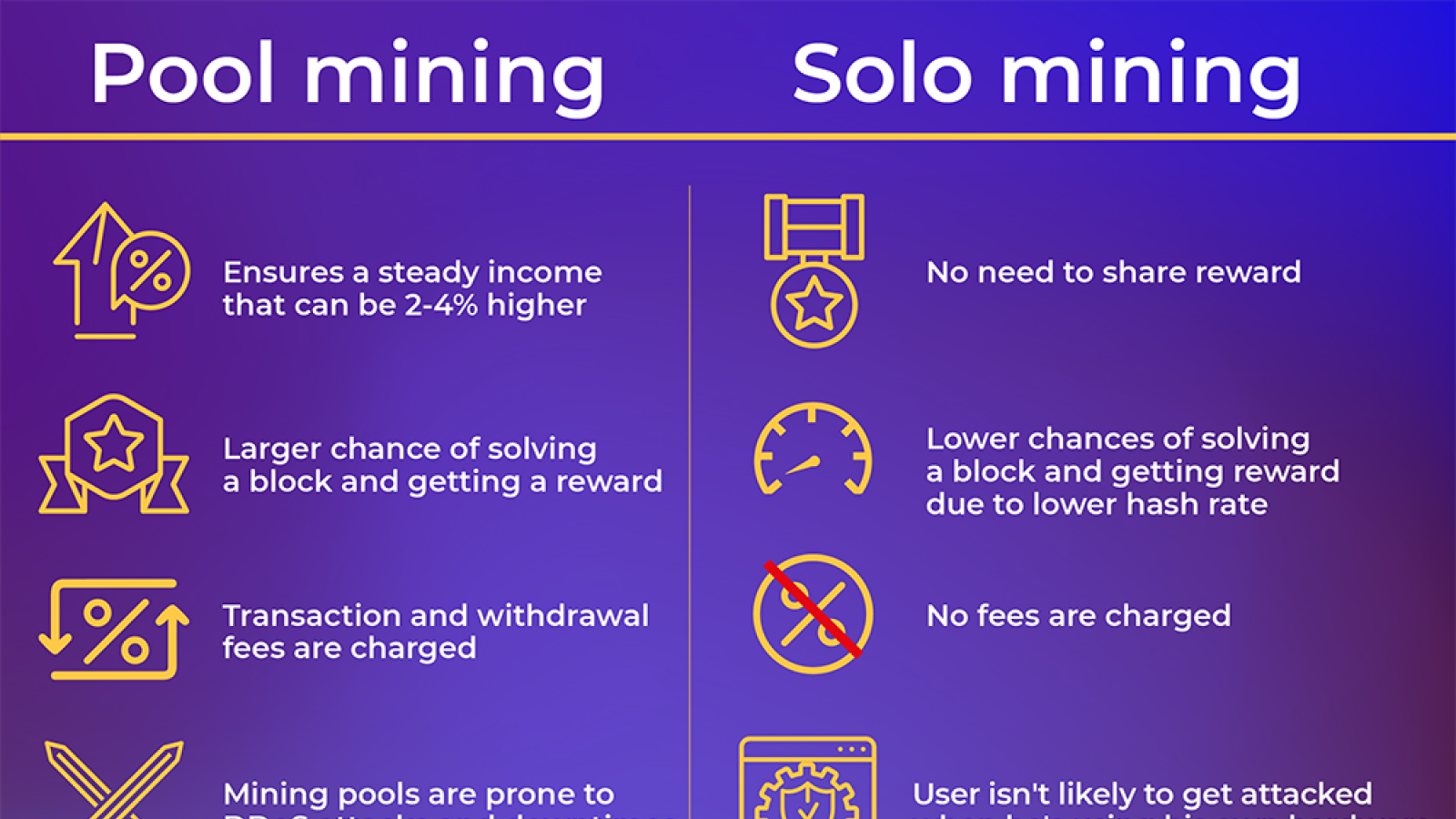 No matter which coin you're interested in, we highly recommend joining a mining pool. Why? Because the worthiest crypto assets have the highest mining difficulty, and earning them without anyone's help is impossible without an ultra-advanced mining pool (which most of us can't afford).

card
7 best Dogecoin mining pools
The first thing you should keep in mind is that Dogecoin mining pools should support the Scrypt hashing algorithm. Until recently, GHash.IO was the ultimate choice for Dogecoin miners, but it was closed in 2016. Now miners have to search for alternatives and, luckily, there are plenty of them.
1. Multipool.us
This is one of the oldest mining pools around. Multipool allows mining 29 crypto coins with various algorithms, including Scrypt. Several currencies can be mined simultaneously. The main advantage of multipool is that it has a great payout. Besides, there are no withdrawal fees, and you can boost your profits with the help of merge mining feature.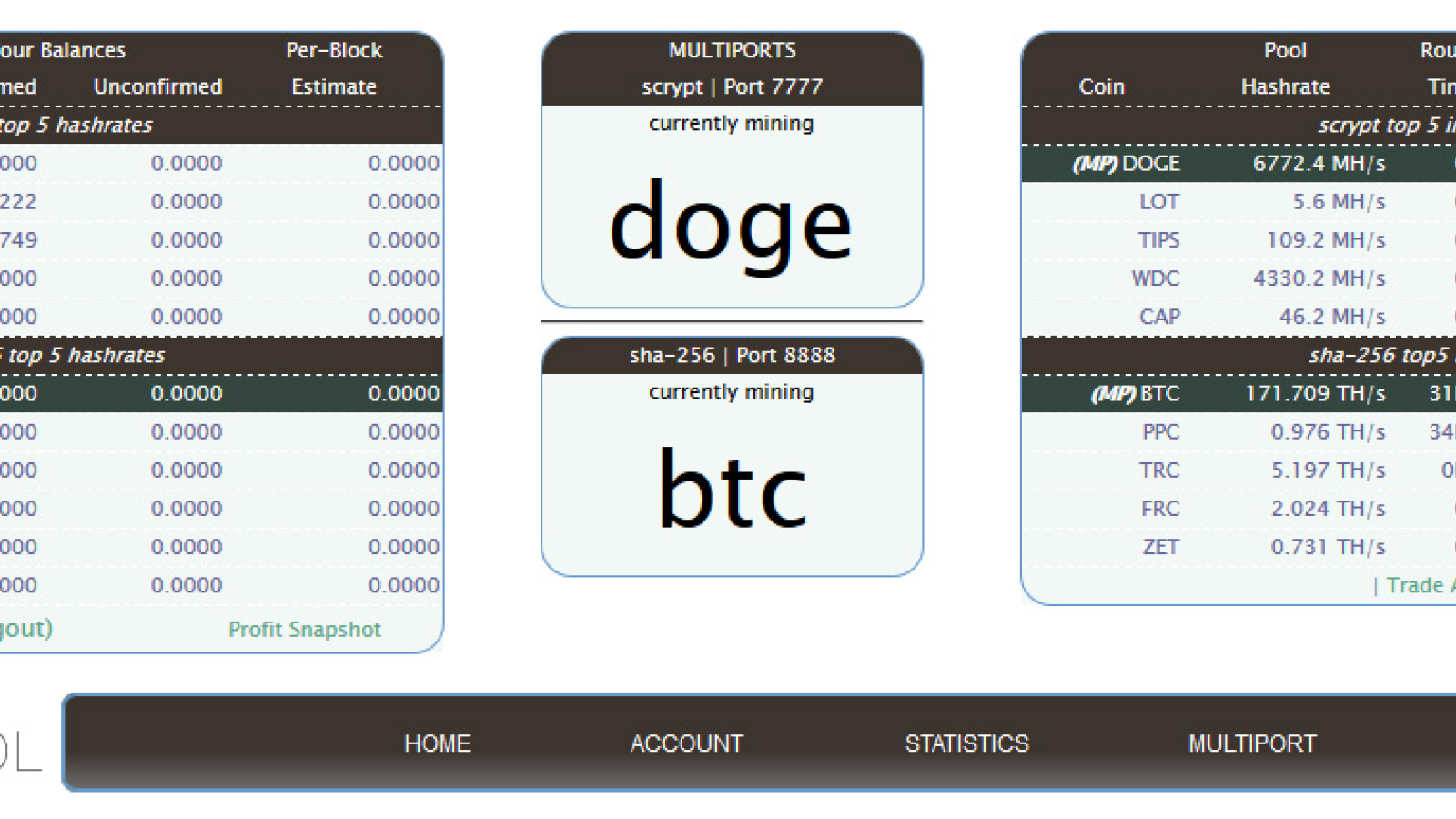 2. Prohashing
Prohashing is among the most demanded Scrypt mining pools that are used for mining different altcoins. You just need to register and choose a crypto asset for reward (DOGE is available). What are the key benefits of this mining pool? It has agreeable fees and offers detailed statistical data (number of miners, hash rate, real-time profitability, etc).
3. 1CoinPool
1CoinPool is a mining pool for both LTC and DOGE. It has no fees, though users' donations are welcome. Judging by the information on their official website, 1CoinPool mines three blocks per week. Users are rewarded proportionally to the hashing power they provide.
Alternatively, you can use a mining pool that works with the X11 algorithm. Note that Darkcoin and Dash support this algorithm, and you can request a payout in Dogecoin, too.
4. HashFaster
The name of this mining pool is totally justified: you can start mining without creating an account. Choose your username and specify the wallet address, and you're ready to start. The first payout will take up to six hours only.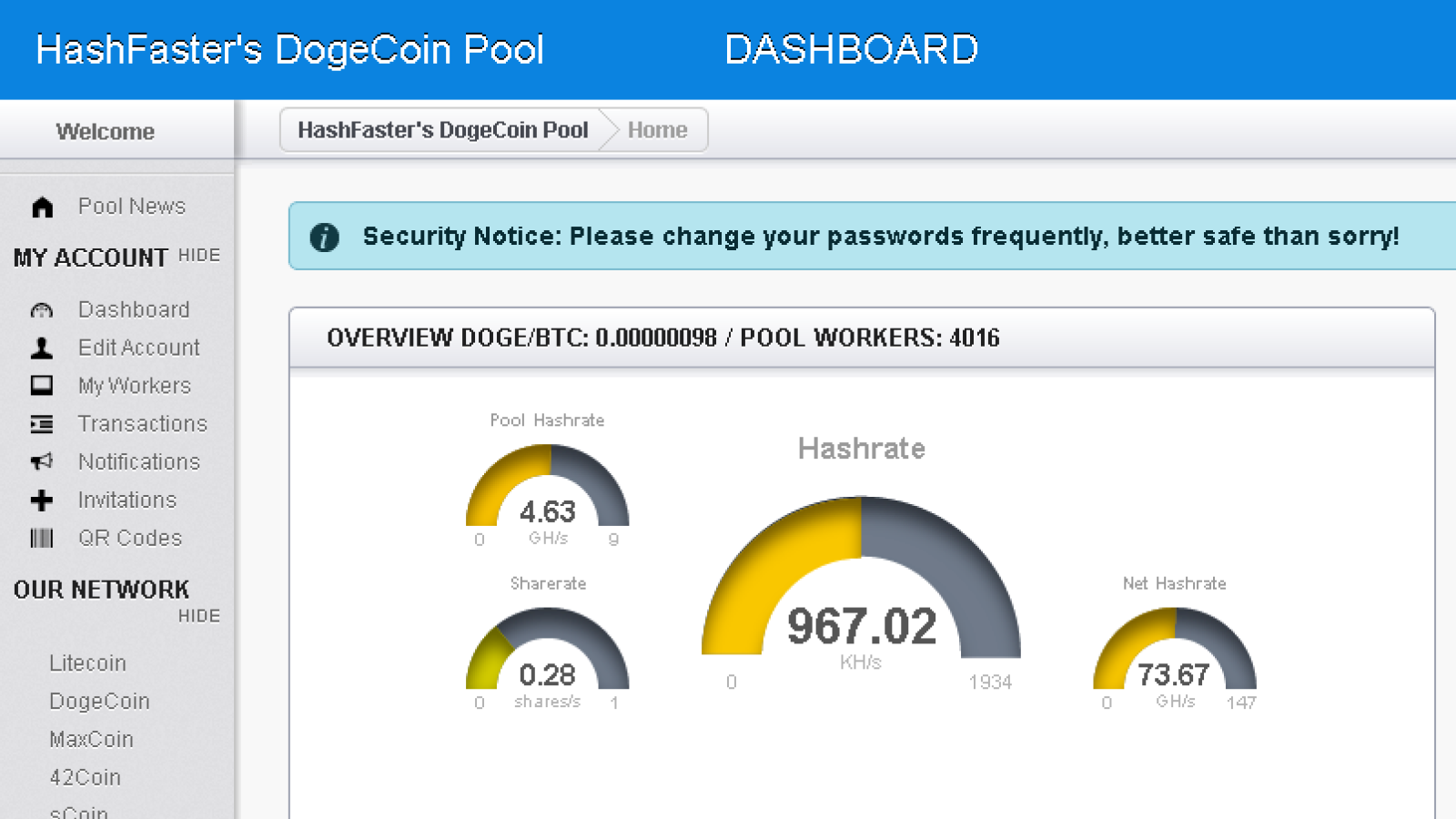 5. Litecoinpool
This option is recommended for merged mining. Litecoinpool was established in 2014 and has quickly gathered a good reputation. It utilizes a transparent payout system with the pay-per-share (PPS) rate. By default, payments are made in Litecoin, but you can also request reward in merge-mined currencies such as Dogecoin. In comparison with traditional LTC mining pools, such a website will bring you more money. Besides, it's said that it was the first LTC pool use TLS-encrypted Stratum connections for protecting miners.

card
6. Eobot
This is another mining pool that's been around for over 5 years. Eobot was established in 2013 and is still one of the most popular choices among miners. Users can mine coins based on Scrypt and SHA-256. Earnings can be withdrawn in different currency including Dash, XRP, and Doge. The website ensures an unbeatable level of protection for users, though it won't hurt to use 2-step authorization.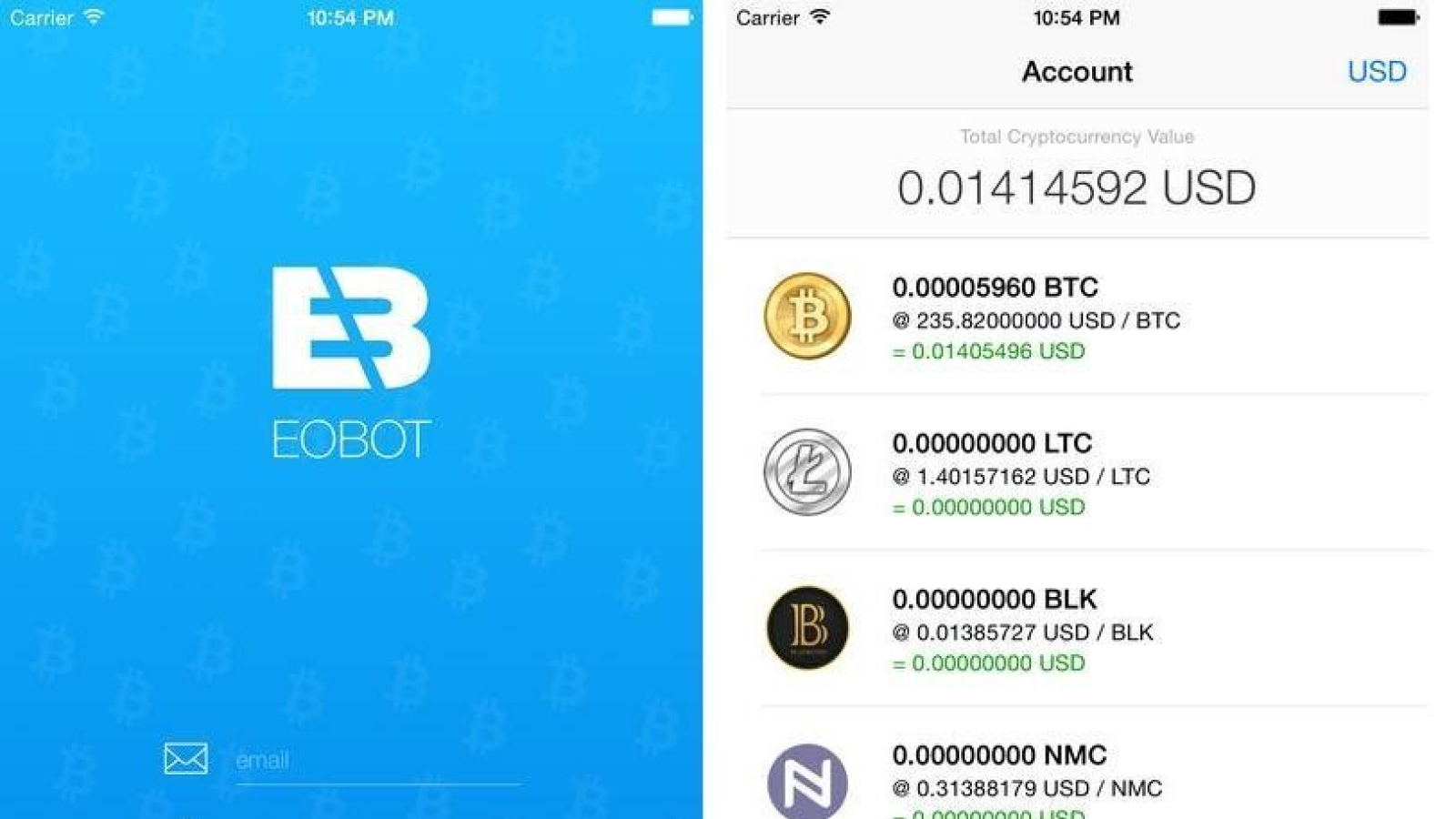 7. Aikapool
This is a small mining pool with about 100 miners – the right spot for starters. It supports various Scrypt-based altcoins, including Doge.
So, is the game worth the candles burnt?
Here we come to the most important question: should you mine Doge? The sad truth is that such a venture is not really worth your effort – the reward is so small, it won't even cover electricity.
The main reasons for NOT mining DOGE are:
Direct Dogecoin mining is not profitable because recently it switched to merged mining. It means you have to compete with 3 Terahash of LTC pools. The coin is too cheap to cover your expenses and compensate efforts.

In fact, mining most Scrypt coins are not profitable unless you have free electric power and equipment. According to statistics, it brings miners $1 every 2 months per every megahash spent. Not a fair deal, is it?

If you don't have juggernaut servers, don't rush to start mining – you can't compete with huge mining farms that run with the help of hydropower stations.

Dogecoin has an unlimited supply, which will inevitably lead to inflation.

Think about cloud mining instead? Unfortunately, a lot of cloud mining websites appear to be a total scam.
Does it mean you shouldn't even try dealing with Dogecoin? No, you can become a DOGE owner just to join the crypto community and add to your crypto asset portfolio. Mining other coins and converting them into DOGE might be a better idea. Alternatively, you can pay attention to the new Dogethereum fork (DOGX) – it utilizes the same algorithm as Ethereum.
Dogecoin is not the only altcoin available – you're free to choose a lot of replacements. This cryptocurrency was created just for fun, so you should approach DOGE mining the same way.