Chainlink (LINK) is on a rampage today following the more than 19% growth it is charting to lead the altcoins' ongoing bullish rally. It is currently changing hands at a price of $8.19, with obvious growth of 27% in the past week. While it is not uncommon to see Chainlink print massive price gains, the ongoing momentum is accompanied by positive growth metrics across the board, including the 24-hour trading volume, which has jumped by over 787%.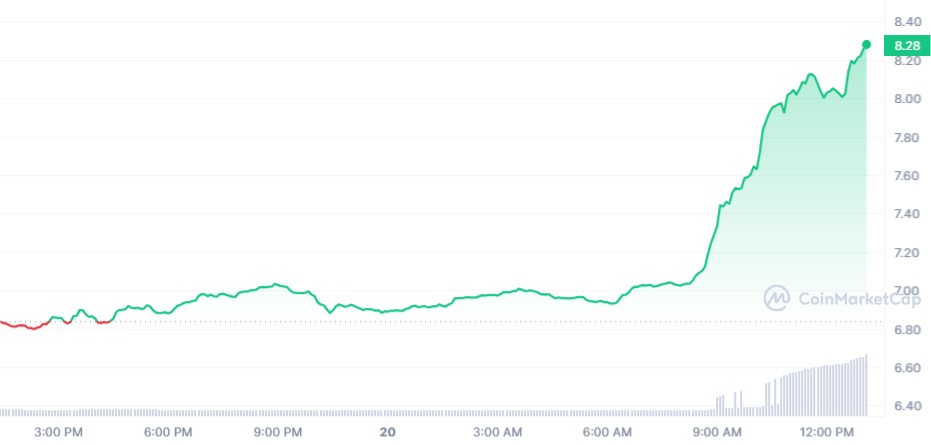 A lot is happening in the Chainlink ecosystem at the moment that has positioned LINK as a favorite for market investors. The protocol, which occupies a crucial role as the dominant oracle service provider for blockchain systems, has been strategically expanding its ecosystem through the Chainlink BUILD program.
These expansions have notably ignited LINK's positivity and increased its attractiveness across the board. The implications of this attraction are notably being echoed by ongoing whale accumulations as flagged by crypto analytics insight provider Lookonchain.
Per data shared by the on-chain Sleuth, two whales have particularly doubled down on their LINK acquisitions, adding a total of 227,281 LINK tokens worth approximately $1.82 million in the past few hours.
Set up for new highs
With the ongoing price rally, Chainlink now has the perfect setup to break its most resistant price points at $10.
For a cryptocurrency whose all-time high (ATH) is pegged at $52.88, breaching the $10 point will not be a surprise. However, achieving this immediate feat will be beneficial as it will showcase the readiness of the digital currency to surmount its 52-week high.
The organic accumulation, as showcased by the trading volume as well as consistent attempts by founder Sergey Nazarov and other top team members to upgrade the protocol and bring new businesses into the Chainlink ecosystem, is a big boost that can help fuel this supposed rally.