The digital currency ecosystem is seeing a return to its winning ways after the combined crypto market cap tapped 3.55% growth to top $1.08 trillion. Amid this growth, Cardano has joined the ongoing uptrend soaring by 3.51% to $0.2698. With the brewing Cardano growth momentum, the digital currency has pared the losses it has accrued over the past week and is up by more than 10% over the trailing seven-day period.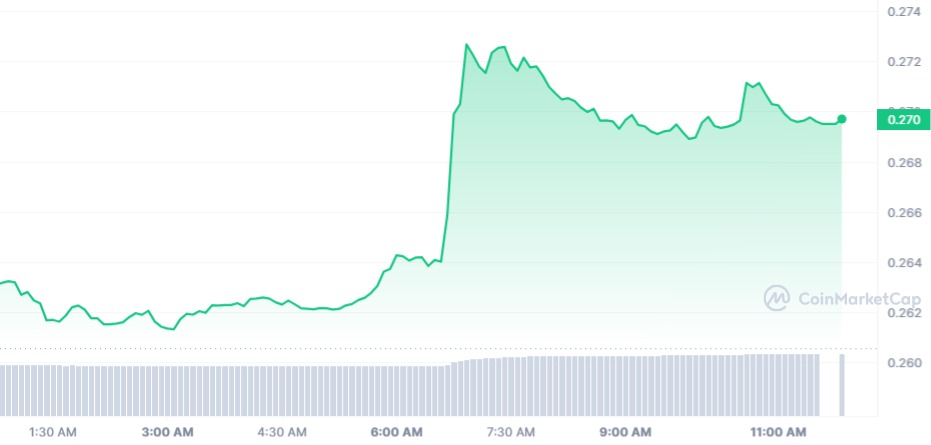 Encompassing growth tick
The growth of Cardano is one that is encompassing as several key metrics are currently positive. The digital currency's trading volume soared as high as 11.31% to more than $215 million in the past 24 hours.
While the trading volume gives an indication of the fact that retail buyers are quite active in the protocol in the short term, data from IntoTheBlock showed that total holders' balance recorded a slight uptick of 0.71% to $9.48 billion at the time of writing.
The Cardano protocol is growing with deep evidence available to show for it. As contained in its weekly update, the proof-of-stake (PoS) blockchain protocol recorded a total of 130 projects launching on Cardano for the week with total transactions coming in at 69.1 million.
The growth of the protocol has been encompassing, and the reflection is shown in the current price action.
End to securities woes?
Earlier this month, the United States Securities and Exchange Commission (SEC) tagged Cardano alongside other digital currencies as unregistered securities, a designation that has greatly impacted the price of the digital currency and its liquidity.
With Robinhood, eToro and Bakkt delisting the digital currency following the SEC crackdown, the price growth shows the community is rising above the situation, but the impact of the securities woes may still be evident.