Shiba Inu (SHIB) opened up to a major price slip today in what appears to be unsustainable growth picked up earlier in the week. At the time of writing, the meme coin is trading at a price of $0.00001083, down by 2.72% over the past 24 hours and by more than 4.5% in the trailing seven-day period.
The meme coin, however, may see a gradual revival in its currently bearish price outlook as its key metric, the burn rate, is currently at its weekly high. While the token recorded a total of more than 28 million tokens burnt yesterday, the growth percentage today is up 1,108.88%, with more than 35.11 million tokens sent to dead wallets.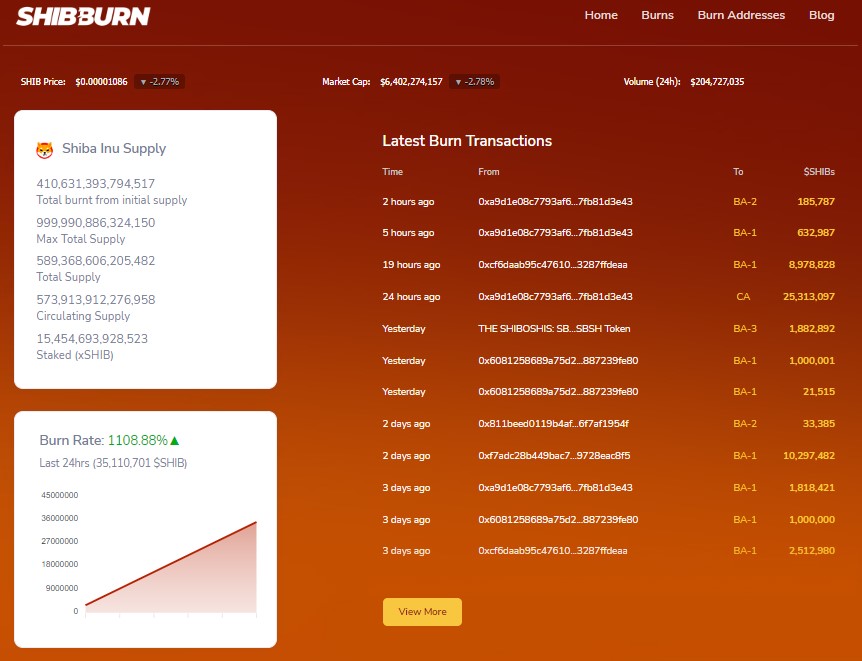 One of the three core implications of the massive burn rate for the SHIB price is that market bulls can hide behind the bullish token burn metric to go on an accumulation streak in hopes of a major revival in the near future. Second, SHIB may maintain significant resistance and trade in a range as current holders may choose to showcase their trust by not selling.
Lastly, the burn rate will continually serve as a major signal for prospective whales and even retail investors to consider accumulating the token as insurance from a coin with positive on-chain fundamentals.
Going beyond the norm
One of the core aims of the Shiba Inu protocol is to drive mass adoption of the meme coin and possibly serve as one of the digital currencies with the biggest integration rate among mainstream businesses.
By consistently forming strong partnerships to offering a series of giveaways to show its appreciation of the community, Shiba Inu is certainly going beyond the norm to push its ideologies to the frontline. The digital currency's pivot to supporting a Layer 2 outfit through Shibarium will further aid its relevance among the most innovative protocols in today's Web3.0 space.