Shiba Inu (SHIB) may be seeing a mild slump in its price at this time, but it is showcasing unique strength in other areas that define its network strength. The second largest meme coin by market capitalization is seeing a parabolic upshot in its burn rate, a showcase of a healthy network.
SHIB burn rate almost 40,000%
According to data from Shibburn, Shiba Inu's burn rate recorded 3,8986.28% growth over the past 24 hours. One surprising revelation from this milestone is that the SHIB token burn rate is seeing such massive growth for the second time this week, as reported earlier by U.Today.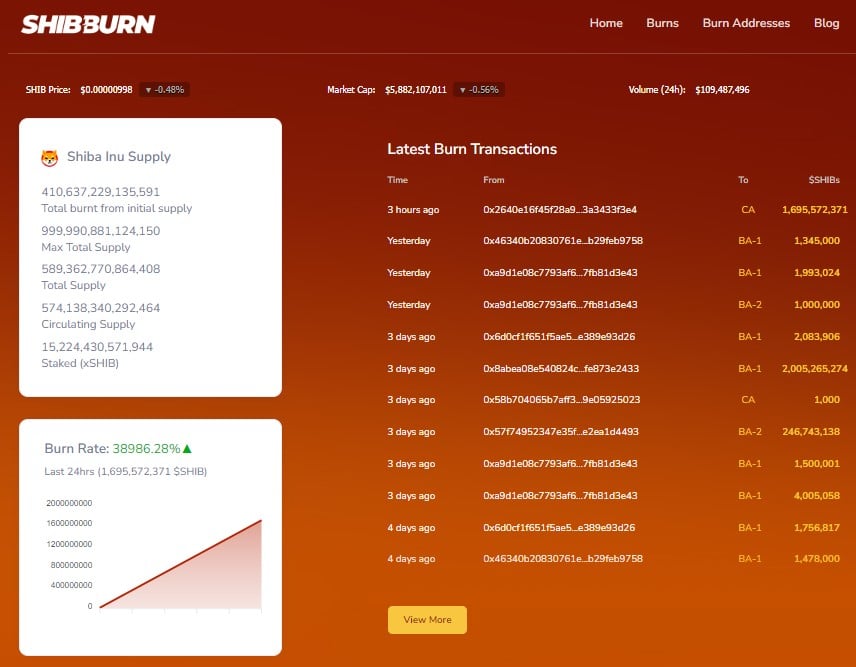 Effectively, more than 1.69 billion SHIB tokens were sent to dead wallets this time, a figure somewhat lower than the two billion tokens burnt earlier in the week. The active wallet that helped burn the token was responsible for more than 95% of the total tokens burnt at this time.
The burn rate has a major role in determining the positivity of the Shiba Inu network; however, with one address accounting for the majority of the recorded figures, the network's health appears questionable.
Inherent price outlook
With a burn rate that has crossed more than 75,000% cumulative for the week, the price outlook has remained rather on the bearish side. At the time of writing, the SHIB token is changing hands at a price of $0.000009954, down by 0.74% over the past 24 hours. For the week, the meme coin is also down by 3.43%.
With the erratic rally the digital currency ecosystem has recorded over the past week, SHIB actually lost one zero in what is classified as one of the most ambitious moves for this year. Shiba Inu may be slow in its growth, but we can say it has been largely consistent since it was first introduced.