Shiba Inu (SHIB) is in the spotlight at the moment, despite the fact that the price of the meme coin has slipped amid an encroaching broader market onslaught. The meme coin is changing hands at a price of $0.00001004, down by 2.14% over the past 24 hours.
It is not unusual for SHIB to experience volatility that cuts across the two ends of the divide — high and low. While the impact of the volatility is a constant, so too is the influence of the cryptocurrency's key deflationary metric, the burn rate. The burn rate is a measure of the SHIB supply that is sent to dead wallets and taken out of circulation.
At the time of writing, data from Shibburn shows that the burn rate has soared by 1,439.92%, with a total of 15,399,176 SHIB tokens sent to a dead wallet. This is evidence that there are many transactions going on in the Shiba Inu ecosystem producing the SHIB to be burnt.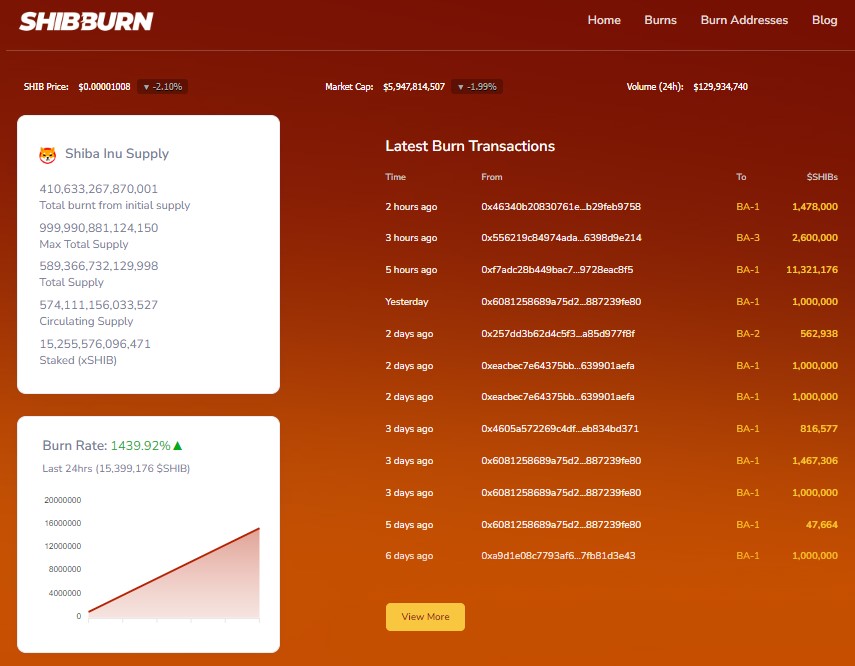 Experts draw a parallel between the SHIB burn rate and the corresponding growth in the price of the digital currency. A growing burn rate is indicative of a major incoming supply shock which, when mixed with higher demand, can send the price on a bullish run.
Is burn rate sufficient to upturn price?
Based on the expert's take, the quantity of Shiba Inu that will be sufficient to significantly upturn the price of the meme coin will be very difficult to generate in a day.
Price growth is a function of many different factors and, leaving sentiment aside, the broader trend in the market has a way of influencing SHIB holders.
With the week opening to a bearish turn, the burn rate may not have such a positive impact on the price of the meme coin; however, a combined growing burn rate and positive market outlook can drive the growth of the asset as the week unfolds.