Veteran DeFi altcoin MKR, a core native cryptocurrency of the MakerDAO ecosystem, is among the best performers in the last month. Regulatory pressure and market uncertainty failed to stop its marvelous 95% rally in the last four weeks. Here's what is behind the June 2023 MKR rally.
Maker (MKR) price jumps by 55% in just seven days: Three reasons
MKR crypto price spiked to eight-month highs over $1,075 thanks to accumulation driven by three protocol updates. Such a conclusion was published by ASXN on-chain researcher team.
MKR Fund Accumulation

We have noticed a trend of freshly funded wallets receiving MKR tokens from @coinbase or Coinbase Prime in the past week. pic.twitter.com/porgujiuWy

— ASXN (@asxn_r) July 5, 2023
First, the accumulation (initially noticed across a couple of Coinbase wallets) can be attributed to decent spike in Maker (MKR) fees. In recent days, the protocol smashed through its $315,000 daily fees milestone.
The upsurge in the MKR price might be explained by the protocol's tokenomic transition. In accordance with its "Smart Burn Engine Launch" governance proposal, Maker is transitioning from a buy and burn model to more advanced one.
Last but not least, MKR has rallied amid the unseen spike in popularity of Spark, a decentralized lending platform having a credit line from Maker (MKR) via its Dai Direct Deposit Module (DAI, DDM or D3M).
The token started rallying on June 30, 2023. In less then seven days, its price spiked from $685 to $1,072.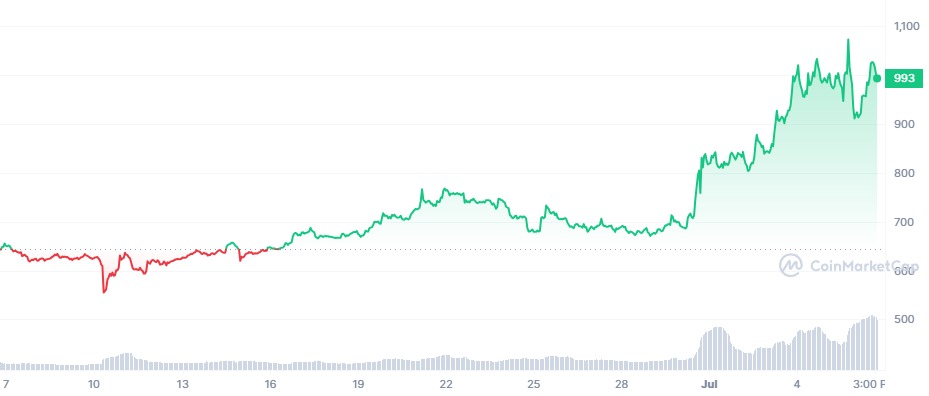 In total, in 28 days of rallying, the price of MKR increased by 95%.
$17.7 milion in MKR accumulated by large whales
The experts on the ASXN team noticed that the accumulation of MKR was organized by a few whales' wallets. Newly created addresses, they received large MKR transactions from either Coinbase or Coinbase Prime.
Six wallets during the mentioned periods accumulated over $17.7 million in MKR at current prices.
By press time, the MKR price had slightly retraced. The altcoin is changing hands at $993, trying to protect the crucial level of $1,000. Its recent upsurge pushed the token's price to levels unseen since amid-October 2022.