The Israeli government has moved to confiscate 84 cryptocurrency wallets that are linked to the Hamas terrorist organization, according to an administrative seizure order issued by the National Bureau for Counter Terror Financing.

Apart from Bitcoin, the members of the Islamist terror group also own a vast array of cryptocurrencies. According to blockchain sleuth Elliptic, the wallets collectively contain $7.3 million worth of crypto.

Hamas militants hold $3.8 million worth of Tether, $3.3 million worth of Bitcoin, $51,129 worth of Ether, and $40,235 worth of Dogecoin.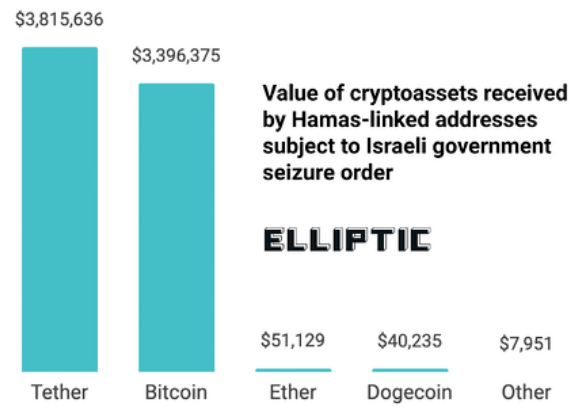 XRP, Cardano, Tron, Litecoin, and Binance Coin have also made brief appearances on the list of wallets subject to the seizure order.

card

In May, Hamas, which controls the Gaza Strip, saw a huge spike in cryptocurrency donations after a grave escalation of the Palestine-Israel conflict.

Strapped for cash, the militant group has been organizing Bitcoin fundraizing campaigns for years, even offering step-by-step instructions for its supporters.

The Al-Qassam Brigades, one of the wings of the organization, has received more than $100,000 worth of Bitcoin donations since 2019, according to the recent findings of Elliptic.