Ethereum (ETH) has made various headlines in recent weeks for its subtle performance upticks. While the second largest cryptocurrency has relatively mild growth, it is seeing a massive hike in its whale transactions. According to data from crypto analytics platform IntoTheBlock (ITB), large Ethereum transactions skyrocketed by 54.35% to print a total of $2.81 billion.
Specifically, the number of large transactions jumped from 2,120 on July 2 to 3,230 at the time of writing.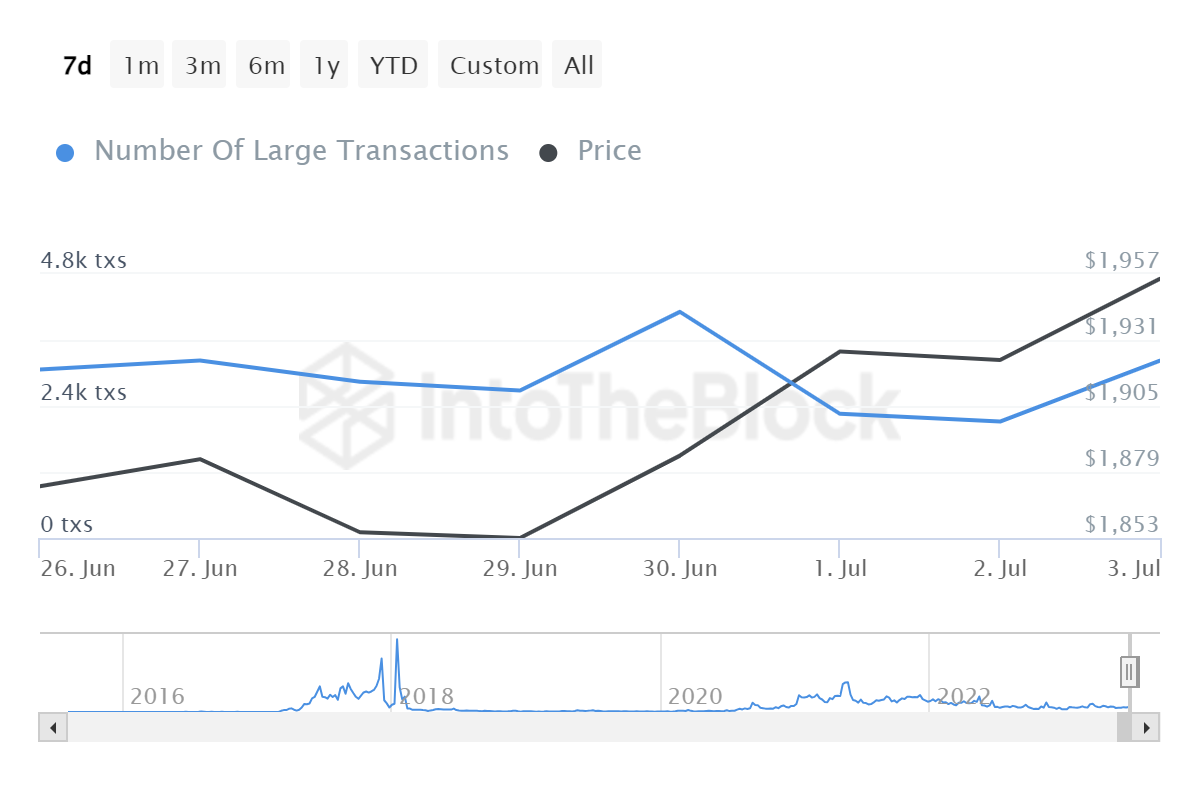 The significance of large transactions, according to ITB's definition, accounts for transactions involving more than $100,000 Ethereum tokens per unit of time. While it remains undeniable that Ethereum is dominated by retail investors, the latest ITB data insights reveal a large spread of big spenders, who consistently embrace Ethereum in value transfer on-chain.
The impact of these whale transactions is currently being felt in the recent mild bullish performance the Ethereum protocol has printed. At the time of writing, the Ether coin is trading at a spot price of $1958.65, up by 0.11% in the past 24 hours. On the weekly front, Ethereum has inched forward by a growth of 4.10%.
Broad Ethereum milestones
Different positive fundamentals have combined forces to help propel Ethereum toward breaching the psychologically important level of $2,000. As reported earlier by U.Today, the protocol has also seen a remarkable surge in its staking deposits since the Shanghai Upgrade went live earlier this year.
As a full-fledged proof-of-stake (PoS) protocol, Ethereum now commands more interest from users as pertains to yield farming and staking. Prior to the Shanghai Upgrade, staked Ethereums are locked until a long-defined date. However, with the changes, staked assets can be redeemed on request and, as such, have driven enhanced participation from investors across the board.
The combination of increasing staking liquidity and large transactions has helped keep Ethereum afloat amid broader market uncertainty.