MachineFi Lab, the core developer of the IoTeX Network, has released W3bstream, the world's first decentralized infrastructure for real-world devices and data.
W3bstream is a unique and groundbreaking blockchain-agnostic infra that will disrupt the machine economy, where innovation until now has remained stagnant. It provides cutting-edge tools and middleware that reduce development timelines and costs by at least 50% for builders, Web2 businesses, and smart device makers.
W3bstream unlocks the multi-trillion reward economy for millions of people globally that carry out everyday activities, such as exercising, driving safely, sleeping well, being eco-friendly, visiting places, and attending events.
W3bstream enables smart device and data applications in all industries and sectors of society, including smart cities, supply chains, sensor data gathering, healthcare, environmental monitoring, and social impact, among endless more.
Over the past year, W3bstream has been tested and iterated with Web2 and Web3 organizations across the automotive, healthcare, weather, digital advertising, and other industries that utilize intelligent devices.
"W3bstream is the result of over a year of scientific and technological research and development. It will be the backbone of the entire decentralized machine economy," said IoTeX CEO and Founder Raullen Chai.
Enabling the future today
"This real-world data protocol enables data ownership, reward systems for everyday activities and data sharing, and allows developers to build MachineFi applications very quickly and inexpensively," said the former senior Google, Uber, and Oracle engineer.
Chai explained that although W3bstream is IoTeX's most outstanding technological achievement to date, it is only one more tech development piece of the MachineFi puzzle enabling endless business opportunities for innovators to tap into the $12.6 trillion machine economy.
"This release is only the beginning of greater growth and more prominent ecosystem partnerships and use cases. It paves the way towards the MachineFi era where hundreds of millions of people will benefit from and interact seamlessly with billions of smart devices and machines," he added.
The IoTeX founder is bullish on MachineFi, as are all the MachineFi Lab investors, including Samsung Next, Jump Crypto, Draper Dragon, Xoogler Ventures, IOSG, Wemade, and Escape Velocity, who participated in MachineFi Lab's latest $10M funding round this past July.
They believe the decentralized machine economy is the future and that with W3bstream and its MachineFi vision, IoTeX will bring the next massive wave of people into crypto and the first billion intelligent devices and machines onto the blockchain.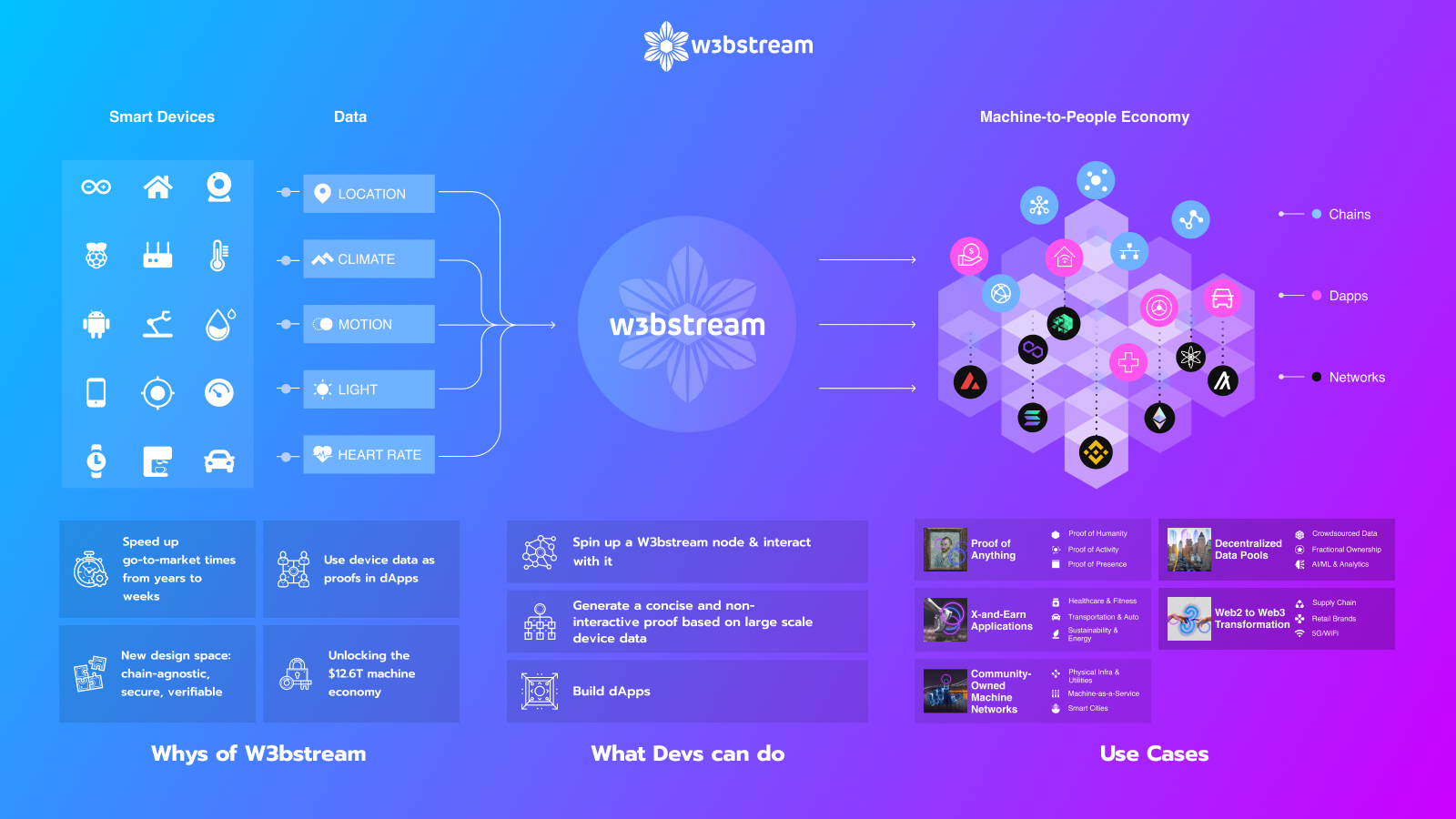 Limitless MachineFi use cases
The W3bstream release enables exceptional X-and-earn use cases, including sleep and earn, drive and earn, and exercise and earn. A prime example is HealthBlocks, which has revolutionized how users interact and benefit from intelligent wearable devices and machines by motivating users to lead healthy lifestyles.
It also creates opportunities with Proof of Anything, such as in location, activity, and humanity, which has drawn massive interest because of its potential to reduce bot fraud and distribute tokens, NFTs, and, more importantly, Universal Basic Income.
There is also tremendous interest in W3bstream for community-owned machine networks, such as smart cities, public utilities, and physical infrastructure. Decentralized data pools are another use case that represents an important opportunity for users, businesses, and others to participate in Big Data, Machine Learning, and Artificial Intelligence.
Web2 to Web3 Transformation is another prominent use case. It allows traditional businesses to integrate blockchain quickly and efficiently into asset tracking, product tokenization, and verifiable transparency processes. IoTeX's partner Morpheus Network, for example, is disrupting the global trade sector with groundbreaking supply chain improvements that reduce costs and accelerate delivery times.
"W3bstream connects the real world to web3, serving as an open, decentralized off-chain computing infra that sits between the blockchain and smart devices," said Chai. "W3bstream allows builders to connect Web3 token incentives with real-world activity confirmed by user-owned smart devices, expanding the Web3 design space into the real world."
The W3bstream framework binds users with their smart devices. It will rely on a decentralized protocol to reach a consensus regarding what has happened in the physical world and produce proofs that trigger token reward distribution to users in Web3, according to rules defined in smart contracts.
"From tracking sleeping patterns and workout progress to monitoring the health status of industrial machines and predicting global climate change, the use of Internet of Things (IoT) devices in business and our daily lives is growing at a staggering rate," said Chai.
The W3bstream roadmap
The W3bstream roll-out is planned in four stages, starting with the release of V1.0, when all development tools become available, including software development kits (SDKs) and open-source repositories for developers of all skill levels. It is also when developers and businesses can configure and deploy W3bstream nodes to build MachineFi dApps using the Web Assembly (WASM) language, Raullen Chai explained.
"V1.0 is the first release of many for our innovative protocol," Chai said. "This is where we introduce the concept of a W3bstream common runtime that can execute MachineFi Layer-2 custom logic, and when the runtime is updateable without affecting the user logic as it is modular-based architecture, the foundation for all future releases of W3bstream.
"W3bstream's V2.0 is when we address scalability. During this phase, support is put in place for high volumes of incoming data, making it possible to operate thousands if not tens of thousands of dApps and W3bstream nodes," Chai added, saying it is also the phase when additional blockchains are supported.
The complete decentralization of the network kicks in with the release of W3bstream's V3.0, tentatively planned for Q4 2023. In this period, MachineFi Lab introduces the consensus module that fully decentralizes all W3bstream nodes serving dApps. "With this release, any community member can now become a node operator in the W3bstream network that allows other validators," said Chai. "The community, people, and users can receive mining rewards thanks to the added decentralization layer."
IoTeX will introduce privacy-preserving technology in future phases, allowing W3bstream to accommodate several modes where user data is protected. For example, devices could encrypt their data, and W3bstream nodes will be able to compute over this encrypted data to generate zero-knowledge proofs.
Ending decades of corporate data monopoly
Smart devices and machines connected to the Internet will significantly impact our lives in the future. Experts estimate that by 2030 people, businesses and organizations worldwide will own about 125 billion devices, generating a $12.6 trillion machine economy. Machines could replace over 30% of the human workforce in eight years. And data, powered by AI, could generate a $13 trillion global economic value by the start of the next decade.
As the Internet of Things (IoT) expands deeper into people's personal and professional lives, the opportunity for blockchain technology to ensure this incredible amount of data, devices, and value is owned by users and not corporations is paramount.
Everyday objects from TVs, scales, autos, and beds to mirrors, toilets, and practically every device i n our home will be equipped with robust sensors and WiFi connectivity making them "smart" devices.
"Today's Internet of things (IoT) businesses are mainly built on centralized infrastructure, and organizations have extensively used data collected by smart devices to make business decisions," Chai said. "Due to centralized management of IoT devices by organizations, customers do not truly own their devices and associated data." W3bstream changes the status quo, benefiting billions of people over corporate data monopoly.
Sparking exponential growth
At its core, IoTeX is a Layer 1, EVM-compatible, open-source blockchain platform designed to power large-scale, decentralized machine networks. The unique and revolutionary IoTeX platform enables a new design space for dApps to leverage the data and resources of these emerging machine networks for everyday use. And with W3bstream, the current IoTeX ecosystem is expected to experience further exponential growth as it prepares for a new era.