The cryptocurrencies segment has increased its public exposure significantly in the last two to three years. While the rapid development of the crypto sphere has delivered a plethora of useful retail services, many newcomers are still having to guess about where to buy their very first crypto coins.
Buying crypto with cash remains the most seamless and intuitive way of meeting with the world of 'Magic Internet Money'. With StormGain's example of the multi-purpose crypto exchange and trading ecosystem, we can see the ways it can be done in 2020.
Buying Crypto with Cash: Is it Reasonable?
Buying crypto with cash refers to a direct 'fiat-to-crypto' purchase with your credit card or bank account. In a nutshell, you don't even need to know what a blockchain is or how it works to buy some Bitcoins (BTC) or Ethers (ETH) with your Visa or Mastercard.
Main Advantage: Simplicity
A phone number, active e-mail address, and valid credit or debit card - that's all you need to buy cryptocurrency tokens. It looks like buying goods in an e-store and is therefore suitable for non-Computer Science (CS) users and investors.
Safety: No Risks on Your Part
Many services offer peer-to-peer options for purchasing crypto: you interact with another user, send him/her your money from the card, and receive your cryptocurrency. It looks amazing, but there are several possibilities for fraud.
When utilizing the service to buy crypto with cash, the process of the trade is safe and secure since the platform protects your rights and eliminates all possibilities for frauds.
Availability: Buy Crypto Wherever and Whenever You Want
With this option, you are not tied down to the time and place framework that the service operates. It is actually a 24/7 opportunity regardless of the price of Bitcoin (BTC), local time, the bank's residence that issued your card, etc.
In terms of technology, all you need in order to buy crypto with cash in the modern era is your computer or a smartphone connected to the Internet and a credit card.
Buying Crypto with Cash: StormGain's Experience
StormGain, a cryptocurrency trading and exchange ecosystem, is designed as a seamless, secure, and intuitive framework for buying cryptocurrencies with cash.
Multi-Asset Exchange
On StormGain, you can trade all crypto behemoths (mass adopted cryptocurrencies), e.g. Bitcoin (BTC), Ethereum (ETH), Litecoin (LTC), XRP, Bitcoin Cash (BCH), Stellar Lumens (XLM), and Monero (XMR) (see Figure 01).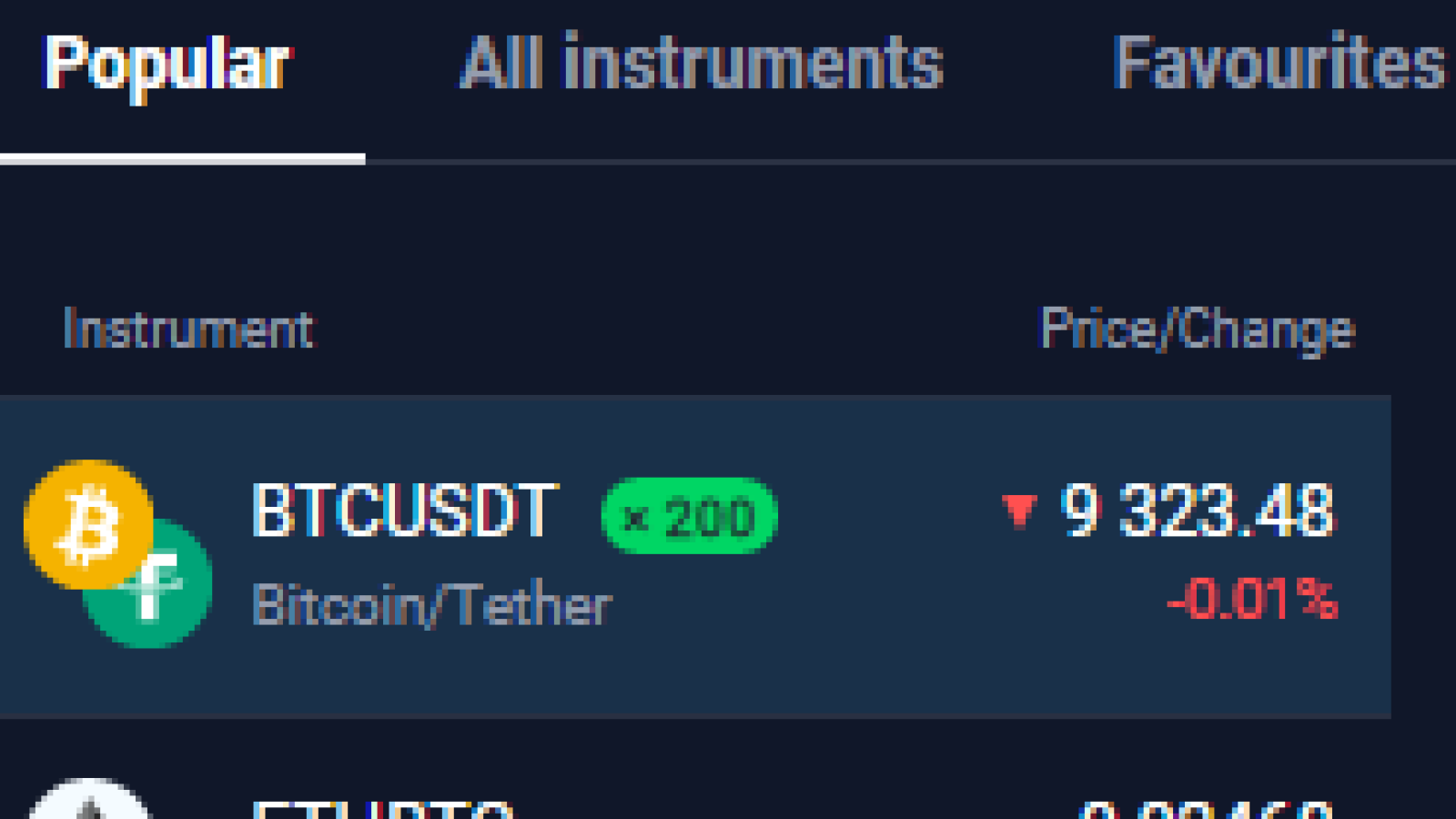 Tokens of crypto forks and other veterans within the cryptocurrency market are also on the menu: Bitcoin Gold (BTG), Dash (DASH), Neo (NEO), New Economic Movement (XEM), EOS (EOS), QTUM, and IOTA (MIOTA) (see Figure 02).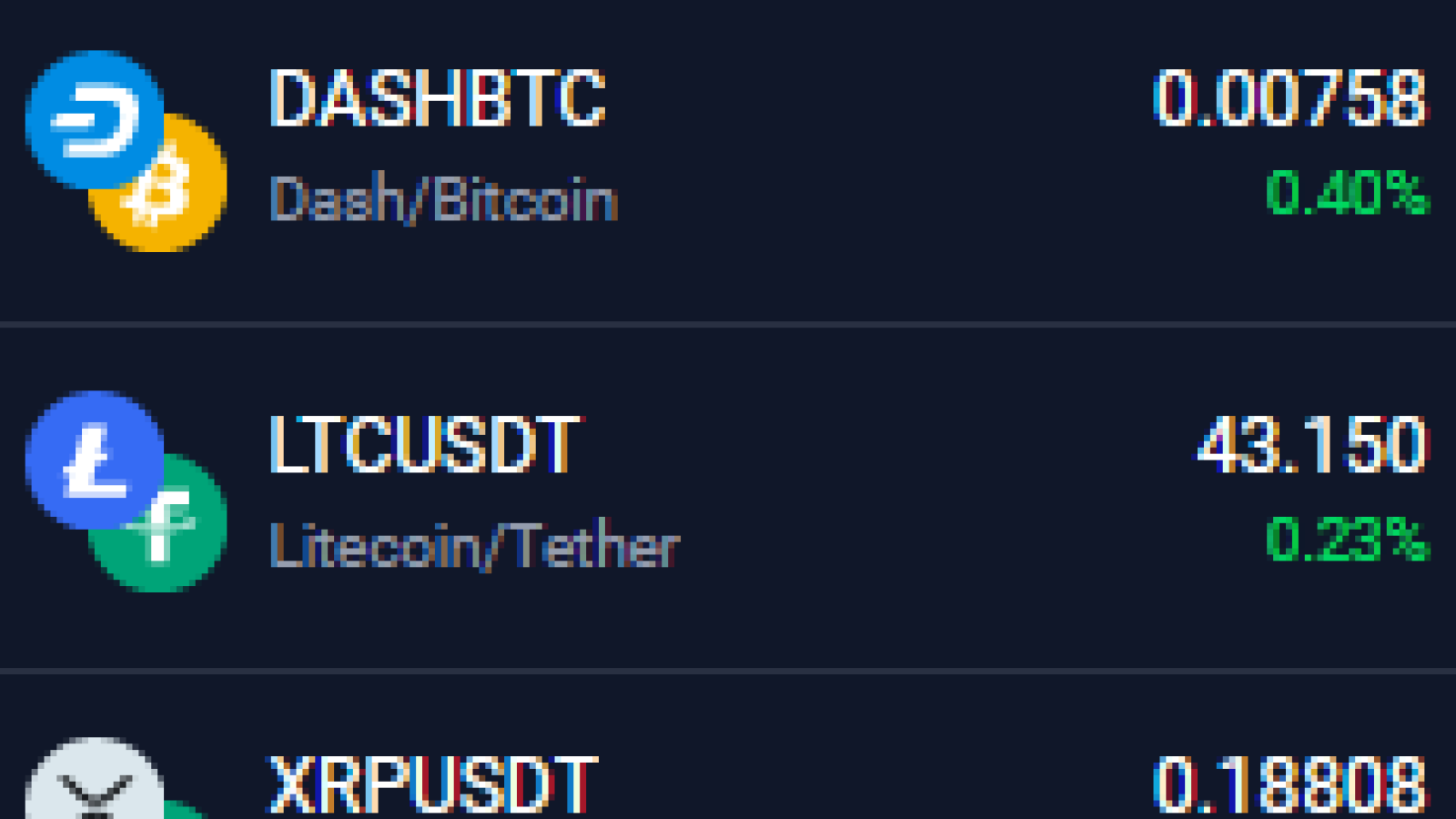 The most sought after new-gen altcoins, e.g. Tron (TRX) and Cardano (ADA), are available on StormGain. For easy settlements and the most secure trading option, the U.S. Dollar Tether (USDT) stablecoin is supported by the platform.
Education First
The StormGain team created a dedicated educational page for crypto newbies. Every young trader can modernize his/her understanding of the cryptocurrency trading process through a series of lessons (see Figure 03).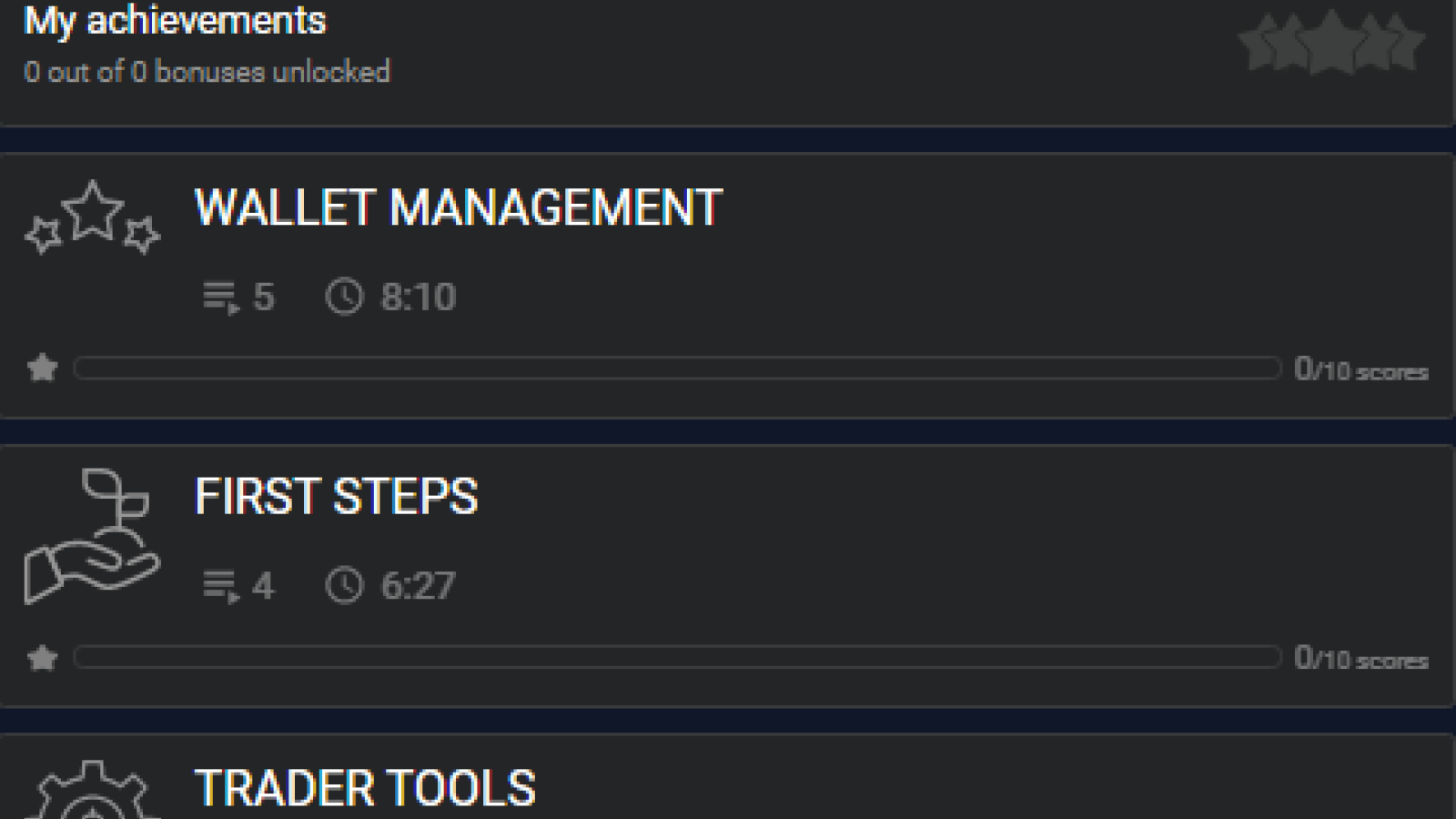 To incentivize the trading education process, StormGain offers a system of bonuses for attending video lessons. The first lessons explain how to set up your StormGain wallet and how to initiate your first trade (see Figure 04).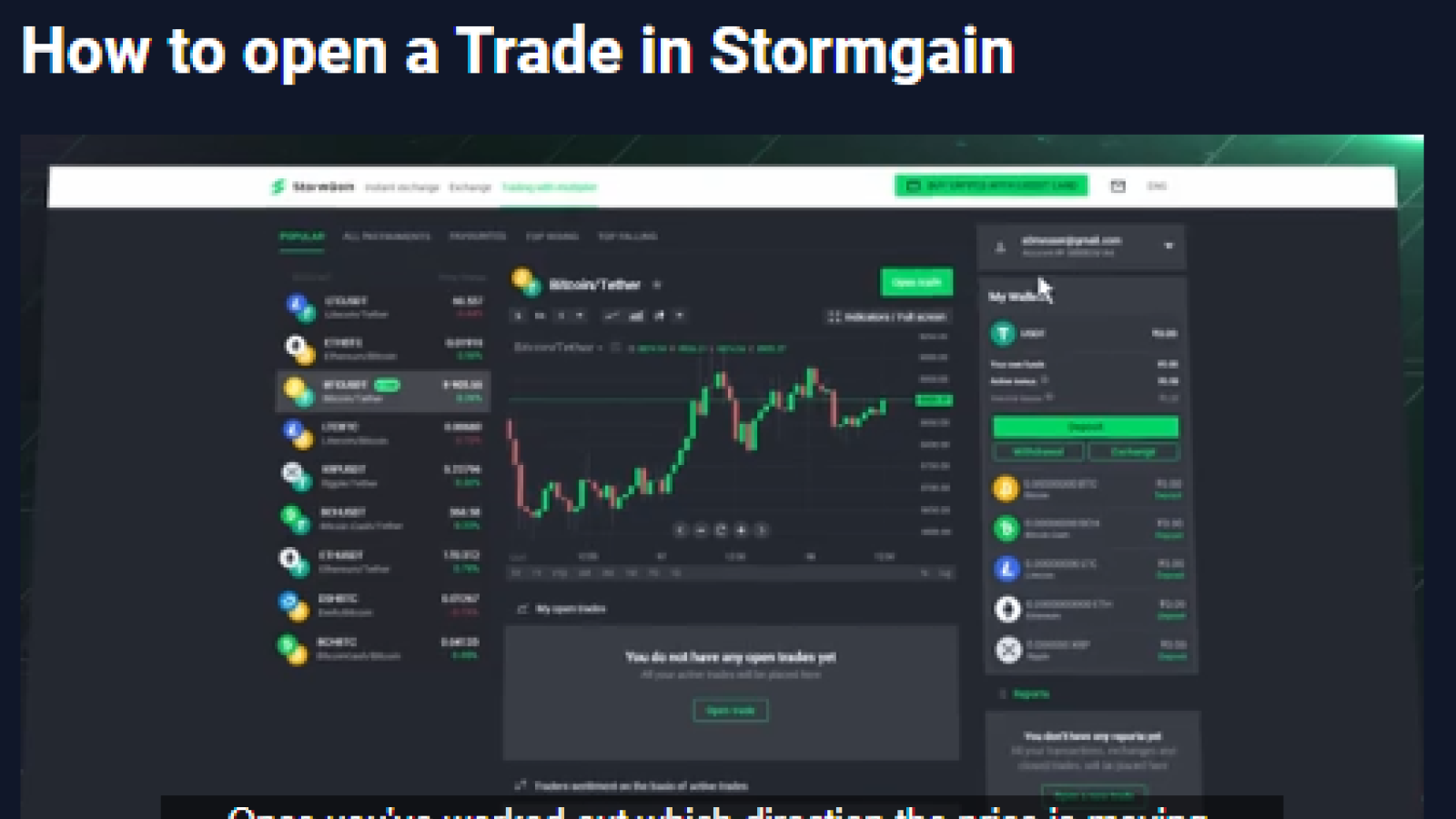 Every couple of lessons are followed by a test. Once the student completes a test, the educational bonuses are unlocked for him/her (see Figure 05).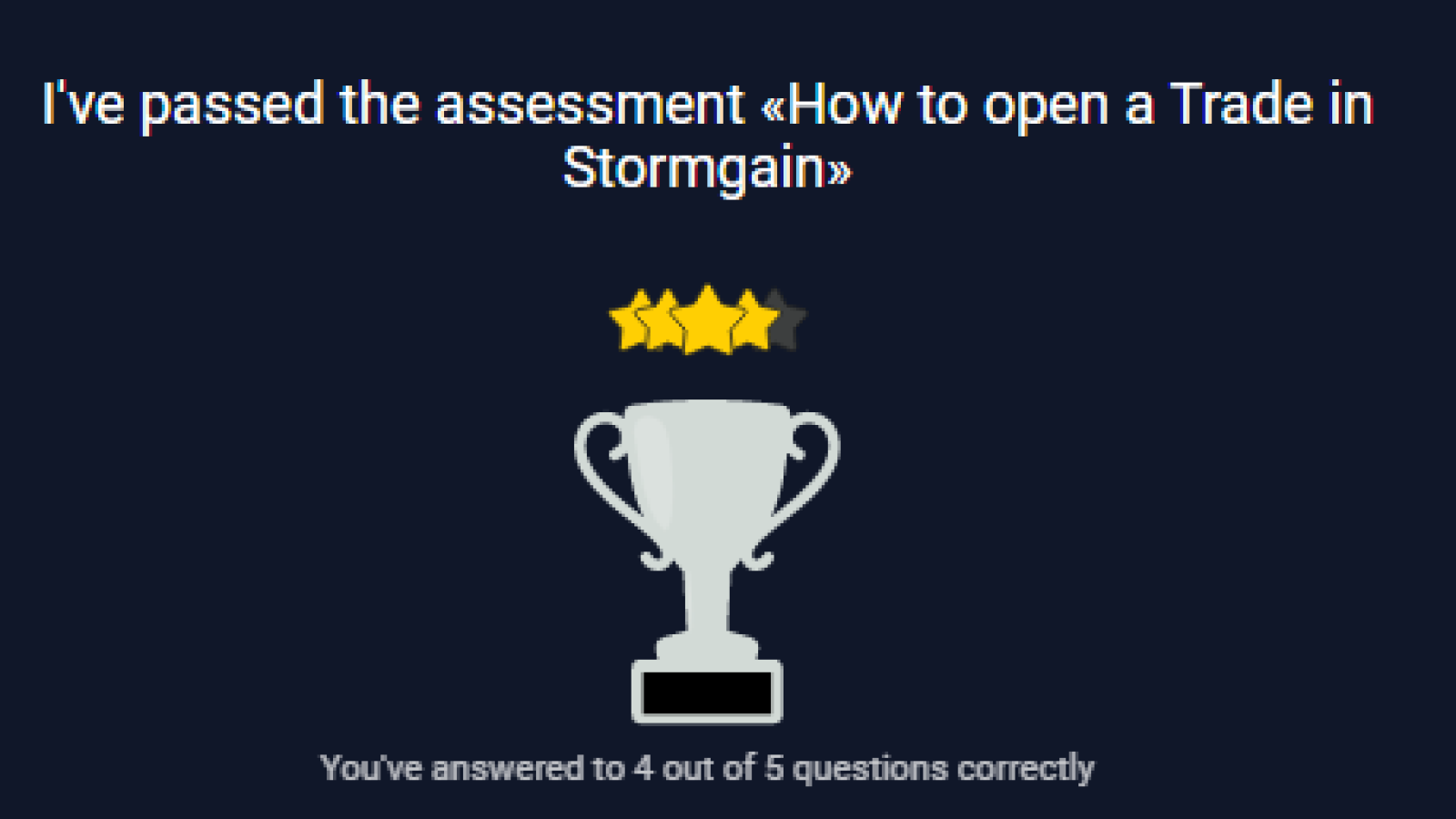 The product team highly recommends that you go through all of the lectures of the Education Board to improve your trading skills and maximize your profits.
Buying Crypto with Cash on StormGain: Step-By-Step Guide
It takes only a few clicks to buy cryptocurrencies with cash through your StormGain account.
1. You need to register and verify your accounts. You just need to validate your mobile phone number and e-mail address (see Figure 06).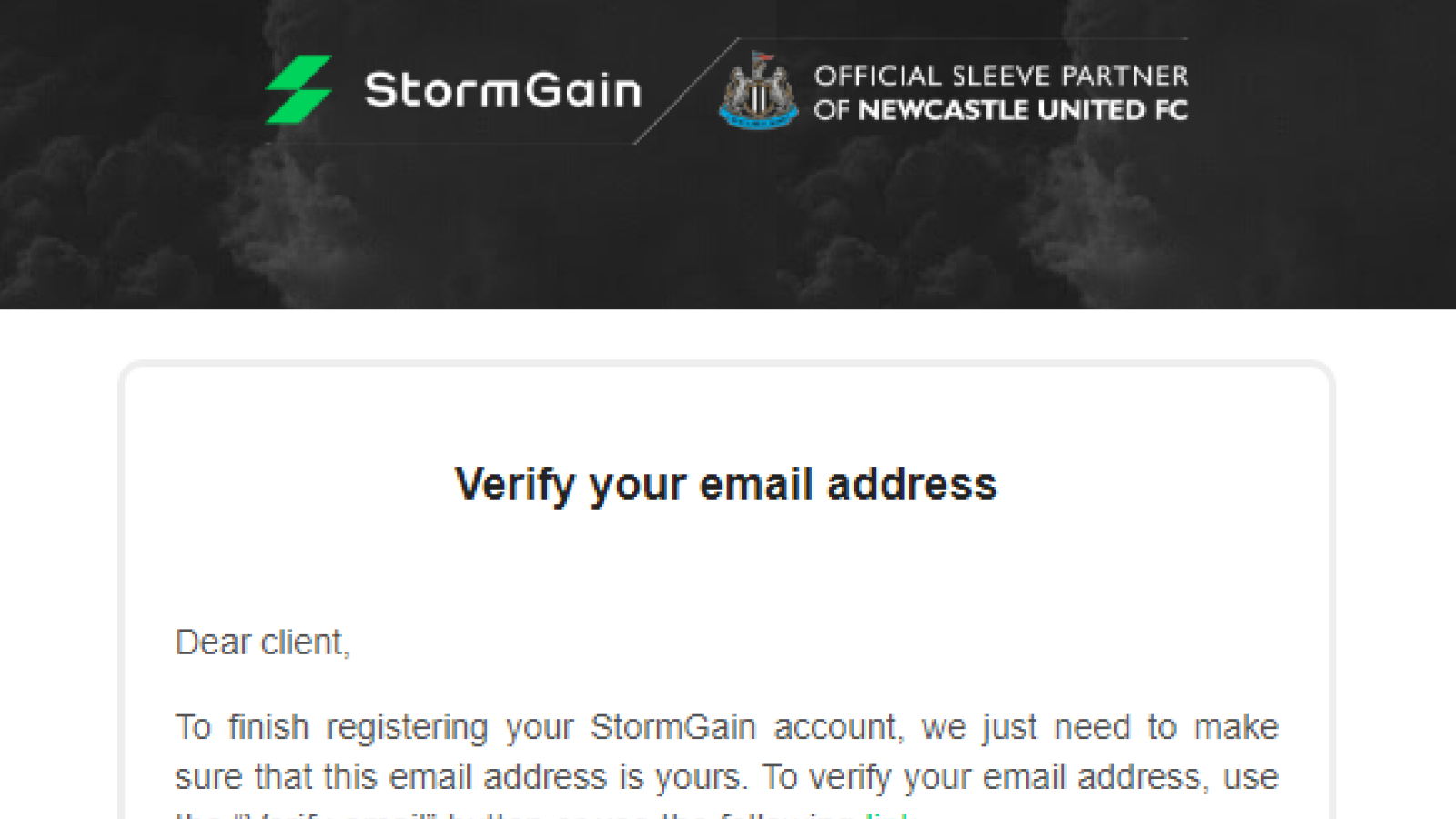 Registration only takes two minutes and your account is ready to purchase crypto with cash.
2. Click the 'Buy crypto with a card button' located in the top right part of the screen. You will be redirected to the menu where you can customize all the conditions for your 'fiat-to-crypto' purchasing (see Figure 07).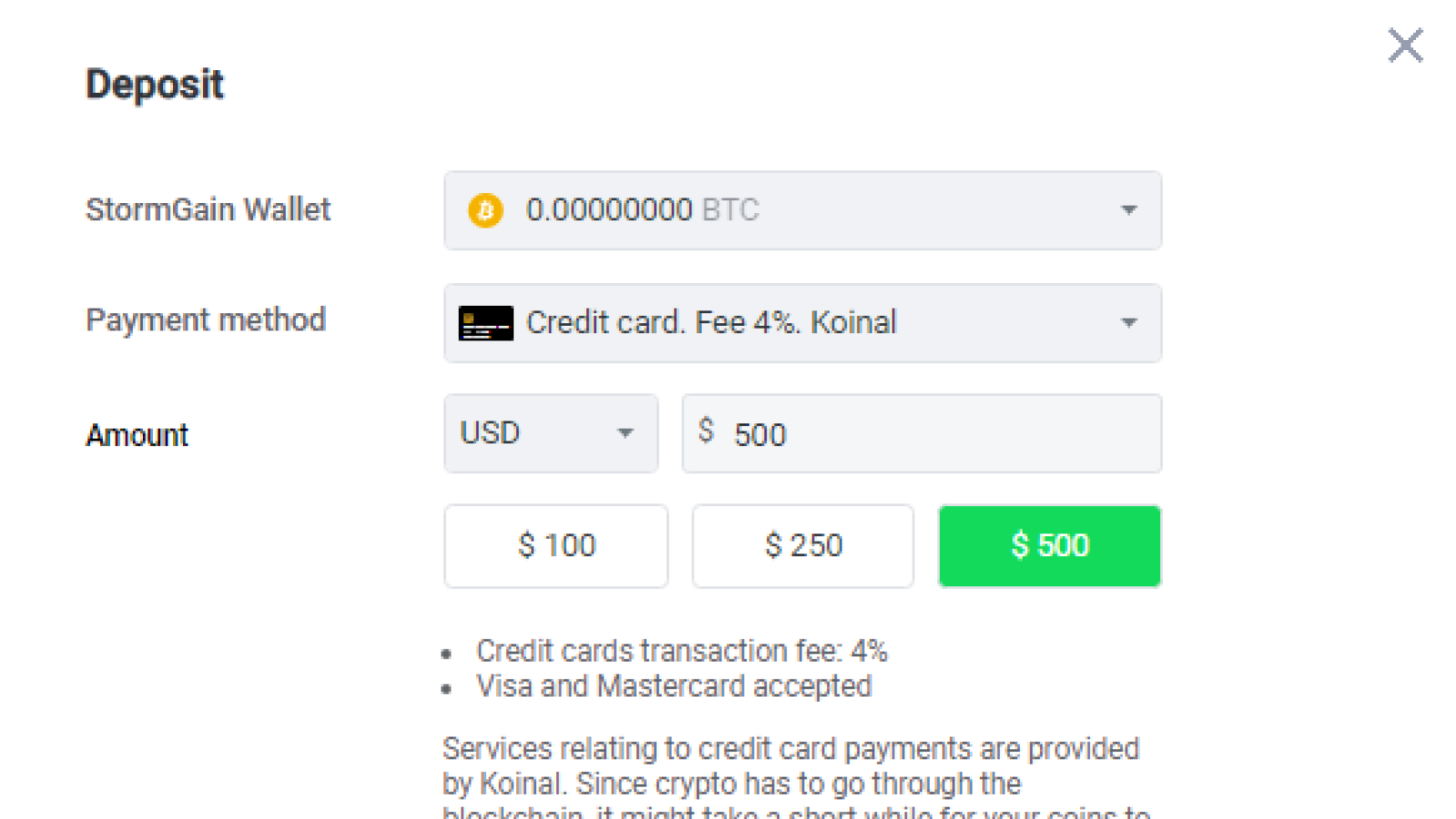 Here, the trader can choose the type of coin he/she would like to purchase (Bitcoin (BTC), Ethereum (ETH), Litecoin (LTC), Bitcoin Cash (BCH), XRP, or USDT stablecoin), the amount to purchase in the U.S. Dollars, and the fiat paygate for the trade.
At press time, two paygate are available, Koinal and Simplex. Both have stellar reputations, strong performances, support Visa and Mastercard deposits, and offer reasonable transaction fees. World-leading Israeli-based fiat vendor Simplex charges users 5% or a $10 USD fee (whichever is higher). UK-incorporated Koinal offers similar services for fees of 4%.
3. After this step is complete, the trader is redirected to the paygate - the last step before purchasing coins.
Here, the user needs to input his/her credit card information, first and last name, e-mail address, and phone number (see Figures 08 and 09).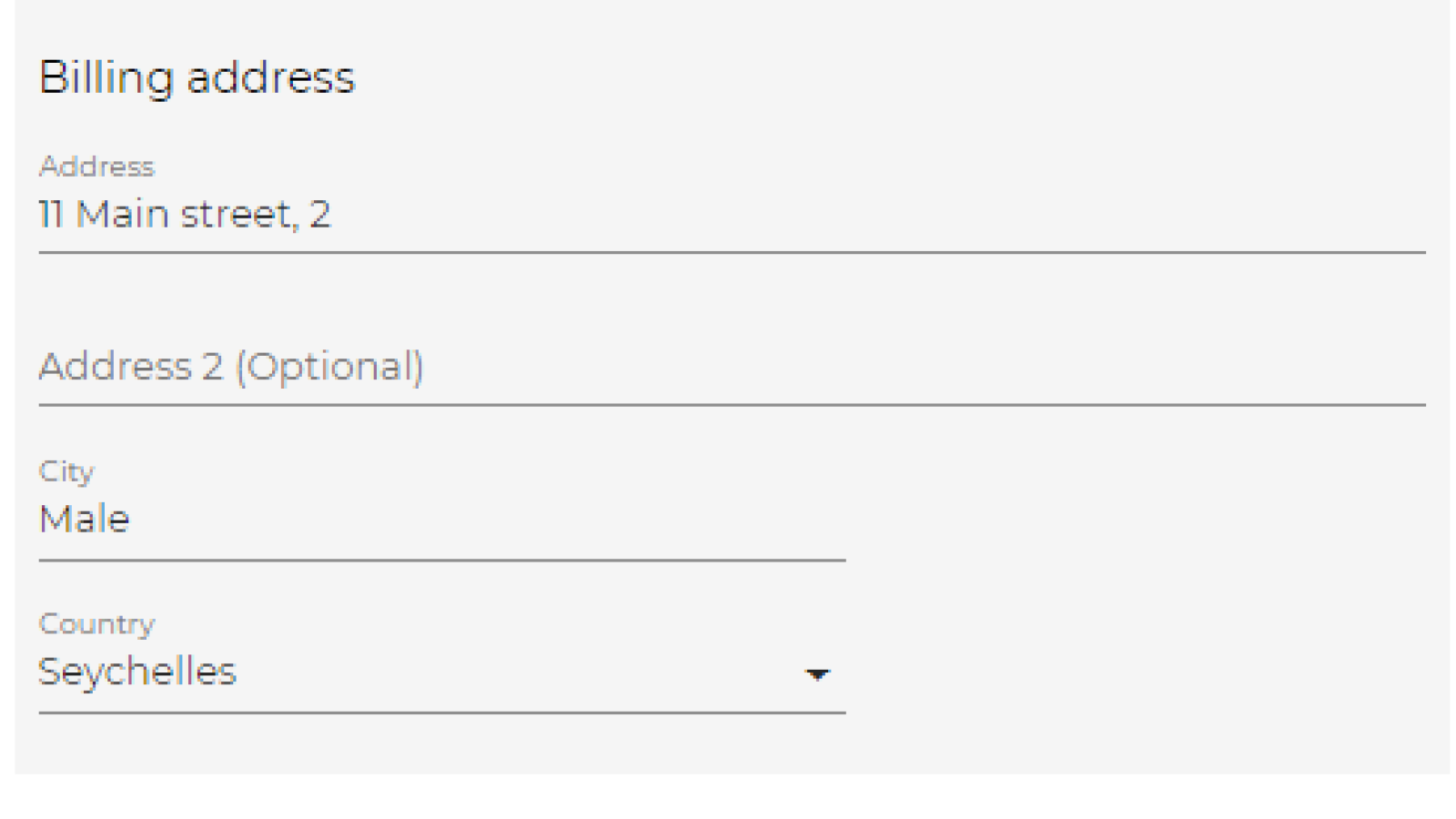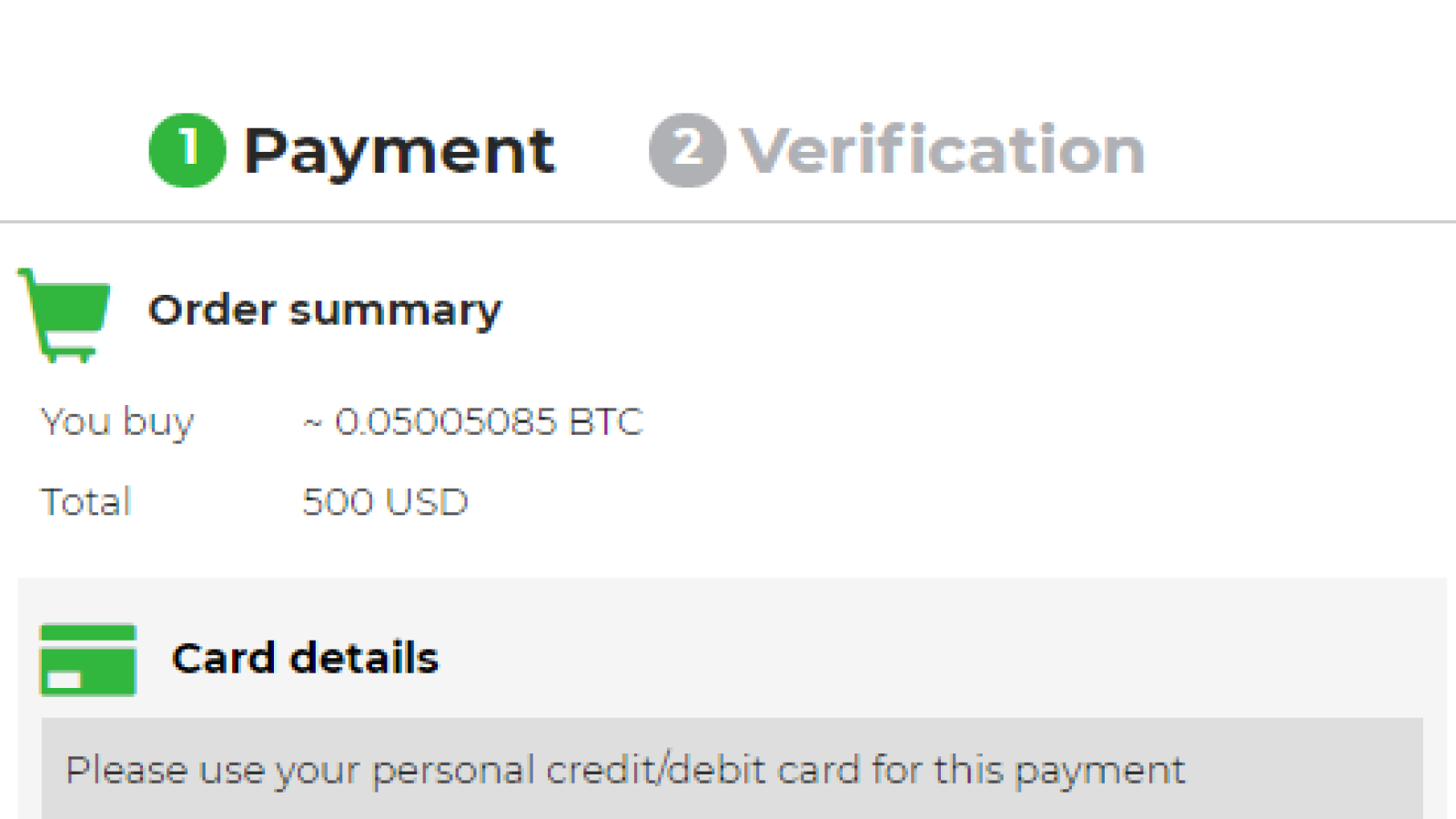 By clicking on the 'Pay now' tile, the user will be redirected to the verification page. In order to verify the identity of the client, the rest of the procedures are conducted by the payment processor. This may take a few minutes, but the end result will be the depositing of crypto into your StormGain account.
What to Do with Your Crypto After Purchasing: Trading and Earning with StormGain
StormGain is a one-stop ecosystem that offers several instruments for the contemporary crypto experience. With the purchasing of the user's first crypto tokens, the user can try all of them in one application.
Trading Crypto with StormGain
Despite several use cases evolving in real-time, cryptocurrencies are still primarily utilized for high-profit trading. With StormGain, you can gain this experience in a comfortable and modern way.
StormGain's trading interface is really intuitive (see Figure 10). Clicking on the 'Open a trade' button will give the user the option of choosing whether he/she wants to 'long' his/her assets (buy) or 'short' them (sell). For Bitcoin (BTC) trading pairs with USDT, a multiplier (leverage) of up to 200x is offered.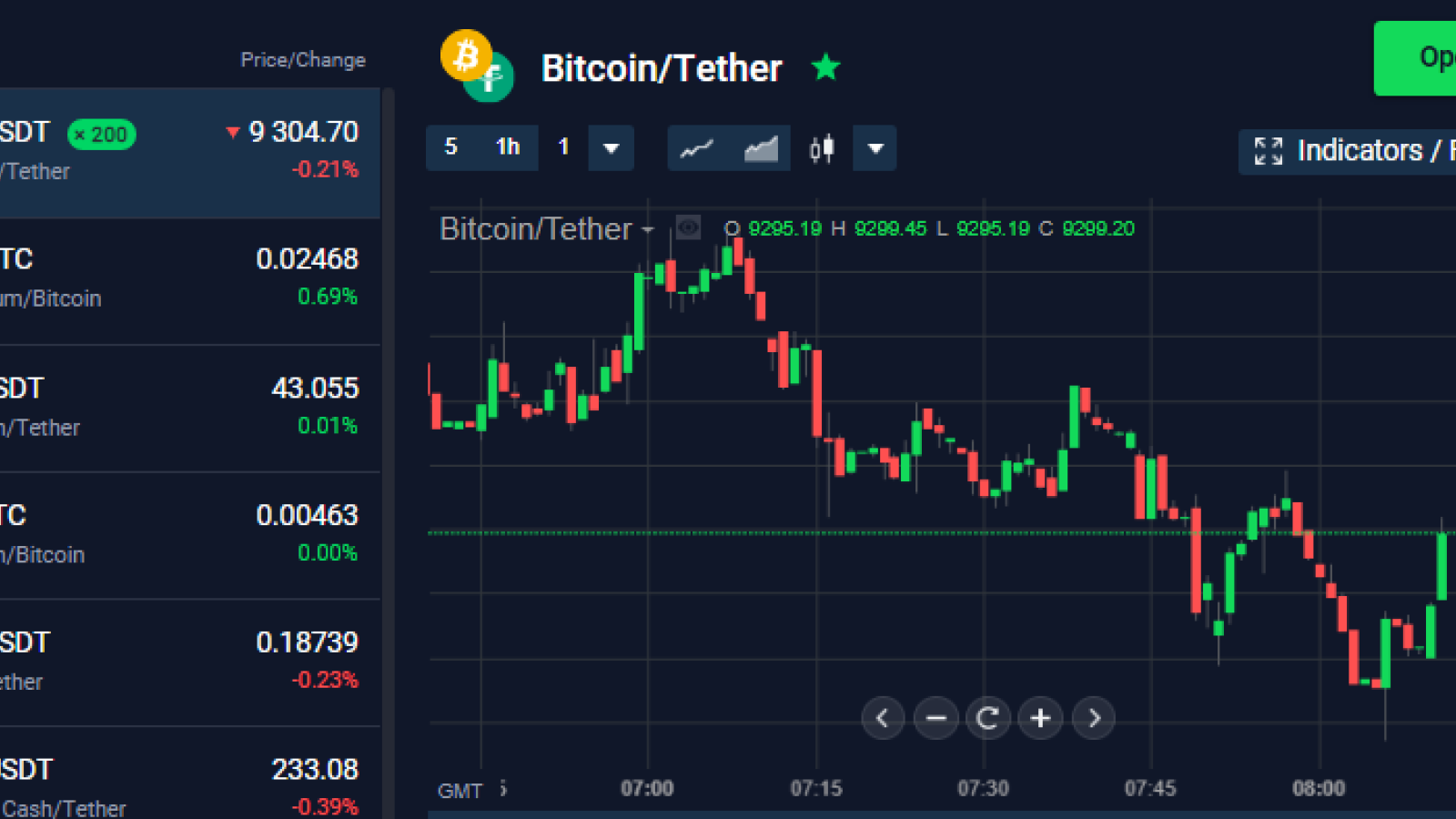 By activating a multiplier, the user can boost his/her benefits, but can also acquire significant losses. This indicator multiplies the stake of the trade, so traders should be incredibly careful with leveraged positions.
Exchanging Crypto with StormGain
StormGain users can also exchange their crypto at affordable prices. In 'Exchange' mode, the price can be set by the user him/herself. The order is broadcasted to the trading engine, allowing other users to see it (see Figure 11).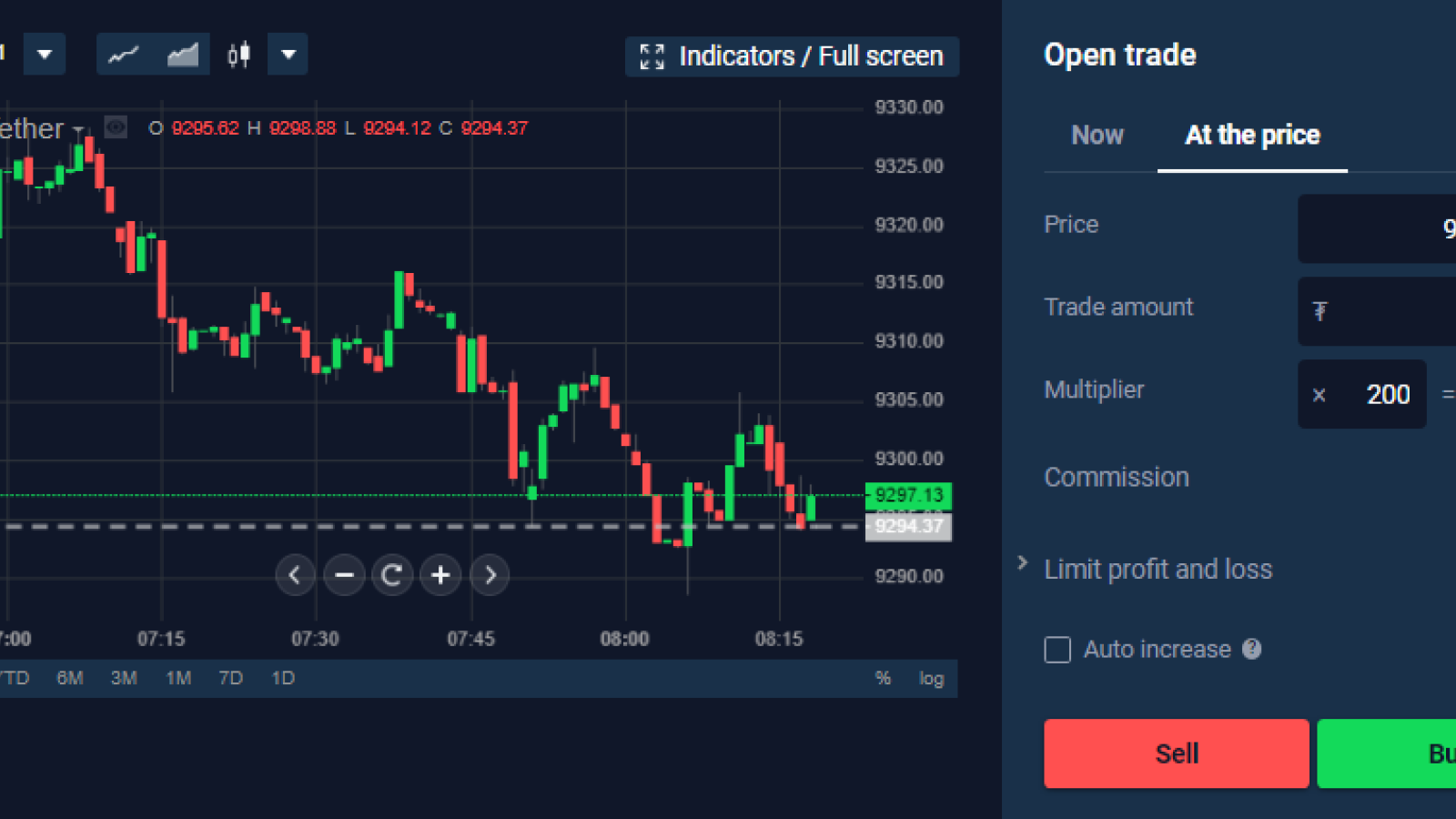 Once the price reaches the level set by the user, the order is filled out automatically. Apart from placing the order, no further action is required by the trader.
In 'Instant' mode, the user does even less: just choose the preferable trading pairs and exchange your tokens with one click. The service itself acts as your counterparty.
Earning with StormGain
StormGain's deposit program acts as a simple deposit for classical banking. The user locks in his/her money for a predetermined period of time and earns benefits on the idle savings. The more crypto deposited, the higher the yield ratio (offered by StormGain) (see Figure 12).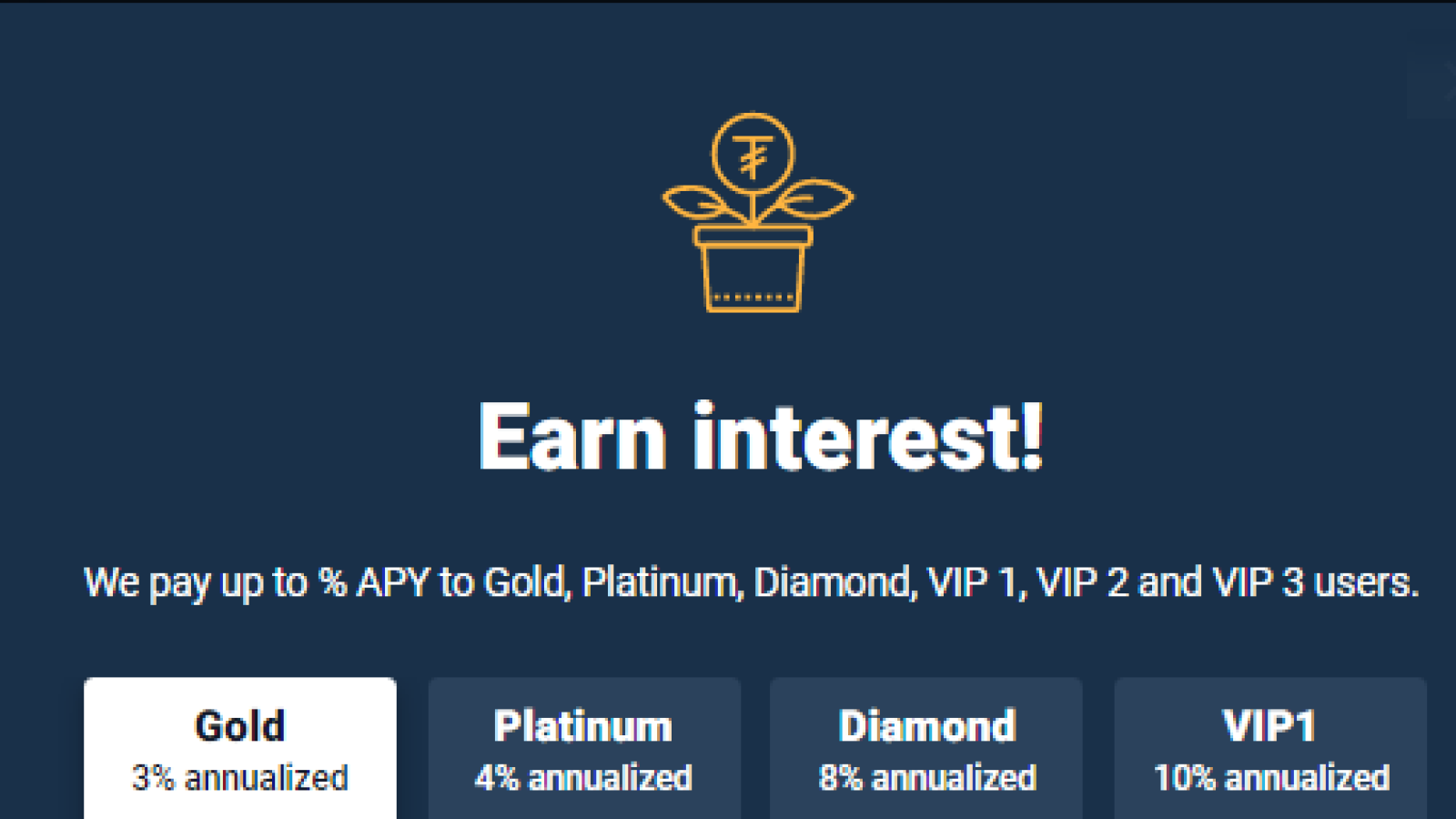 A minimum deposit for this program starts at 500 USDT. When the user reaches the 'Diamond' level (with a balance of 5,000 USDT), the user can enjoy an annual interest ratio that is much higher than every classic bank. The minimum framework time for the lockdown is a period of 30 days.
Loyalty Program
StormGain's platform offers a lucrative bonus program for loyal traders. The user's status within this program depends on two inputs - total coin value stored in the account and overall trading and exchange volume. Loyal users can enjoy fee discounts, high bonuses within the earning program, and even deposit bonuses (see Figure 13).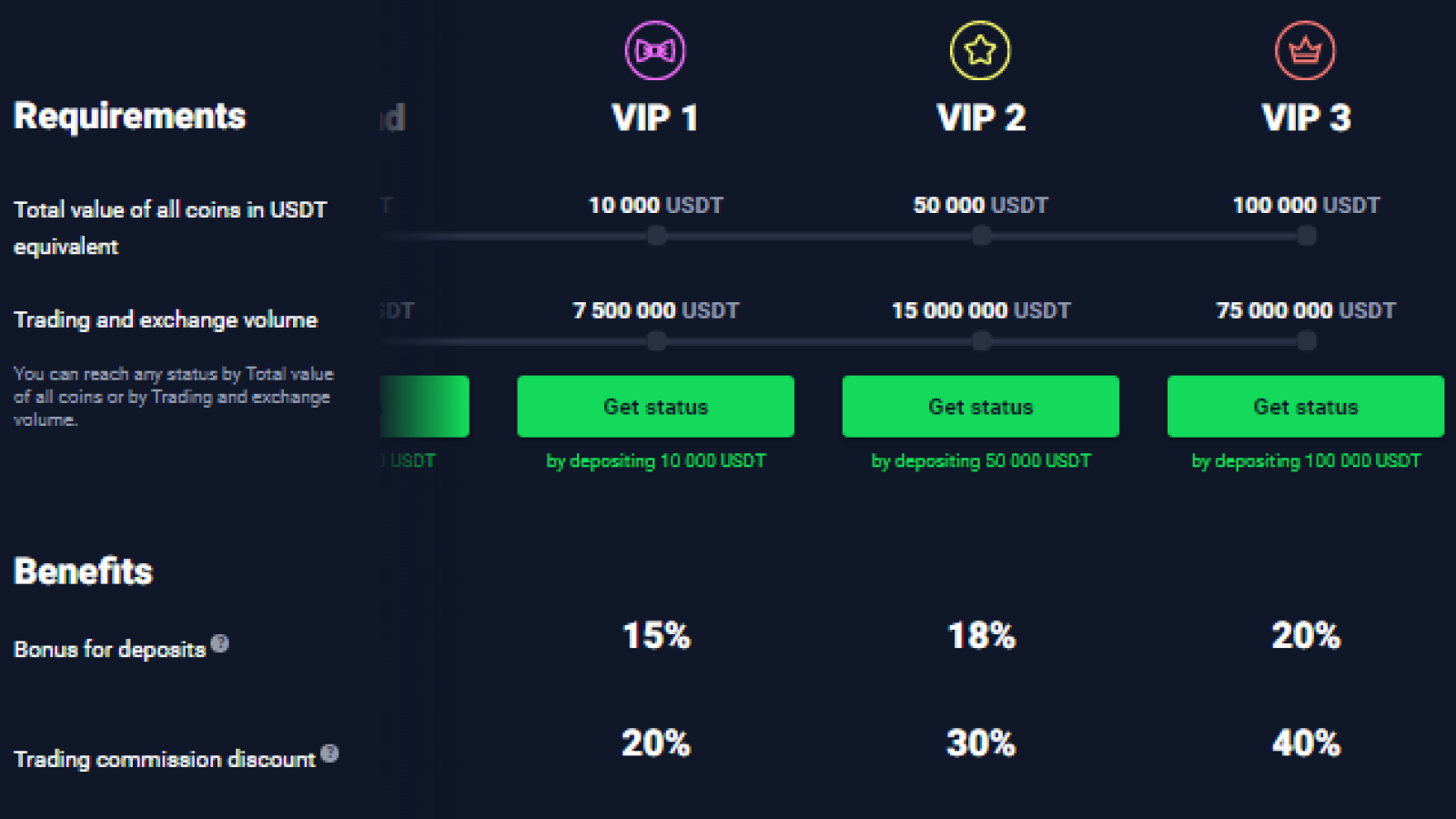 To participate in the loyalty program, the user needs to deposit a minimum of 500 USDT. The 'Gold' status can also be assigned to the user whose trading volume has surpassed 150,000 USDT.
Finally, a trader can monetize his/her social exposure by participating in StormGain's Referral Program. With one click, this creates a unique referral link that can be utilized by an unlimited number of the user's friends (see Figure 14).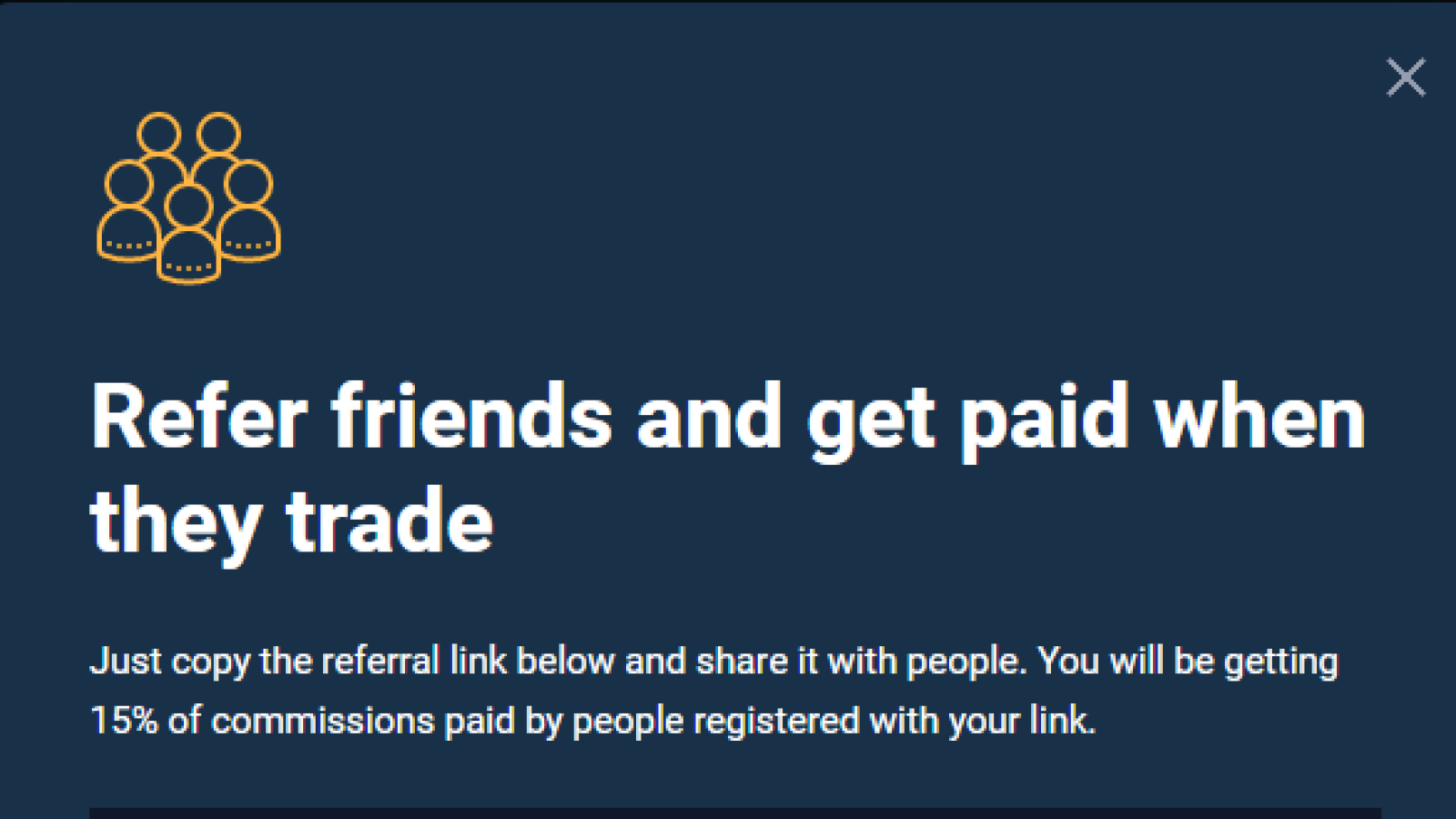 Once a referral is registered and initiates his/her first trade, the owner of the link will start to receive 15% on all trading fees that the referral pays.
Bottom Line
Purchasing crypto with fiat remains the most intuitive and understandable method to start the blockchain-based assets experience. StormGain has developed an easy-to-use ecosystem for crypto purchasing, trading, and making exchanges.
Powered by top-notch fiat payments vendors, StormGain's credit card paygate offers a secure and profitable instrument for direct cryptocurrency purchases. Trading, exchanging, and earning functions let us treat StormGain as a one-stop ecosystem for cryptocurrency operations.