According to a recent tweet of the multi-chain DEX that intends to be built on Shibarium, soon PawSwap burns are going to be launched.
At the same time, the price of PAW meme token has surged by almost 44%. At the time of this writing, it is changing hands at $0.00000009616, according to data provided by CoinMarketCap crypto website.
Over the past few weeks, PAW has been listed on eight crypto exchanges, including some platforms on the top 25 list, such as Gate.io, LBank, Canadian exchange Biconomy and so on.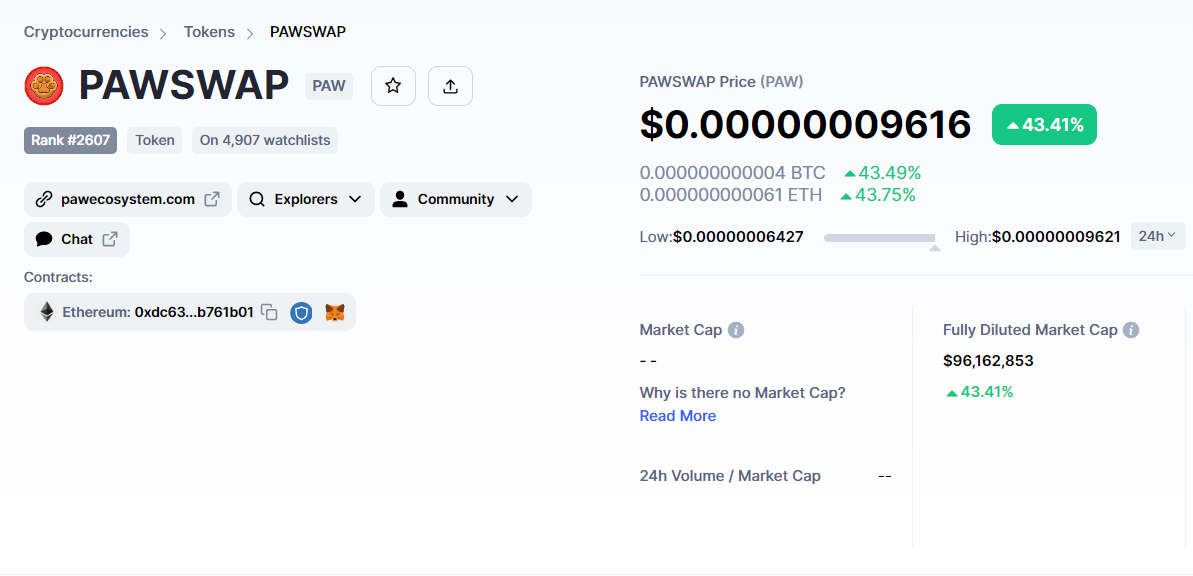 PawSwap burns coming
The official account of the PawSwap decentralized crypto exchange (@PawShibarium) has made an announcement that it plans to start burning its native PAW tokens and told the SHIB community to "expect amazing things coming next week." The post shared in the tweet features a Shiba Inu dog with its backside on fire, saying "PAWBURN launching soon."
Dear #PAWFAMILY, expect amazing things coming next week!#pawswap $PAW pic.twitter.com/tr9QXVzxgJ

— Pawswap - The Shibarium DEX (@PawShibarium) March 5, 2023
Burning means transferring tokens to dead-end wallets, from which they cannot be withdrawn or spent in any other manner. For this reason, these addresses are also known as "unspendable."
This allows the community of a token to greatly diminish the circulating supply of it and make this token a more scarce asset. In theory, then, tons of tokens get locked in unspendable wallets, and the price may go high. The overall supply of PAW constitutes one quadrillion tokens, per CoinMarketCap.
👀 $PAW 🔥🔥🔥 https://t.co/4b1IpfxfII

— SHIBARMY CANADA (@Dezaxe) March 6, 2023
This is what the communities of many meme coins are targeting — the Shiba Inu army makes regular token burns, and so does the community of BabyDoge and other small-cap meme tokens.
@PawShibarium has also tweeted to warn its community that the Twitter account that has the elements "paw" and "burns" in its title — @pawburns — and as "many" as 575 followers is in no way associated with the PawSwap DEX.
It is important to exercise caution as there is no association between https://t.co/060MM42Dy3 (@pawburns) and @PawShibarium.

Stay safe #PAWarmy 🐾

— Pawswap - The Shibarium DEX (@PawShibarium) March 6, 2023
Shytoshi Kusama names official Shibarium DEX
As reported by U.Today on Saturday, the lead developer of Shiba Inu, the pseudonymous Shytoshi Kusama, stated in his Telegram chat dedicated to Shibarium that the only official DEX of the Layer 2 solution for Shiba Inu would be no other platform but ShibaSwap.
"Just in case it was not clear," he added to the statement.
At the same time, prominent SHIB-enthusiast "SHIBARMY CANADA" stated that PawSwap and its PAW token is absolutely no threat to Shiba Inu and is not a rival to it, as some may fear.
He mentioned that several pro-SHIB Telegram moderators had kicked off a real campaign of "hatred and lies" against PAW.