The crypto community has all eyes on Ripple: it is not only surviving the longest crypto winter yet, but it is also slowly making its way to the top. Some say it threatens to sideline Bitcoin.
Ripple price predictions for 2019 vary to a great extent: while one bunch of experts doesn't believe it will reach $1, others make fantastic forecasts. Let's compare opinions.
Will Ripple grow to $692.30?
Such a theory was published on TheIndependentRepublic.com. That sounds too good to be true because it would mean Ripple's market cap would be about $27 trillion (for comparison: all mined gold on Earth is worth $7.8 trillion). What is this suggestion based on?
Such a number is only possible if Ripple becomes the choice of ALL cross-border payments made by ALL financial institutions. The daily value of all cross-border transactions around the world is $9.8 trillion, while $27 trillion is stored in cross-border transnational accounts.
We have already discussed that 1XRP = $100 is an unlikely situation. What about more realistic predictions?
Ripple to reach $20?
Analysts from investinghaven.com reckon that Ripple can grow up to $20 during 2019. They are sure that XRP will continue gaining its value because it enables international payments. Annually, about $30 bln is spent on international and currency exchange operations, and Ripple could save about $16.5 billion annually. That makes Ripple's blockchain a highly desirable technology for the banking system.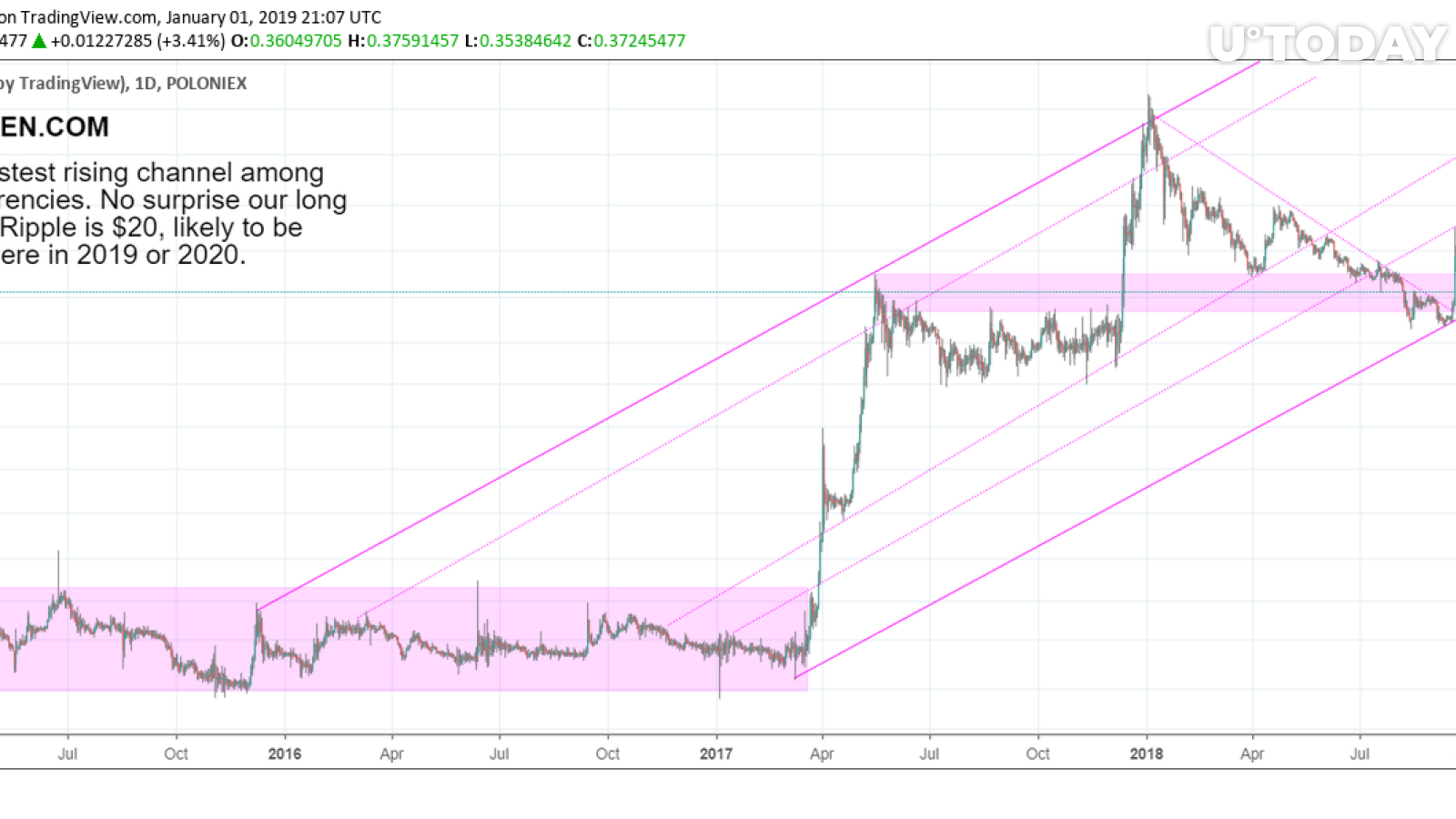 Besides, Ripple Labs also plans to launch its Xpring application, which allows people to use XRP tokens and trade goods on Blockchain. Therefore, the authors of this theory reckon Ripple will become the leader in the crypto sphere.


Don't rush the matter
But even $20 is a serious sum for Ripple considering the huge amount of coins in circulation (over 41 bln XRP). Here's what other experts think:
Roman Guelfi, an authoritative crypto enthusiast and expert, is sure that Ripple is to achieve great milestones. He said that when the market experiences an influx of projects, other cryptocurrencies will be left aside, and the XRP market will dominate. However, he doesn't say any certain numbers.

According to the Ripple coin news website, 2019 will be a smooth period for Ripple. It will definitely be marked by new partnerships and technologies, which can make the price rise to $8-10.

Us Lifted, a crypto prediction website, states that Ripple will achieve new heights and reach $22.79 with a circulating supply of 38 bln XRP.
Our Verdict
Let's be sincere: the circulating amount of Ripple is too huge for the coin to be worth $100 or even $20 this year. Ripple has only started making waves, and it's on its way to dominance in the banking sphere. 2019 promises to be full of new partnerships, which definitely means there'll be more money flowing into Ripple. Developers continue improving the Ripple network: the speed rises while low fees stay the same. The most realistic prediction would be $1.20 or $2 by the end of 2019. Considering that Ripple fluctuates in the range between $0.30 – 0.40, that would mean a x4 or x6 return on investment, which is great.
Disclaimer: The opinion expressed here is not investment advice – it is provided for informational purposes only. It does not necessarily reflect the opinion of U.today. Each investment and all trading involves risk, so you should always perform your own research prior to making decisions. We do not recommend investing money you cannot afford to lose.