There is massive gloom in the broader digital currency ecosystem as many altcoins that had recorded positive rallies since the start of the month are now falling off the wagon. XRP is one of these coins as it is changing hands at the time of writing at a price of $0.6912, down by 6.87% over the past 24 hours. With this deep plunge, XRP is now down as much as 5.77% on the weekly front.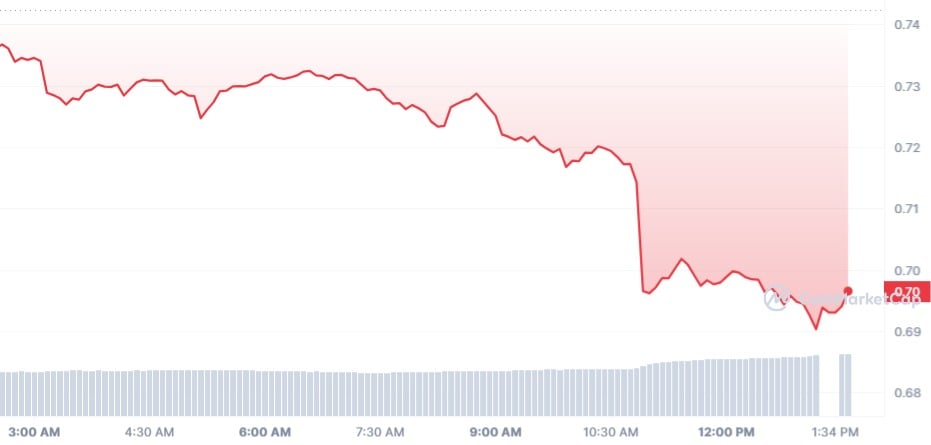 While the cause of this current price plunge remains a matter worth exploring, XRP appears to be losing its girth as trading volume has also plummeted marginally by 2.05% overnight. With bears selling off, there remains the whole new possibility of a steeper drawdown, should there be no cushion in the near term.
At the moment, the consensus among analysts is that the XRP coin is oversold, considering the momentum it picked up over the past few weeks. With this perception of overselling, we can expect to see a revival after the bears have satisfied their profit-taking desires.
A sell-off or bearish outlook is only significant in the short term as XRP has retained 41% and 103% of its valuation over the past month and in the year-to-date (YTD) periods, respectively.
More leaning on fundamental positivity
The XRP plan for imminent recovery entirely hinges on different factors, but its positive fundamentals currently outweigh any potent predictions that its technical indicators might be showing.
The XRP ruling from Judge Analisa Torres, though controversial at this time, remains one of the biggest boosts that has fueled a ripple effect of more positivity across the board. The favorable ruling pushed top exchanges like Coinbase and Kraken to relist the digital currency, directly opening up investors in the United States to acquire the digital currency.
Though the SEC is looking at appealing the retail aspects of the ruling, there is growing speculation that XRP would keep seeing impressive upsides for at least the next two years.