At a time when the digital currency ecosystem is seeing a dominant price slip, tokens with positive momentum typically stand out. Trust Wallet Token (TWT) is one such token whose growth has been extraordinary in the past 24 hours. At the time of writing, TWT is trading at a spot price of $0.8152 after printing a 10% upshot to lead the altcoin trend.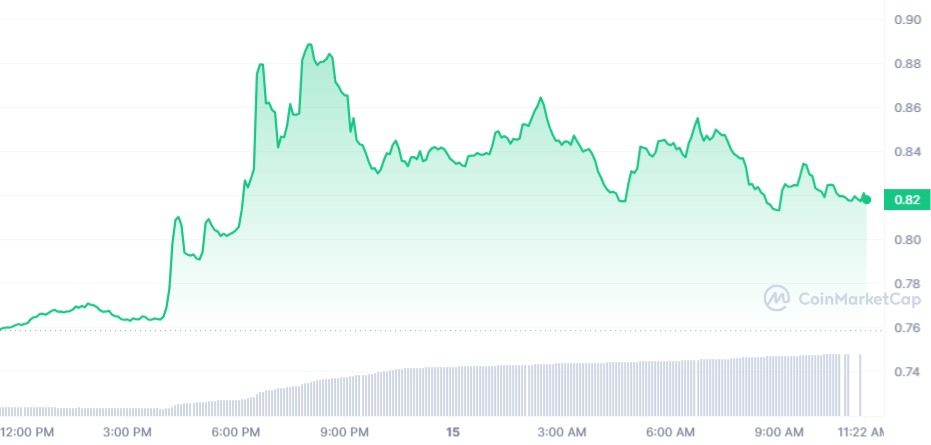 For reference, TWT's growth far outstrips that of Bitcoin (BTC), Ethereum (ETH) or any digital currency in the top 100, as listed by market capitalization.
Bitcoin is changing hands at $24,864.38 atop a 4.21% loss as market sentiment turned bearish following the unsolicited testimony of Prometheum CEO Aaron Kaplan testifying before the U.S. House Financial Committee that the Securities and Exchange Commission (SEC) has the template needed to regulate the crypto ecosystem.
TWT has defied the market order as retail buy-up over the past 24 hours has intensified. Per CoinMarketCap's data, the total trading volume of TWT jumped by more than 620% to $90 million. This massive jump in trading volume is indicative of a genuine retail buy-up from members of the Trust Wallet community.
Genuine confidence amid crackdown
One crucial advantage that investors in TWT are possibly holding onto is the safe bet on the token drawing on its fundamental perception. With the SEC labeling many digital currencies as investment contracts, the utility of TWT to power the decentralized Trust Wallet ecosystem has lent some confidence to investors.
The trust in the future potential of TWT is so strong that current buyers are unfazed by the uncertainty surrounding its parent company, Binance, against which the SEC filed a lawsuit earlier this month for illegally operating in the U.S.
Trust Wallet operates independently, and there are expectations that irrespective of the outcome of the suit, the platform and its native token will be safe.