Today, the digital currency ecosystem is on a downward spiral as the combined crypto market cap has plunged by 1.77% to $1.17 trillion. The market slump is all encompassing, but Dogecoin (DOGE) is exhibiting defined bullish momentum as the only green crypto in a sea of red. The meme coin is up by 8.25% overnight and is trading at a spot price of $0.0774 at the time of writing.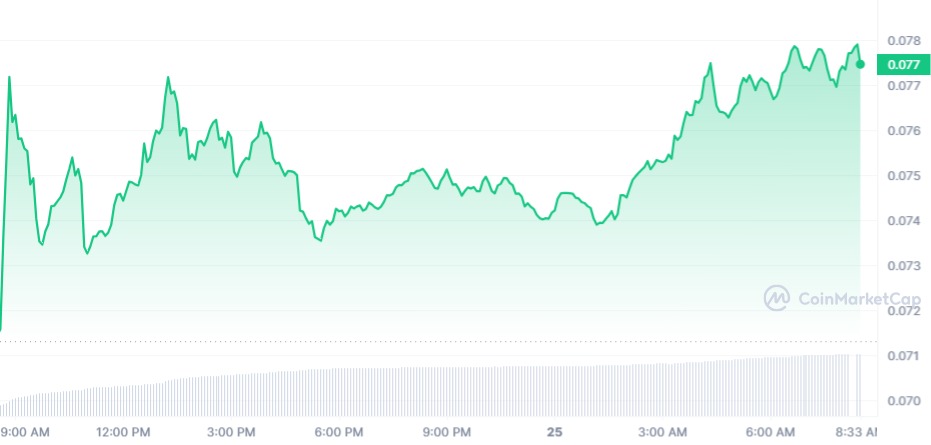 Unlike most of the mid-cap capitalized cryptocurrencies it is competing with, Dogecoin has retained most of its gains in the past week with a growth rate of 12.18%. It is not uncommon for Dogecoin to showcase intense volatility, and what is even more impressive about the current run is that the meme coin's trading volume has gone parabolic, jumping by more than 523% to $1.77 billion.
The increased sentiment that is helping Dogecoin retain its relevance now is that its full integration into Twitter is near. Elon Musk dropped a cryptic message as a hint recently when he changed his bio to X, alongside the Dogecoin symbol.
These clues show Dogecoin is very relevant and meaningful to both Elon Musk and the X social media platform he just rebranded Twitter into.
Sustainable momentum?
The growth in Dogecoin showcases that the meme coin still has a huge upside in its long-term ambition to touch the $1 price point. While this lofty goal seems quite far away, the DOGE army, as the community is often called, believes this is impossible.
One hurdle that must, however, be surpassed is whether or not the growth of DOGE is sustainable in the long term. While Elon Musk's influence is helping to boost sentiment, remaining attractive to investors in the face of its core rivals, including Shiba Inu (SHIB) and PEPE, is a hurdle that still must be overcome.