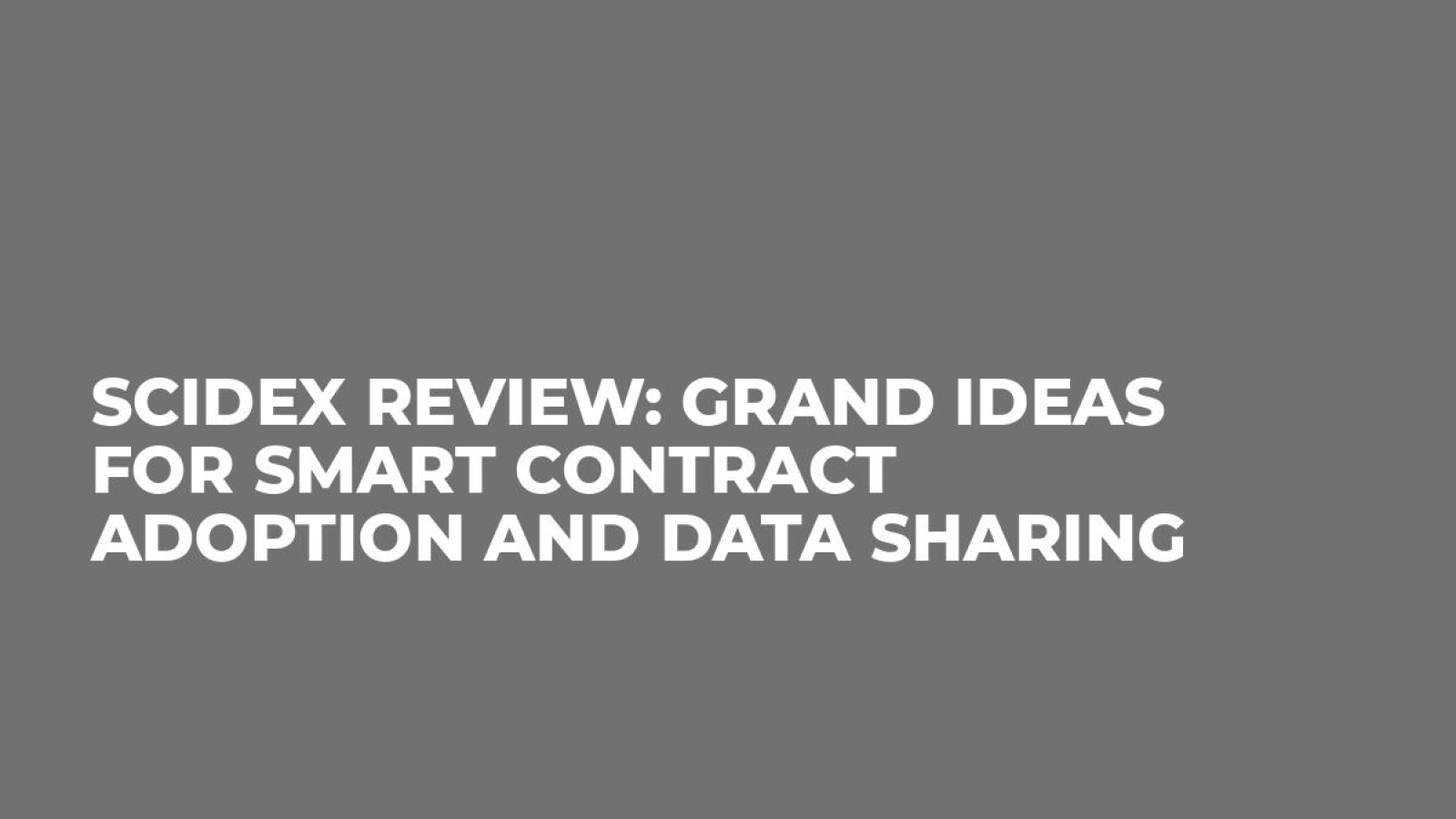 Cover image via U.Today
What is SciDex?
SciDex offers an innovative protocol that can be utilized for storing and disturbing scientific data. Consequently, there are two products– the SciDex protocol and the SciDex MarketSpace. The ambitious Blockchain-powered project was developed by a team of MIT graduates who have already succeeded in building other tech projects.

According to the company's roadmap, the upcoming ICO is planned for Q3 of 2018.
A new generation of smart contracts
What stops smart contracts from going into the mainstream?
Smart contracts could potentially revolutionize business relations, since they allow facilitating the enforcement of a contract without a middleman, thus eliminating the costs related to paperwork and lawyer services. They were described by a cryptographer Nick Szabo more than 20 years ago, but the technology hasn't really taken off yet.

Despite the obvious advantages, there are still management and legal issues that prevent businesses from actively adopting smart contracts. On top of that, self-executing smart contracts are presented in a form of a code that can be only read by machines. That prompted the need for translating written contracts into smart contracts.
Ensuring readability and transparency
SciDex seized this opportunity and introduced Ricardian Adaptive Smart Contract (RASC) that can be read by both humans and machines. Unlike classic smart contracts, the new technology helps to fully reflect the intentions of both sides.

Furthermore, Ricardian contracts are very flexible and have an ability to adapt to the conditions that were initially specified in a written contract. The SciDex Contract Generator gives everyone an opportunity to create smart contracts even without any coding experience.
Facilitating the exchange of data
According to an IBM report, we produce a gargantuan amount of data that nears 2.5 quintillion bytes per day. However, most of the data, which can be valuable for research purposes, is simply stored in repositories while being isolated from the rest of the world. So, how can all this data be monetized?

SciDex offers a unique solution in the form of a market space that simplifies the exchange of data. For that purpose, the company uses a three-pronged approach:
Blockchain-powered technologies,

Artificial Intelligence (AI),

Natural language processing (NLP).
No, companies do not have to sell their data for free– they can use the aforementioned Ricardian contracts to come to terms on selling and sharing the information without a third party involvement. SciDex's search engine enables database indexing, which makes it easier to find the information you need.
Smart governing
There is a ranking system that effectively evaluates the contribution of each individual member to the SciDex ecosystem. Their activity corresponds to the number of SDX tokens they get (SciToken is the network's native token).
Target audiences
SciDex is primarily a business-to-business company, but it focuses on business-to-consumer outreach as well. The new startup targets data curators as well as fledgling companies that may take advantage of its the SciDex marketplace. Data exchange can be beneficial for:
insurance companies (to determine risk factors based on the information about different accidents),

hedge funds (analyzing large chunks of data will result in more accurate investment predictions),

advertising companies (getting access to information could lead to a better understanding of the market).
Apart from that, SciDex is also planning to work with universities and government institutions.
The bottom line
The project could change the way research data is stored and distributed, promoting scientific progress. However, the real question is whether this brilliant idea could be implemented in real-life conditions. While the project seems promising, it is unclear whether big companies would be willing to share their scientific data (even if there is a financial incentive involved), but SciDex claims that it creates a platform for sharing data only for research purposes with educational institutions. Therefore, it won't have any competitive advantage.