From all indications, XRP appears to be oversold in the short term and, hence, liable for a potential price bounce. For simplicity's sake, being oversold refers to a condition in which an asset has traded at a lower price and has the possibility of bouncing.
That said, XRP has posted a chart pattern on its four-hour chart alluding to this fact.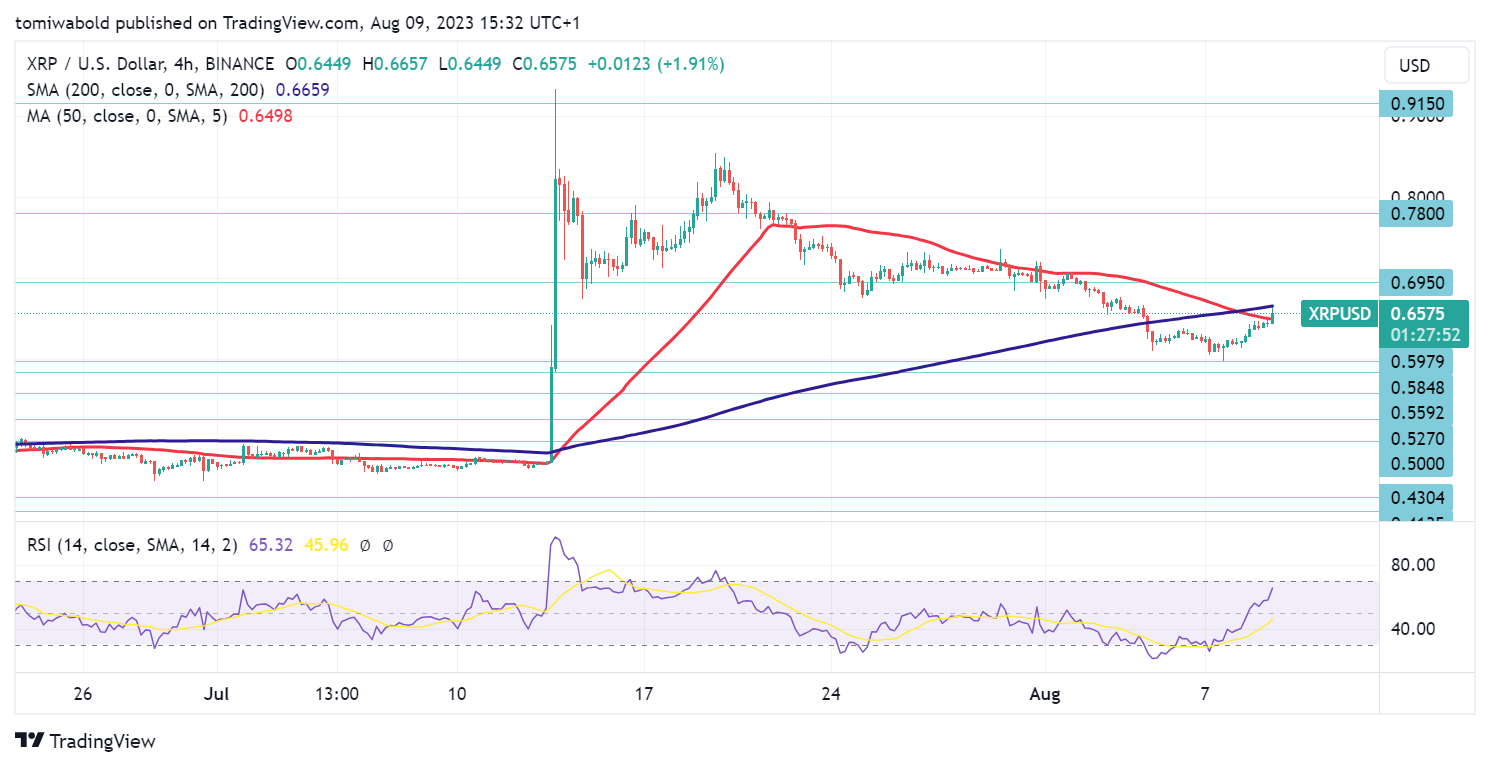 In a surprising turn of events, the moving average (MA) 50 of XRP's price on the four-hour chart has crossed beneath the MA 200, confirming a bearish crossover or "death cross."
While this might seem concerning as it, in theory, implies a further sell-off, historical evidence shows that the opposite is true for XRP.
Most importantly, XRP's prior "death crosses" have signaled major or intermediate price bottoms.
Second, some analysts believe that death or golden crosses are based on backward-looking data, which may trap sellers or buyers on the wrong side of the market. This is because, more often than not, the market is oversold or overbought by the time the crossover occurs.
This could be the case in the XRP scenario. According to the four-hour chart, XRP appears to have begun moving after bottoming on Aug. 7.
XRP jumps 6%
XRP kicked off a rebound after touching lows of $0.596 on Aug. 7. The rebound that was sustained has culminated in highs of $0.66 as of today's trading. At the time of writing, XRP was up 5.55% in the last 24 hours to $0.654.
Traders might as well watch out for a sustained break beyond the four-hour daily MA 200 at $0.67 for possible clues as to the continuation of the rebound. In this situation, XRP might aim for $0.72 before attempting to break through the $0.8 barrier.
Meanwhile, XRP continues to garner interest. As reported, U.S. crypto exchange Gemini seems to be teasing a major announcement for XRP. After it put out a tweet yesterday that might hint at a potential XRP listing, Gemini wrote again: "xpressing xcitement about xrp."