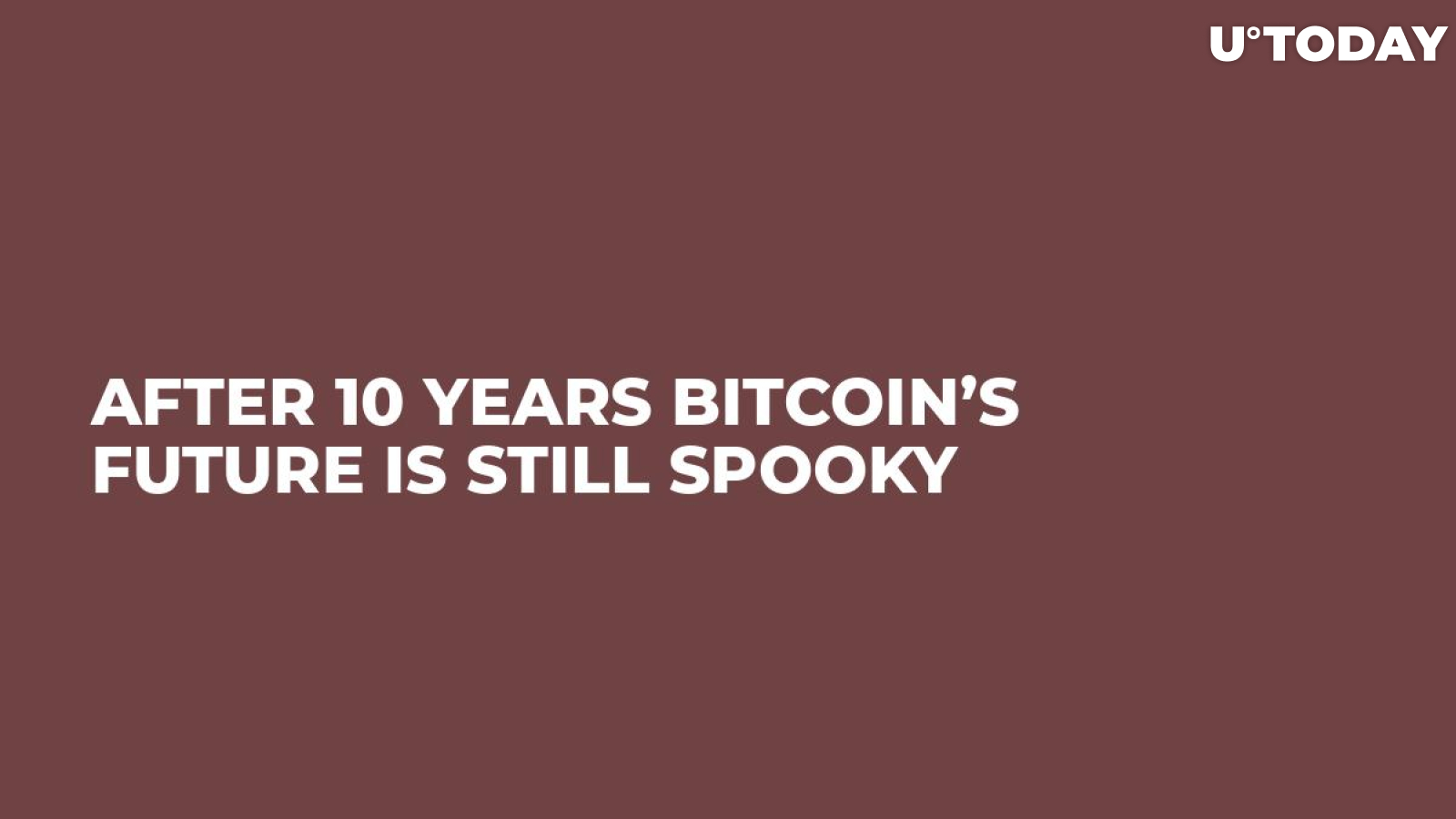 Cover image via U.Today
Bitcoin turns 10. In only one decade, it made a giant leap from an abstract idea to the global $100 bln market, which scares famous financiers and confuses analysts. Вut its future is still ambiguous and in doubt.
Satoshi's idea
According to its whitepaper, Bitcoin's original goal is to create "a purely peer-to-peer version of digital money" that will allow sending online payments directly without going through any financial institutions. 'The Satoshi idea' solved the problem of double charges faced by other failed digital currency projects like DigiCash in the 90s.
The payment doesn't involve a third party, such as banks, because of distributed ledgers Bitcoin relies on. Transactions produce a continuous chain called Blockchain, the record that can't be changed.
Genesis block
The world's first Bitcoin transaction was made just in a week after the publication of its WP when Satoshi sent Bitcoins to Hal Finney. In 2009, the first 50 Bitcoins known as Genesis block were mined. This marked the beginning of the mining era. In May 2010, a programmer from Florida paid 10,000 having no real value Bitcoins for a pizza. In October 2018, this extravagance would cost $63 mln.
Silk Road
The Silk Road exchange made a lot to spoil the Bitcoin's reputation. The Dark Web market became sort of paradise for illicit trade. Bitcoin has come to be known as the criminal currency and is still frequently referred to as a fraud.
Founded in 2012, the Coinbase crypto exchange was recently valued at $8 bln. The largest trade provider BitPay has been accepting Bitcoins since 2011. But apart from tricks with criminal activities and illegal trading, the use of Bitcoin as a real currency hasn't truly caught on.
Rise & Fall
Nonetheless, Bitcoin got a glorious period of the triumph. By 2017, investors had been heavily using it as a speculative tool. Bitcoin's all-time high coincided with futures market rising. The Chicago Mercantile Exchange (CME) opened Bitcoin futures trading, and according to the CoinDesk, it reached a maximum of $19,783 the same day. Unfortunately, it didn't last for a long time, and soon the market fell down.
ICO mania
The peak of Bitcoin coincided with the heyday of the ICO era. Raising money for digital projects and startups by issuing their own crypto tokens began in 2013, but by the end of 2017, the initial coin offering (ICO) was making billions for developers, as well as numerous scammers, of course.
ICO has brought to life more than 2,000 cryptocurrencies, with the total capitalization of $200 bln. Only in 2018, the ICO crowdfunding raised $12 bln, more than the total initial public offerings on major U.S. exchanges.
However, many ICO projects have been exposed as fraudulent and caused a wave of litigation with U.S. regulators who have widely warned investors about 'pump and dump' schemes. The SEC has even launched its own scam ICO website to show investors how to avoid losses. At the same time, after 2017 and H1 of 2018, 92% of ICOs were marked as failed and fraudulent.
Regulation and criticism
Bitcoin is supported by none of the governments. In each country, there are unique rules and treatments for the new asset class. The SEC classifieds Bitcoin and Etherium as commodities but the rest of ICOs as securities and therefore a subject of state regulation.
Bitcoin is experiencing serious difficulties in acceptance both from regulators and official financiers. Citadel's billionaire hedge fund manager Ken Griffin pointed out similarities between Bitcoin and the most famous all-time financial bubble — the Dutch tulip bulb mania. Nouriel Roubini, known as Dr. Doom since it was he who predicted the financial crisis, criticized Bitcoin's underlying technology, Blockchain, calling it "the most over-hyped — and least useful — in human history."
Future
The idea of an alternative digital currency was born in the late 00s when the Lehman Brothers fall and bankruptcy and world economic recession took place. The first and most famous one, Bitcoin, caused mania among retail investors, survived four collapses and attracted the attention of the most powerful world institutions.
While skeptics predicted to Bitcoin no more than 10 years, many Wall Street fat rats are betting on its underlying technology, Blockchain. J. P. Morgan Chase, IBM, Deloitte, Amazon, and Facebook are among those who work on private Blockchain solutions for businesses having nothing to do with crypto.
While Bitcoin experienced a 54% drop, the number of mergers and acquisitions in Blockchain and cryptocurrency area more than doubled last year. In August, PwC reported that 84% of CEOs claimed their companies are "actively involved" in the Blockchain technology.
"Everyone is talking about Blockchain, and no one wants to be left behind," states PwC's 2018 Global Blockchain Survey which included 600 executives from 15 territories.