With the broader crypto ecosystem blowing up following the news of Grayscale Investments' court victory against the United States Securities and Exchange Commission (SEC), XRP has not been left behind in the surge. The digital currency is now changing hands at a price of $0.5298 after jumping by 2.97% in the past 24 hours.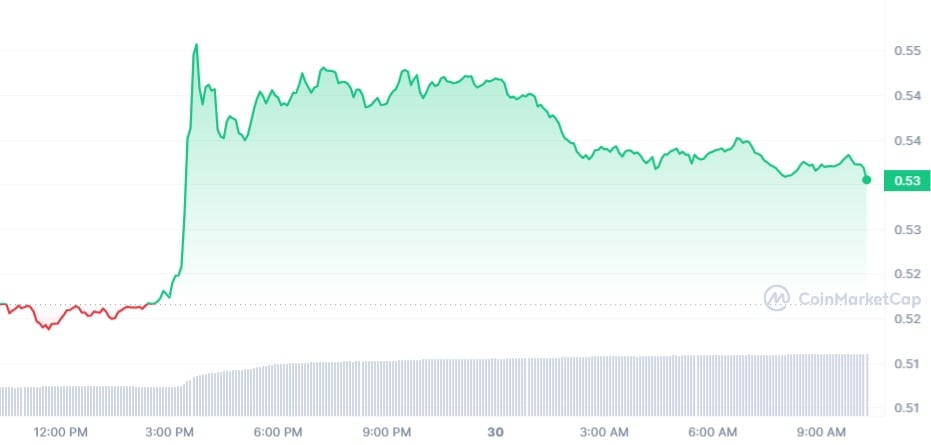 While XRP's growth is not one of a kind, it certainly has some unique elements to it. The coin has sustained its ranking as the fifth largest coin, and the current growth is being fueled by an influx of new capital, which has pushed its trading volume by more than 109% to $1.5 billion overnight.
The trading volume is one of the first signs that XRP bears are currently being overpowered as the broader sentiment in the market is notably in favor of buyers. For the second time this quarter, another crypto firm, Grayscale, has landed a historic victory against the SEC, which refused to convert the firm's GBTC product into a full-fledged Exchange Traded Fund (ETF) product.
Another crucial trigger that shows XRP bears are overpowered is the sheer sustenance of XRP growth trends for the better part of the past two weeks. This implies that buyers are not technically buying up the coin in a seasonal approach as defined by the market fundamentals. XRP bulls have been holding steady, showcasing the resilience of the coin in the face of adversity.
Refiring XRP for growth
The last major trigger for XRP bulls against bears is the sense of opportunity that the potentially convincing win of Ripple in the forthcoming trial with the U.S. SEC might bring to the protocol and its ecosystem.
Should the initial XRP ruling from Judge Analisa Torres be sustained, the longer-term outlook of XRP will be further solidified, thus helping to drive price growth.