Shibburn crypto tracker has reported that over the past 24 hours, the SHIB army has managed to get rid of a substantial amount of SHIB, pushing the Shiba Inu burn rate over a hundred percent higher than it was yesterday.
In the meantime, while some continue to push the circulating supply of SHIB to shrink, whales keep purchasing massive chunks of it.
20.2 million Shiba Inu destroyed, burn rate goes up
Shibburn has reported that over the past day, 20,227,583 Shiba Inu have been sent to dead-end wallets in three transactions. So far, this amount of burned SHIB tokens falls behind those that were seen earlier this month. However, compared to yesterday, the burn rate has gone up by almost 148%.
In general, over the past seven days, the SHIB army has succeeded in burning 285,334,229 SHIB in total.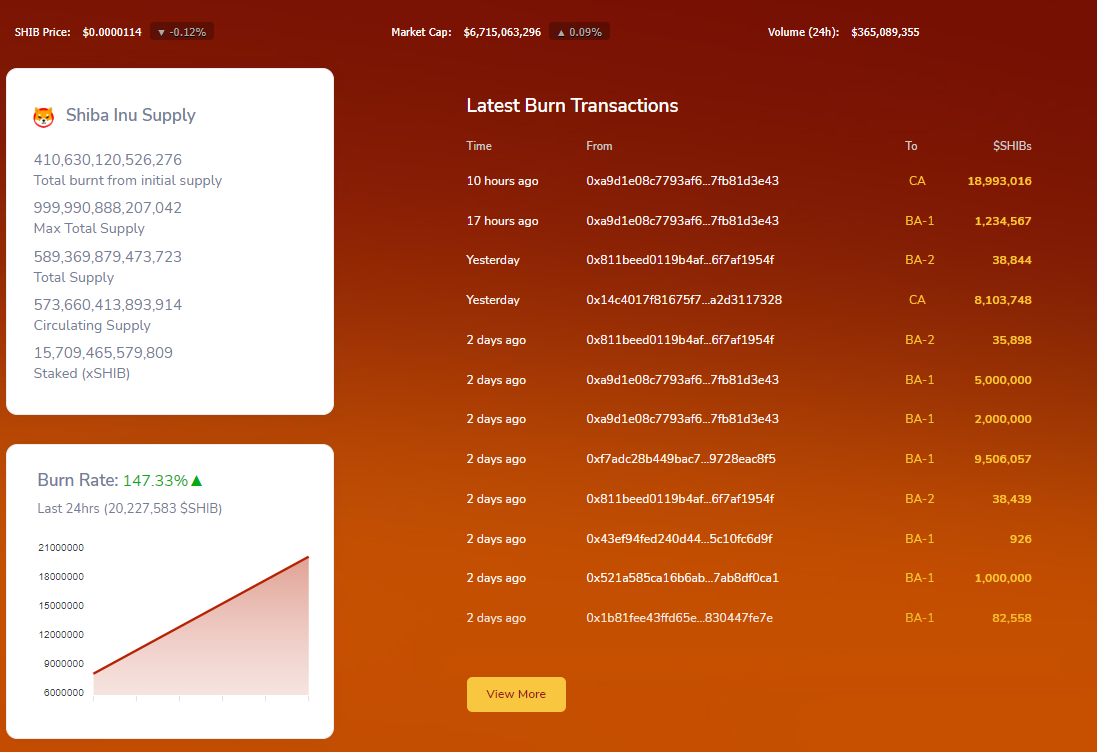 Whale grabs 300 billion Shiba Inu
According to WhaleStats, an Ethereum whale called "BlueWhale0073" has added a total of 229,963,072,498 SHIB (worth over $2.5 million) to his crypto holdings. The whale is ranked 254th among the top 500 investors on Ethereum.
🐋 ETH whale "BlueWhale0073" just bought 229,963,072,498 $shib ($2,580,185 USD).

Ranked #254 on WhaleStats: https://t.co/RBupemZyZX

Transaction: https://t.co/mykzLrxyBv#SHIB #ShibArmy

— WhaleStats (tracking crypto whales) (@WhaleStats) April 4, 2023
Currently, though, the wallet contains zero Shiba Inu as the whale seems to have sold it, judging by the circular diagram of the incoming and outgoing transactions of this wallet. Overall, in March, this whale bought 873 billion Shiba Inu, selling his purchases immediately, as reported by U.Today.
Earlier today, Shiba Inu fell down by 2.8% and then recovered its losses, which may suggest that the whale bought the aforementioned 300 billion SHIB on the dip and then sold them with a healthy profit when the price recovered.
As of this writing, SHIB remains the most-traded token for the 100 biggest whales on Ethereum and also maintains its position of the biggest crypto holding in U.S. dollar equivalent for these whales.
The total share of Shiba Inu in their combined portfolio stands at $601,204,724 worth of SHIB, which is 11.94% of the crypto held in the portfolio overall.