Prominent crypto trader and founder of venture capital firm Mechanism Cap, Andrew Kang, has not stayed away from active discussion in the crypto community on the topic of a possible altcoin season and gave his views on the matter.
Focus is shifting
Kang is inclined to suggest that a rally in the price of anything other than Bitcoin (BTC) is taking place, as the latter's dominance is starting to lose momentum. As illustrated by the trader on his BTC.D chart, the indicator has reached a strong level of resistance at current levels around 47.8%. Of the last six times Bitcoin's dominance has reached these heights, it has managed to go even higher only once, in the summer of 2018.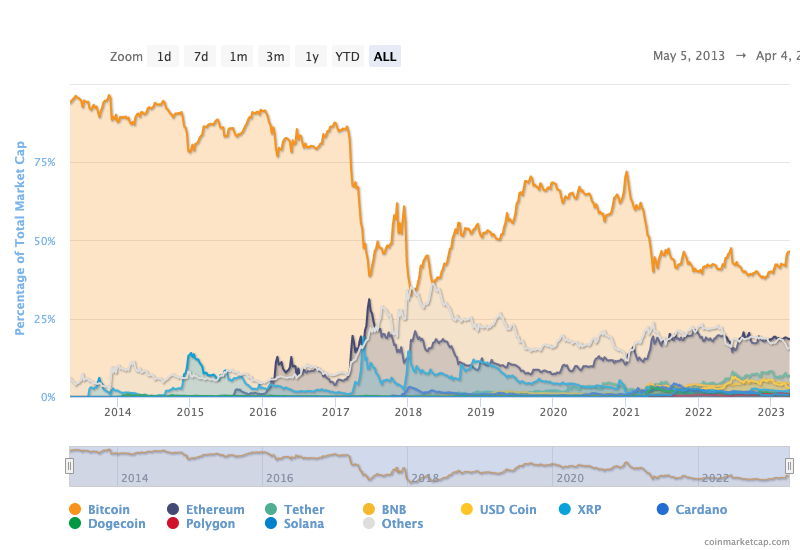 That said, the crypto investor believes that if altcoin season is to begin, it will only be among the best of them. Kang lists three cryptocurrencies as such in his post at the moment: Ethereum (ETH), Dogecoin (DOGE) and Arbitrum (ARB). While the first one is understandable given its position on the crypto market, the investor's choice of the latter two tokens is quite curious.
However, putting aside all arguments for or against one or the other, it can definitely be highlighted that these are probably the two most discussed altcoins right now. Maybe Kang's bet is that due to the crowd's intense focus on DOGE and ARB, there will be a corresponding influx of liquidity and strong momentum in their price action.