In a relatively unusual price recovery push, privacy coin Dash has printed 2.31% growth over the past 24 hours at the time of writing. Based on its current performance, the cryptocurrency is now changing hands at a price of $41.79, solidifying its stance as the 86th largest digital currency in the industry.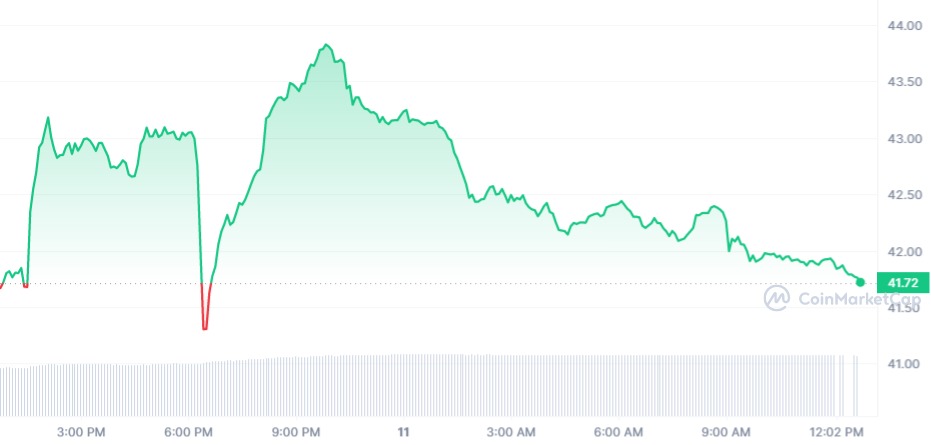 DASH has a deep history and background dating back to January 2014. Created as a fork of Litecoin (LTC), Dash has a primary mission of improving the transaction efficiency of Bitcoin and also restore true privacy to the blockchain ecosystem.
Since its inception, DASH has played just this role and explains why it is well recognized to date despite the crackdown on privacy tokens based on unfavorable regulations all along. The heightened regulatory crackdown notably pushed DASH, as well as other digital currencies, back into the background over the past few months.
The current price uptick of DASH has reignited interest in the token, as showcased by its trading volume, which ranked 57th largest in the industry at the time of writing. The growth connotes many things, including the potential return of privacy coin hype and usage.
Shining through meme coin hype
DASH as a digital currency has its own inherent utility and fundamentals, both as a payment token and as a Masternode coin. A shift in focus and hype around the digital asset will have to forcefully shine through the thick maze of the hype inherent in meme coins today.
While there are thousands of digital assets profiled by analytics platforms today, tokens like PEPE, Milady Meme Coin and FLOKI have attained great prominence in the short term following their massive adoption on the grounds that the volatility can usher in high price gains.
Dash is not a low cap altcoin that investors can bank on for immediate price upshoots; however, it leads a significant niche in an industry whose attractiveness is strong.