SingularityNet (AGIX), a Cardano-linked Artificial Intelligence (AI) protocol, has joined the current uptrend as broader market sentiment is heightened across the board. At the time of writing, AGIX is worth $0.2566, after jumping as high as 11% in what represents one of its most ambitious daily jumps in the past month.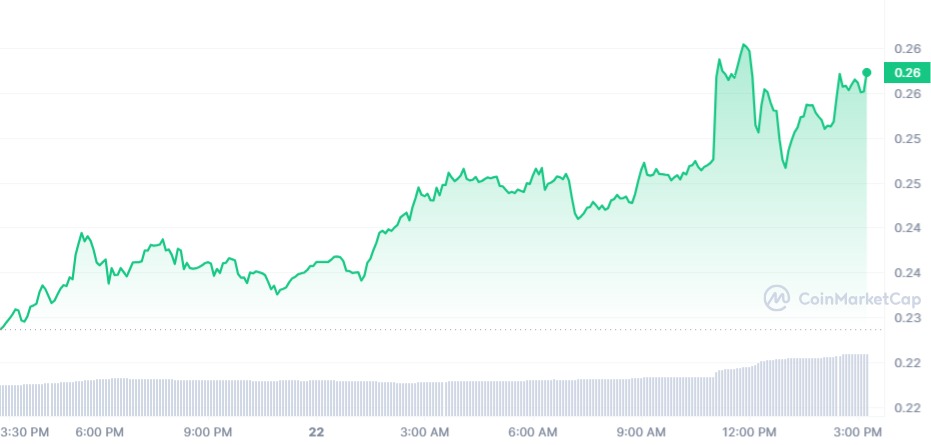 Doubling down on AGIX fundamentals
SingularityNET was designed as a platform that allows anybody to easily "create, share, and monetize" AI services, thanks to its globally-accessible AI marketplace. Since its inception, it has doubled down on this mission and remains one of the most observed AI tokens in the Web3.0 world today.
The current growth being observed can be attributed to a mixture of sentiment in the protocol, both as an AI token and by the broader positive momentum the market is experiencing.
Since the news of the spot Bitcoin Exchange Traded Fund (ETF) application by BlackRock, which has sparked a wave of new filings, the market has printed a steady recovery, pushing the combined market cap from a low of about $1.04 trillion to $1.18 trillion, where it is now.
SingularityNET has capitalized on this growth and the return of positivity within the Cardano ecosystem. Recall that the Cardano price recorded massive suppression earlier this month after it was labeled a security by the United States Securities and Exchange Commission (SEC), alongside other top altcoins, including Binance Coin (BNB), Solana (SOL) and Polygon (MATIC).
What's next for AGIX
With its ongoing price run, AGIX is aiming to pare off the losses it has accrued over the past month. Per data from CoinMarketCap, the digital currency has shed as much as 5.49% in the past month despite maintaining a very promising growth trend in its trading volume.
The next major price target for the coin will be to breach the $0.3 price level, which will confirm its return to a positive growth era.