Axie Infinity (AXS) is making an impressive market push today and is changing hands at $12.82, up 42.07% over the past 24 hours at the time of writing. Drawing on data from CoinMarketCap, the coin is now up by 42.35%, an insight that reveals that much of the token's growth over the past seven days has been fueled by its ongoing bullish price action.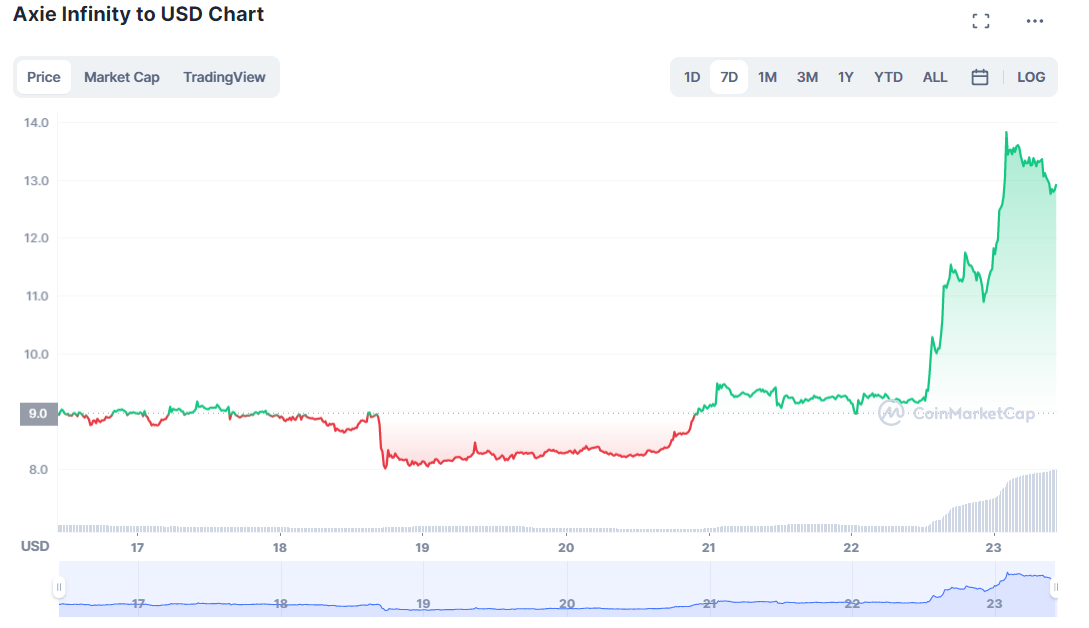 Axie Infinity is branded as a blockchain-based trading and battling game that is partially owned and operated by its players.
Inspired by such games as Pokémon and Tamagotchi, Axie Infinity allows players to collect, breed, raise, battle and trade token-based creatures known as Axies. Based on what it represents, Axie Infinity currently ranks as the most successful play-2-earn (P2E) game in the digital currency ecosystem of today.
The crypto winter has helped batter the coin, whose price plunged from an all-time high (ATH) of $165.37 to where it is now, an almost 95% loss. With not much bullish price action in recent days, the ongoing run is an enigma to many, with no major development update shared by the development team.
What, then, is fueling growth?
The only attributable factor to Axie Infinity's growth is the overall booming sentiment among gaming tokens across the board. While Axie Infinity is leading the charge among its peers, tokens like STEPN (GMT) and Flow (FLOW) are up by 16% and 11.40%, respectively.
The Axie Infinity protocol has seen very positive engagement with its social media handles, a trend that shows the community is now reenergized following the resumption of activities on the Ronin Bridge after it was hacked by the Lazarus Group back in April of last year. With the current performance, many investors are now anxious to see what the future holds for AXS.