@DogeWhaleAlert Twitter account, which tracks large and extra-large Dogecoin transactions, has spotted 15 transfers carrying a total of over one billion DOGE, a popular canine cryptocurrency.
Over billion DOGE on the move
Anonymous whales have shifted 1.049 billion Dogecoins, according to the data shared by DogeWhaleAlert crypto tracker. From a total of 15 transactions, several carried a huge amount of DOGE – such as 150,000,000 (two transfers, equal to $51 million), 100,000,000 ($17,048,600) and 200,000,000 DOGE (worth $34,112,000).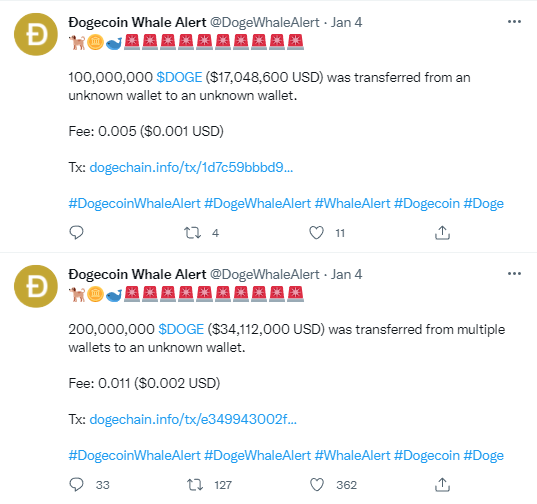 The other transfers carried various smaller amounts – from 4,000,000 to 25 million and 50 million DOGE.
The overall amount of Dogecoin transferred is equal to $176,757,691 in fiat currency. In some of the aforementioned transactions, Robinhood trading platform acted either as sender or receiver of Doge.
??????

36,700,986 $DOGE ($6,273,777 USD) was transferred from a #Robinhood wallet to an unknown wallet.

Fee: 2.00 ($0.34 USD)

Tx: https://t.co/Gi27RVSbB3#DogecoinWhaleAlert #DogeWhaleAlert #WhaleAlert #Dogecoin #Doge

— Ðogecoin Whale Alert (@DogeWhaleAlert) January 4, 2022
At the moment, Robinhood holds a total of 42,514,935,864 DOGE on behalf of its investors. This is the equivalent of $7,285,316,895 and is 32.05% of the DOGE that is currently in circulation.
#Robinhood's ? two known wallets—3334959 & 1699275—use eight known addresses, and the total combined amount of #Dogecoin held by RH ? on behalf of its investors is:

42,514,935,864 $DOGE
$7,285,316,895 USD
32.05% of the circulating supplyhttps://t.co/iWz81VqfEE

— Ðogecoin Whale Alert (@DogeWhaleAlert) January 4, 2022
Dogecoin price action
Dogecoin is changing hands at $0.1691 after a small decline of 1.38% in the past 24 hours, according to CoinMarketCap. At the moment, the meme crypto is 77.04% below its all-time high of $0.7376 reached on May 8.
On Dec. 24, the most popular meme crypto surged to a high of $0.2135. However, since Dec. 29, it has been trading in the $0.17 range.
The community hopes that once Tesla begins to accept Dogecoin as payment for merch, as promised by Elon Musk in December, the price will begin increasing, reaching a new high.