The digital currency ecosystem is experiencing a very bearish turn today, a trend that comes as no surprise considering the bouts of crackdowns on Binance and Coinbase Global Inc by the U.S. Securities and Exchange Commission (SEC). While many tokens are bearing the brunt of the enforcement actions, Shiba Inu (SHIB) has managed to pick an impressive uptick in its burn rate.
Per data from Shibburn, the burn rate of the industry's second largest meme coin has soared by 4,181% at the time of writing. This burn rate implies that over the past 24 hours, a total of 227,449,433 SHIB tokens have been sent to the dead wallet.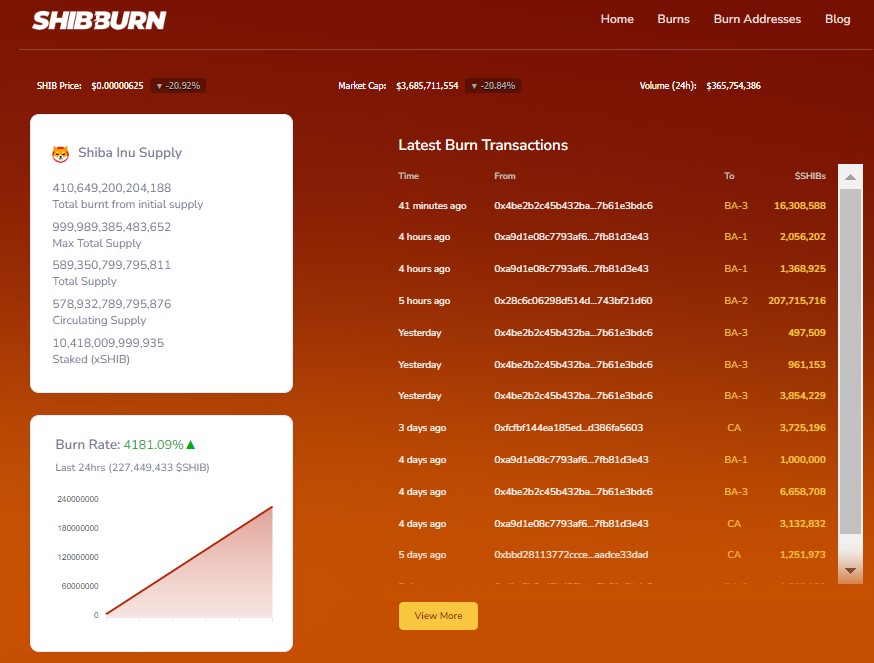 Shiba Inu has seen a broad depression in its burn rate lately as investors conducted a lower number of transactions atop the broad uncertainty that the current crackdowns in the industry by the SEC are stirring. The lower burn rate has also translated to lower price growth, with the meme coin changing hands at a price of $0.000006233, down by 21% in the past 24 hours.
Though exempted from the securities designation made by the SEC that top altcoins like Cardano (ADA) and Solana (SOL) are securities, the token has scored more losses than even the indicted tokens.
Possible near-term growth triggers
With Shiba Inu down on its key metrics except the burn rate, there is a possibility that the sentiment behind the scarcity the burning is showcasing might reboot positive sentiments on the part of buyers.
Despite the steady developments and updates emanating from SHIB developers with respect to key innovations in the ecosystem like Shibarium, the assumption is that the Layer-2 protocol, irrespective of its utility, cannot drive immediate growth in the price of the meme coin.
Shiba Inu investors will have to take solace in the knowledge that the burn rate is introducing additional scarcity that will ultimately help propel growth in the long run.